The Archaic Candour of Henri Rousseau in Venice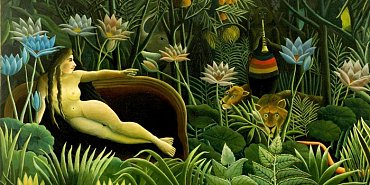 The current exhibition at the Palazzo Ducale in Venice has been extended until 6 September, so you still have time to go and see it. It's worth it, definitely, since the protagonist is Henri Rousseau, also known as the Douanier, a central personality of the figurative arts between the late XIX century and the period of the avant garde, famous for dreamlike atmospheres, forests and enchanting landscapes.
Rousseau escapes to any cataloging, as well as his work, unmatched in the field of art between XIX and XX century. The famous jungles, still lives, portraits, pastoral landscapes transfigure the industrial cities: pure, enchanted, boyish realism, here are all gathered in a single exhibition named "The Archaic Candour", which includes over one hundred works from the major international institutions.
The project, however, does not want to be just another celebration of the French painter's naïveté, but it is rather the presentation of long-course studies that put in the right critical and historiographical light his work. The artist was in fact a reference point for the great protagonists of the historical avant-garde, for intellectuals like Apollinaire and Jarry, for major collectors like Wilhelm Uhde and Paul Guillaume, but also for many painters like Cezanne, Gauguin, Seurat, Morandi, Carrà, Frida Kahlo, Picasso and Kandinsky. All these artists have their works in the exhibition dialoguing with those of Rousseau. Alongside these artists, the exhibition presents works by old masters - Liberale da Verona, Francisco Goya, and others - in order to investigate, in a new critical way, the archaism of which Rousseau's work seems to be the watershed between XIX and XX century.
"The Archaic Candour" is a title that emphasizes the originality of an artist who, after the Impressionist revolution, returned to focus on realism, but with a magical, enchanted, unsettling eye. Through eight thematic sections, the exhibition allows the audience to admire some of the most famous masterpieces of the French painter, as the popular Self-portrait (1889-90), The poultry yard (1896-98) bought personally by Kandinsky, War also called The Ride of Discord (1894) painted with that look that his great admirer Soffici, called for "child-like ingenuousness.An "archaic candour", precisely, as that emerging from works dedicated to the wild nature and the famous jungles, which can be found on display: Snake Charmer (1907), Horse attacked by a jaguar (1910) to name a pair. And then the still life and the series of portraits of men and women (often friends or relatives), including the Portrait of woman bought by Pablo Picasso and exposed in front of his La bouteille de Bass, in a room enlivened with the poem that Guillaume Apollinaire dedicated to Rousseau during the banquet that celebrated the purchase, and with the background music of the waltz "Clemence", composed by Rousseau himself.