Duration: around 5h
Photos
Guided tour at the market
Light lunch with wine tasting
Local food tasting
What to expect
Visit the Central Market in Florence

(except on Sundays or holidays)

Learn how to prepare home-made pasta... and more!

Eat your lunch while tasting some wine

Get your recipes booklet and a graduation certificate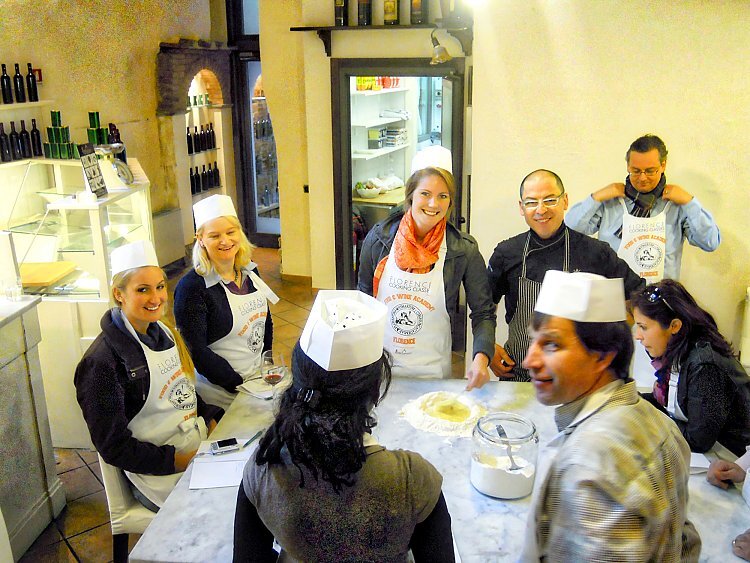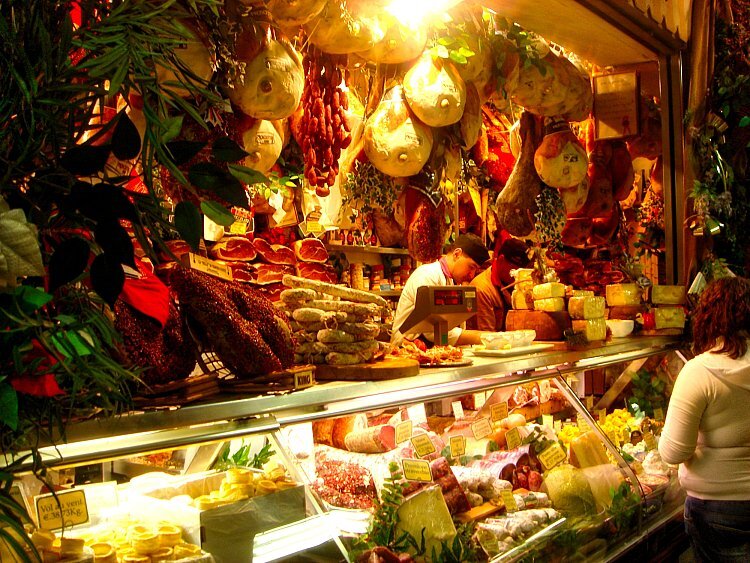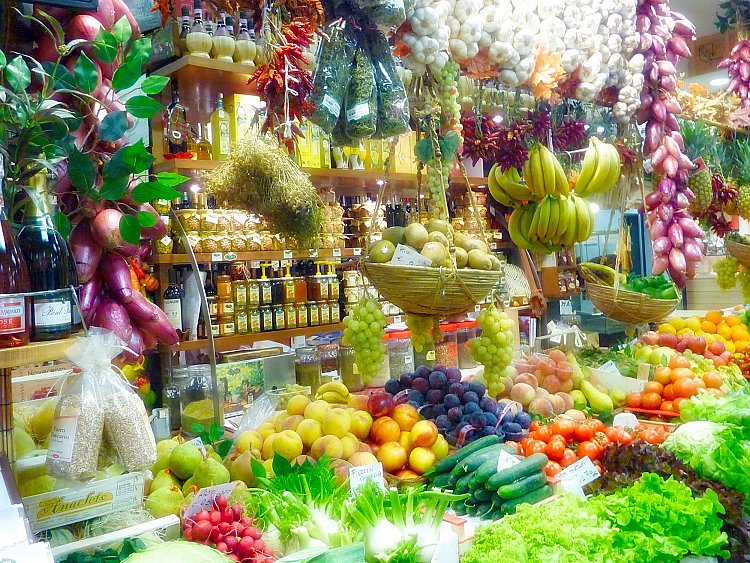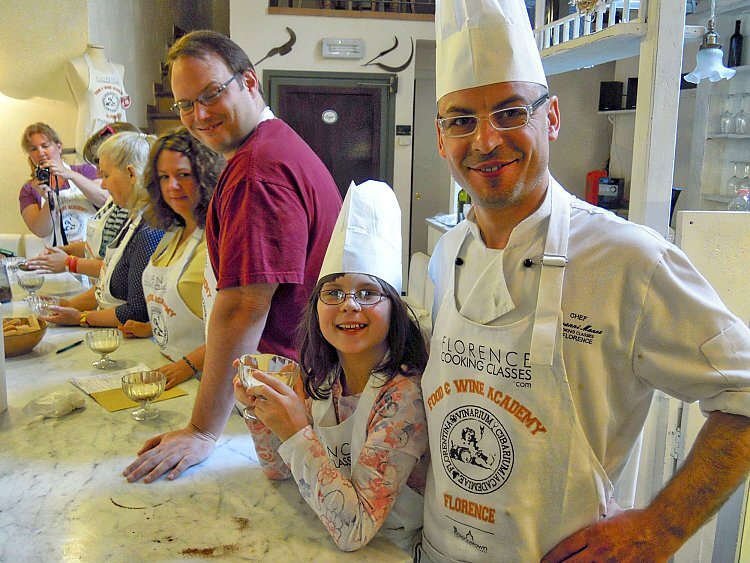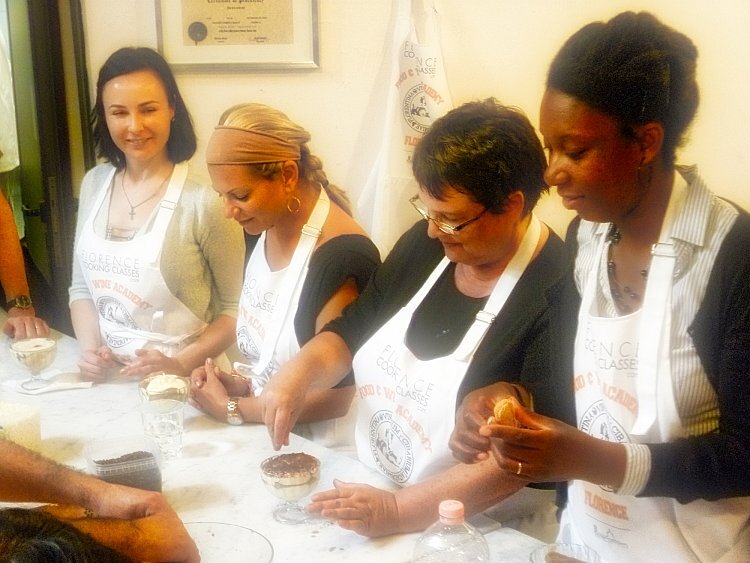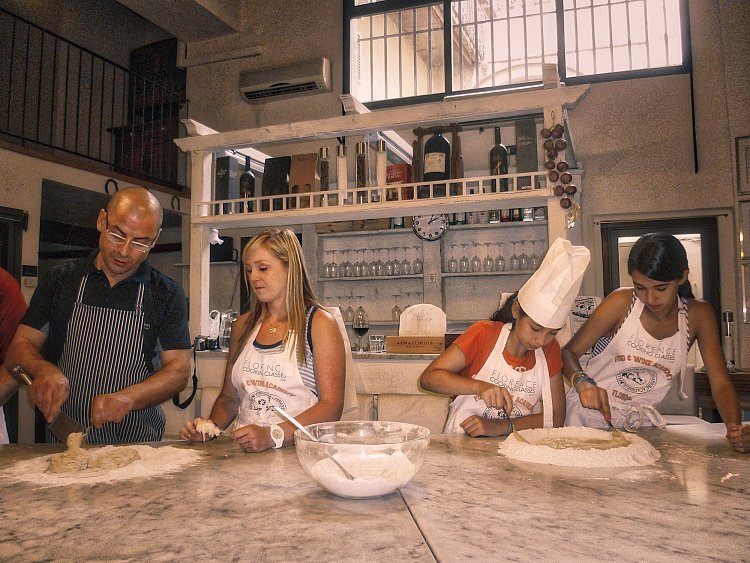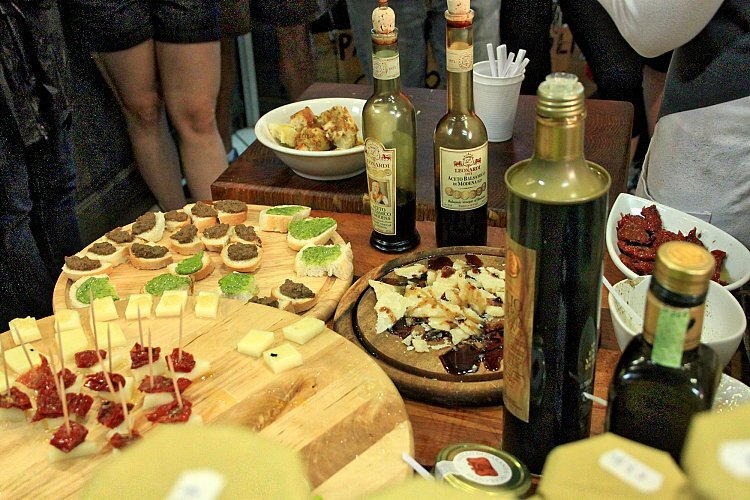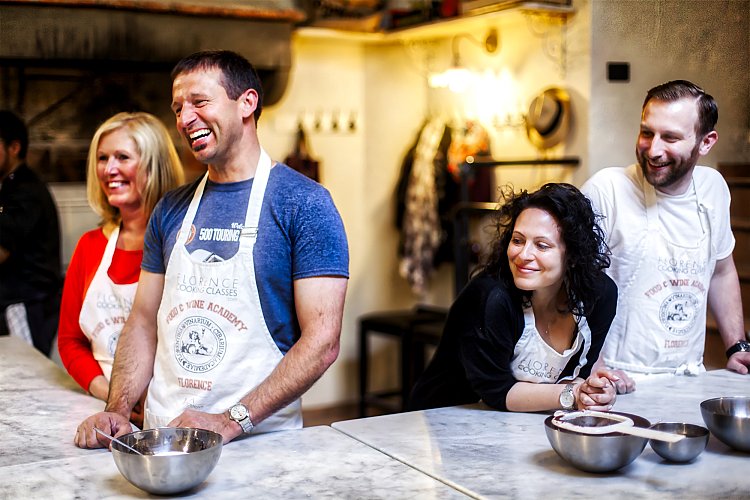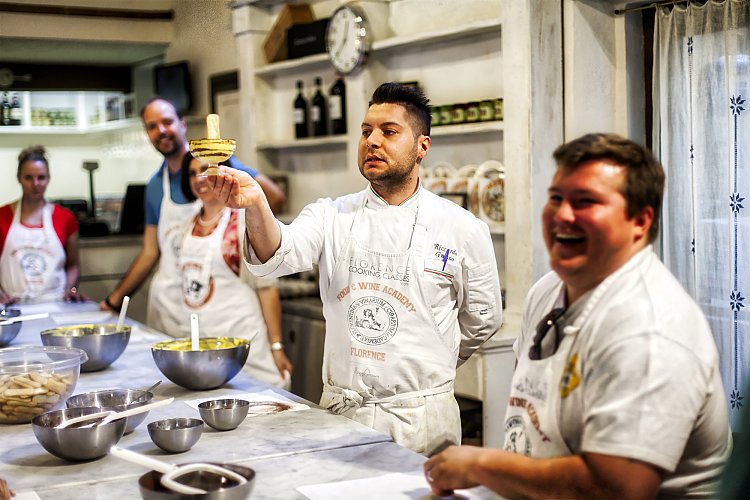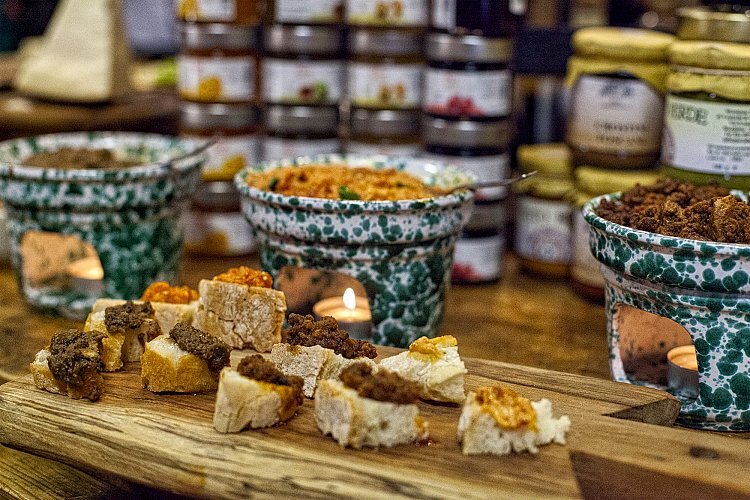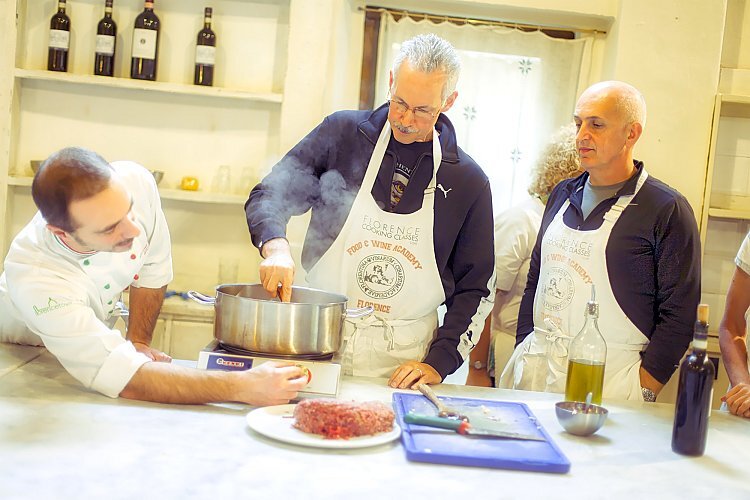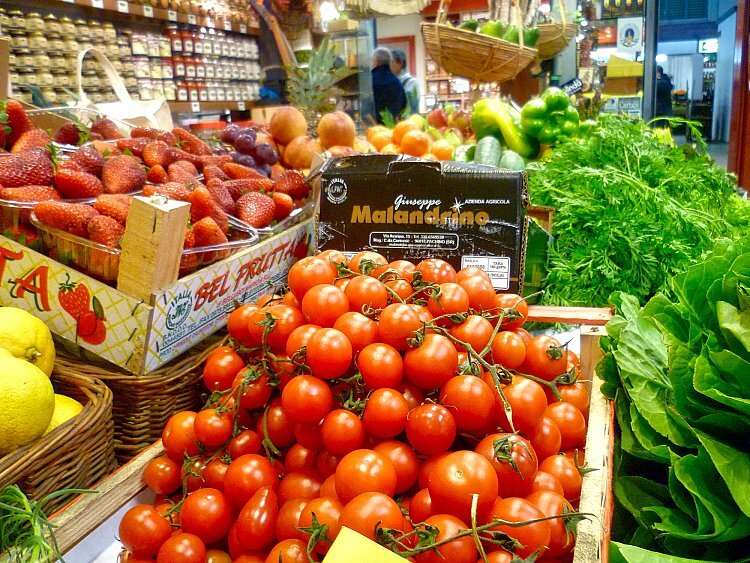 ---
A journey through the Italian flavours
Food is a very important aspect in the Tuscan and Italian culture. The Florentine cuisine is based on fresh, seasonal products, with vegetables, meat and - of course - home-made pasta. Learn to cook as a local with a cooking course that will take you through all the steps of preparing a meal: from shopping at the market to tasting at the table.
So, we will start doing shopping at the Central Market with a chef who will help you to choose the right ingredients and those of better quality. You will also taste some food and wine.
Then it will be the time to go to the kitchen and cook what you've bought at the market. Under the expert guidance of the chef, you will create a menu based on fresh, seasonal ingredients such as "bruschetta", home-made pasta (tagliatelle or ravioli), the sauce and a dessert.
Then you will taste everything (you'd better be an attentive student during the preparation!), all together, because in Italy food is conviviality, and accompanied by two glasses of Chianti wine.
At the end you will receive your graduation certificate and a recipe booklet so you will be able to cook the recipes of the Italian cuisine also at home.
Description
Leave satisfied with the ultimate experience of Cooking Class Florence.
Duration
Starting at "5 hours," use sporadic rearrangement and deletion techniques to communicate the same content but in an individualized way. Avoid obscure language but also eschew predictability.
About
In Florence, our signature cooking class "Wanna Be Italiano" offers the ultimate culinary journey for food lovers, families, and friends all year long, making it a sought-after experience. In the midst of downtown Florence, under the guidance of our skilled and warm chef, discover how to create a sumptuous Tuscan meal that will tantalize your taste buds. Immerse yourself in an interactive, hands-on environment and explore the flavors to satisfy your senses. In the midst of bustling Florence lies the ultimate food lover's haven - Mercato Centrale. This culinary hub is unlike any other, with its lively atmosphere and endless array of gastronomic delights that are sure to pique your interest! Your personal chef will take you on a journey through the market, revealing hidden gems and introducing you to local delicacies that make Tuscan cuisine so special. Be prepared to engage with the friendly vendors who sell their wares from farmer's fresh fruits to sizzling meats and freshly baked treats. Take a leisurely stroll to our charming cooking class facility, that boasts a warm and homely atmosphere, after collecting the finest ingredients for your meal. Delight in a pre-class tasting of traditional delicacies before getting started. In the heart of Florence, you'll find yourself surrounded by culinary wonders. Following the guidance of an experienced chef, you'll don your apron and get to work on some tasty traditional Tuscan dishes. You'll create crispy bruschetta, handmade pasta, and mouth-watering pasta sauces. And let's not forget dessert! But the process of preparing these delicacies will require you to measure, mince, mix, and stir with care, all while tasting to ensure the perfect seasoning. Once you've completed your meal, you can sit back, relax and savor your own creations, accompanied by a glass of Chianti wine. The whole experience will take place against the backdrop of Florence's rich history. Upon completion of the exercise, you will receive a complete Recipe Booklet in addition to a Cooking Class Attendance Certificate. With your newly acquired recipes, you can share them with your beloveds.
Info
additional On the menu for the Florence Cooking Class are dishes that rotate with the changing seasons. Expect to indulge in homemade pasta, a savory pasta sauce, mouthwatering bruschetta, and a sweet dessert that'll make your taste buds sing. For those with dietary restrictions or a preference for non-meat meals, we've got you covered. We have a variety of vegetarian and allergy-friendly recipes to choose from, so there's something for everyone. Feel free to indulge in these different options to satisfy your cravings. Take note: the Central Market is closed during holidays and Sundays. Instead, you can indulge in a one-of-a-kind culinary adventure of Tuscany's cooking and local product samplings through the class program.
Visit of the city Market (except on Sundays and holidays)
Tasting of food and local products
Cooking class with a local chef
All ingredients for lunch
Use of kitchen and all necessary utensils
Light lunch
Wine tasting
Recipes booklet
Graduation Certificate
MEETING POINT
COOKING SCHOOL, Via Panicale, 43red, 50123 Firenze, close to Florence Central Market
To remember
We cannot wait to welcome you to the land of authentic products and unforgettable experiences.
Clients are required to be at the meeting point 15 minutes prior to the scheduled departure time. Tours will start at the exact scheduled time.
Please take this into consideration when arranging your travel schedule. No delay, even for a few minutes, can be tolerated and missing the experience won't entitle you to any refund, not even a partial one.
Children / teens under 18 y.o. must always be accompanied by at least one adult. If this requirement is not met, we reserve the right to exclude the under age partecipant and no refund will be due.
Meal includes the menu as prepared and 2 glasses of Chianti wine per person.
Please inform us of any food intolerance or allergy in advance. We regret to inform you that this class is not suitable for celiacs.
Please note that Italy's law doesn't permit selling alcoholic beverage to teens under 18 y.o. so clients under this age will be served non-alcoholic beverages.
Please let us know in advance any special need or impaired mobility of the clients and we will do our best to accommodate them.
Kindly note that the Central Market is closed Sundays and public holidays: on these days the class program will include a special introduction on Tuscan cooking and additional local product tastings.
Please note that pets are not allowed on this tour.
The described itineraries may undergo slight modifications due to unforeseen operational requirements.
Cancellation Policy
At least 48 hours prior notice results in clients being reimbursed. They can receive their money back in full or choose to receive credit. You'll be hit with the full price if you miss the activity.