Duration: around 5 h and half
Photos allowed
Walk through vineyards and olive groves
Visit of a winery and an olive oil mill
Meal with Tuscan specialities
What to expect
Private tour with hiking guide
Be immersed in nature
Visit of a winery and an olive oil mill
Enjoy a typical Tuscan meal
Admire the charming Chianti countryside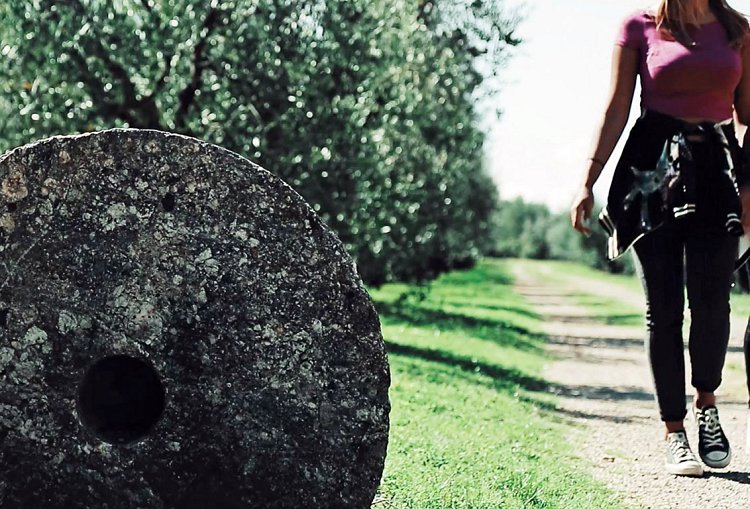 Hiking in Tuscany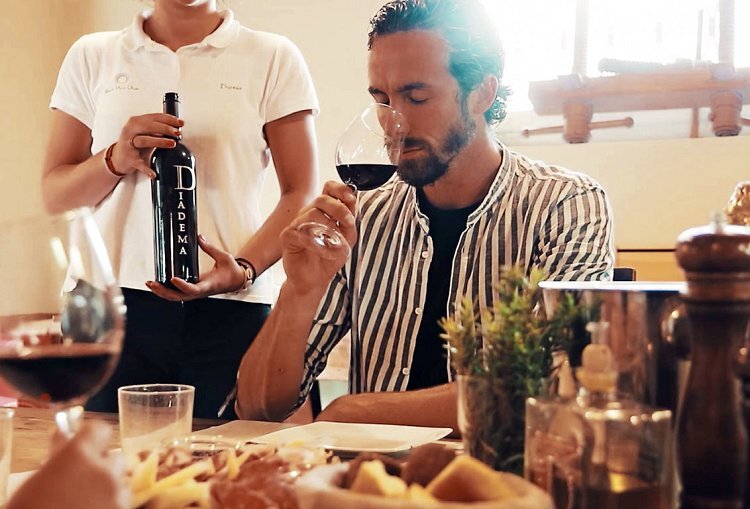 Hiking in Tuscany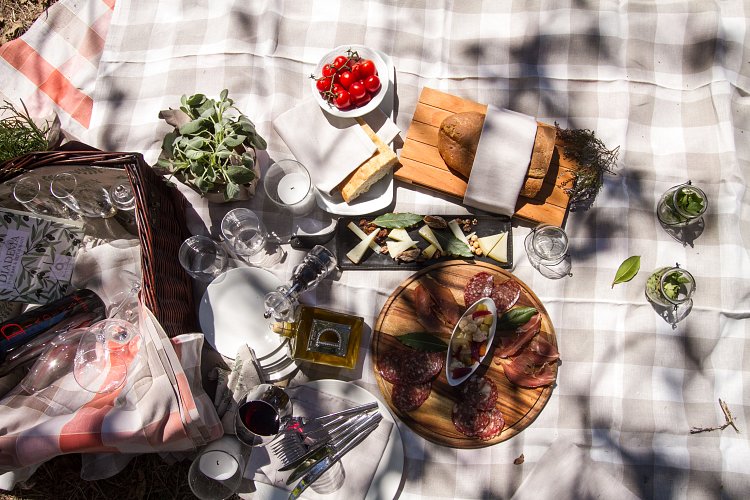 Hiking in Tuscany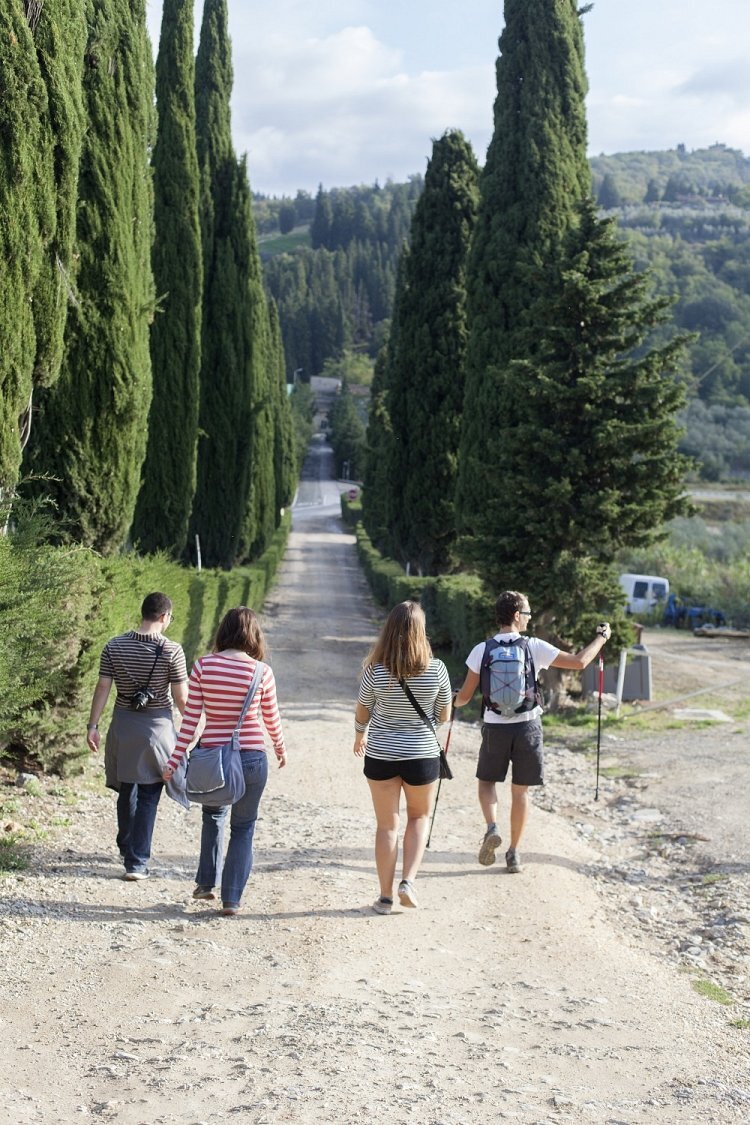 Hiking in Tuscany
---
Only nature around you...
Tired of visiting cities and museums? Can't wait to spend a day outdoors, strolling in the famous Tuscan countryside and savoring its specialties? Then this private tour is perfect for you and your family or group of friends.
You will leave comfortably by minivan from the center of Florence and with your dedicated environmental guide you will reach the Chianti area.
Comfortable shoes and sunscreen, and you will be ready to start exploring the nature around you following the paths studied by your expert guide who will make you admire sunny vineyards and olive groves.
During your journey you will be able to explore an ancient olive oil mill, learn the secrets of olive oil production and of course taste it!
You can take beautiful photos, surrounded only by birdsong and the scents of the Tuscan countryside.
It will then be the time to stop and visit a boutique winery and taste the famous Chianti wine that is produced here.
End this wonderful day by sitting comfortably to savor a delicious Tuscan lunch, with typical traditional products, before returning to Florence on a relaxing minivan ride.
Description
Breezy rural landscapes with breathtaking views
Duration
Hours, 5.5 of them
About
In the Chianti hills, hike for a day you will never forget! Captivating your senses with the countryside's breathtaking views, indulge in the delicious flavors of Tuscan cuisine and the aromatic scents of the outdoors. Take in the refreshing breezes as you enjoy a picnic snack, and explore a boutique winery and an olive oil mill. Embark on an unusual and diverting adventure with our one-of-a-kind Private Hiking and Picnic experience. Wind down country roads and immerse yourself in the lush vineyards and olive groves, while admiring breathtaking views and uncovering fascinating local heritage. Your English-speaking driver will meet you at your hotel before heading off to the rustic meeting point nestled in the Chianti hills. Embark on your journey with a knowledgeable environmental guide who speaks English and is eager to help. Follow the guide as you trek through the Chianti hills, immersing yourself in the beauty of the Tuscan countryside along quiet country roads, all while pausing occasionally to capture the breathtaking scenery. The picturesque landscape features an endless array of silvery olive groves and vineyards interspersed with gracefully Romanesque parish churches and honey-hued stone farmhouses, making it truly idyllic.
Along the journey, take a break at an adorable olive oil mill where you'll get the chance to discover (as well as savor!) the customary olive oil of Tuscany. Afterwards, make your way to a captivating property that houses a vineyard and rural dining establishment. Meet the accomplished winery employees and wander around! Observe the property and underground storage areas and study the methods and maturation steps that result in a splendid wine. Cap off your day with a mouth-watering Tuscan lunch, utilizing native culinary traditions and complementing them with the top-notch wines of the property.
Notes:
Participant, every official hat provided. Getting back to the city center by minivan is a goal, but first, it's time to relax. Hilly terrain: 8 Kms, or approximately 5 miles, hiking trail. 2,5 hours is the estimated hiking time. Grassland, dirt patch roads, and forest path make up the majority of the terrain. Moderate difficulty: sporadically rearrange and remove text within the following paragraph while maintaining its original meaning but making it more distinctive. Avoid always structuring sentences in a logical way and incorporate fairly common vocabulary to ensure coherence. NOTES AND SPECIAL REQUIREMENTS:

Throughout the duration of the event, it will be imperative that all guests follow the outlined guidelines. In order to access certain areas, please make sure to display your badge at all times. We kindly ask that all attendees travel in groups of four or less when inside the exhibit hall. Additionally, we request that no outside food or drink is brought into the event space. Please keep in mind that these guidelines are put in place for everyone's safety and enjoyment. Thank you for your cooperation. Non-alcoholic beverages will be provided to clients under the age of 18 as it is illegal to sell alcohol to individuals in Italy who are under that age. Mobility-impaired guests, we are sorry to say that this tour is not viable for you. Sunscreen and appropriate clothing are important, but make sure to leave your flip-flops at home - good walking shoes are a must.
Info Galore
Hunting for more information? Check out our comprehensive collection of resources. With topics ranging from cooking to coding, you're bound to find something that piques your interest. Plus, our website is constantly updated with fresh content, so you can keep coming back for more. Whether you're a seasoned pro or just starting out, our resources are available to help you learn and grow. So why wait? Start exploring today!
Comfortable transportation by Minivan from Florence in/out
Bottle of water,
Guide for the Protection of the Environment
Experience an olive oil tasting while touring an olive oil mill
Production of Olive Oil - educate yourself
The countryside beckons for hiking expeditions with an experienced guide
During the hike, we took a break for a lovely picnic
A boutique winery tour with a guide
Wine Tasting followed by a Tuscan Lunch
Private tour with expert hiking guide
Transfer from Florence to the Chianti area and back
Visit of an olive oil mill with tasting
Visit of a boutique winery
Typical Tuscan lunch with wine
Water bottle
Meeting Point
Florencetown Booking Office - Piazza Mentana, 2red, Firenze (FI)
Opposite side of the Arno river.
Clients are required to be at the meeting point 15 minutes prior to the scheduled departure time.
Cancellation Policy
Until the starting of the booked services 8 days earlier, Florence-Tickets.com will give a full refund of the total amount for renunciation.
Starting of the booked services is not within 7 days renunciation, which means Florence-Tickets.com is not obligated to refund.
Travellers who decide to interrupt their service already started will not receive any refunds.
To remember
We cannot wait to welcome you to the land of authentic products and unforgettable experiences.
Clients are kindly encouraged to arrive at the meeting point 15 minutes ahead of the scheduled departure time.
We kindly request that you factor this into your travel plans. Regrettably, we are unable to accommodate any delays, no matter how brief, and we regret to inform you that failing to attend the experience will not qualify for a refund, including partial refunds.
Children and teenagers under 18 years of age should always be accompanied by at least one adult. In the event that this requirement is not met, we retain the right to exclude the underage participant, and unfortunately, no refund will be provided.
Please note that pets are not allowed on this tour.
The described itineraries may undergo slight modifications due to unforeseen operational requirements.
We regret to inform that this tour is not suitable for guests with wheelchairs or with impaired mobility.
We suggest good walking shoes.
Please note that Italy's law doesn't permit selling alcoholic beverage to teens under 18 y.o. so clients under this age will be served non-alcoholic beverages.
Please inform us of any food intolerance or allergy in advance.