Duration: around 2.5 h
Photos allowed
Local food tasting
Local official guide
What to expect
Walking tour of Venice
Local food tasting
Small group with an expert guide
Italian breakfast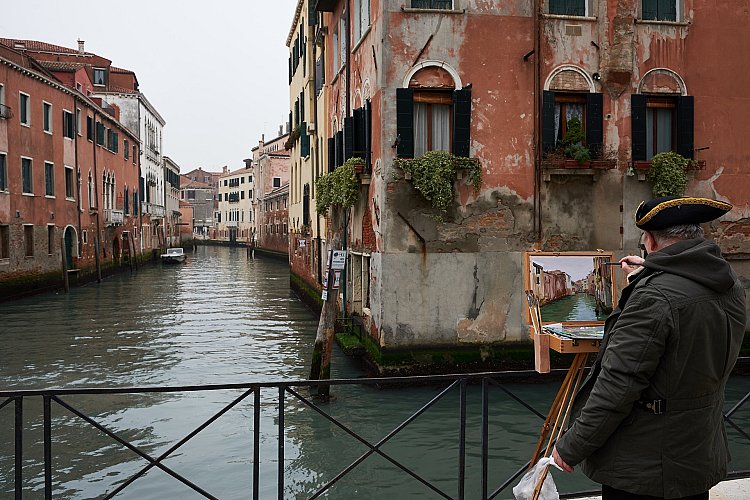 Venice walking tour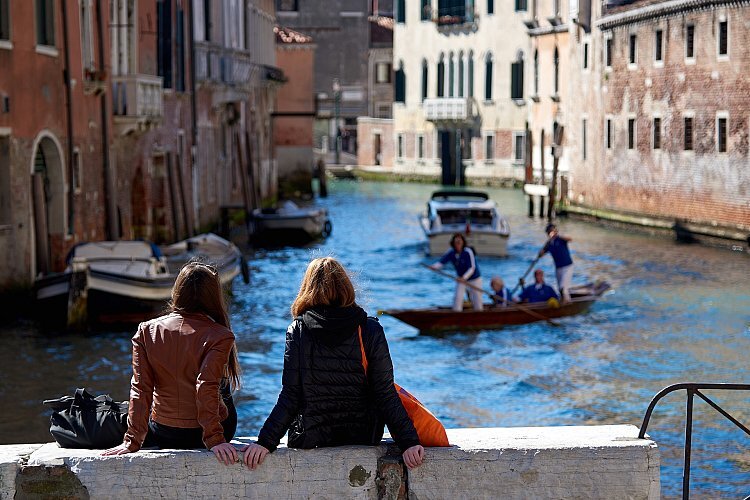 Venice walking tour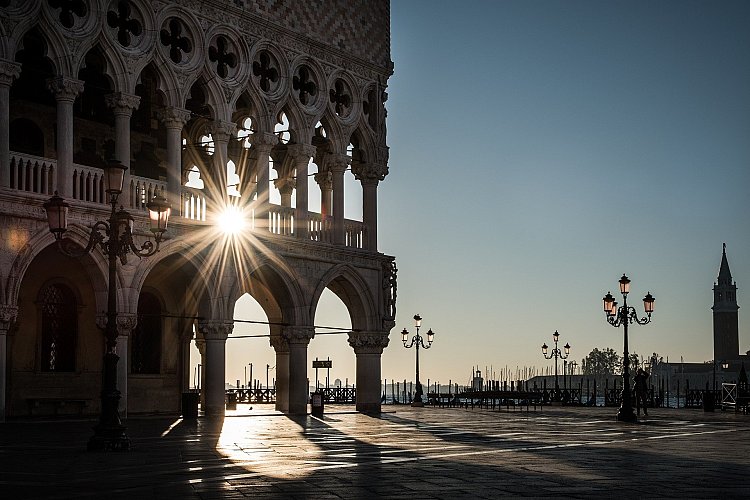 Venice walking tour
---
Art and cicchetti
The perfect combination between art and food exists and is enclosed in this wonderful walking tour of Venice! A small group tour and the explanation of our local guide are the perfect ingredients to discover this wonderful city.
After meeting your dedicated guide, start the day in a historic café of the city with the first taste of an Italian breakfast: the typical combination of espresso (or cappuccino) and a sweet croissant. Then you will have the chance to stroll through the charming and romantic streets (here traditionally called Calli) and admire the beauty of the elegant palaces and bridges reflected in the waters of the canals.
Thanks to the guide's explanation, you will learn how the history of Venice has influenced its architecture, ranging from the Byzantine style of the wonderful and imposing St Mark's Basilica overlooking the famous St Mark's Square, to the lightness of the Gothic lines of the Doge's Palace (Palazzo Ducale).
With this tour you can combine the pleasure of admiring the highlights of the city, along with some very pleasant stops for your palate! In fact, you will be able to taste the typical snacks of local products (called cicchetti) that the Venetians love to accompany with a glass of wine.
You will take wonderful pictures of the Grand Canal and the famous Ponte di Rialto (Rialto Bridge) and then end this entertaining tour by savoring another Venetian specialty in the Rialto Fish Market (on market closing days we will stop in another local shop).
Description
For lovers of history, art, and food, this is a must-see!
Duration
Hours spent: 2.5
About
In a fun, informative, and tasteful way like no other tour, our expert guide will provide you with a comprehensive and enjoyable introduction to the art, history, and incredible local food and wine scene via an exclusive walking tour. Start your journey by meeting with your guide. As you wander through the fascinating and enigmatic cobblestone streets, alleys, and bridges such as Calli, Ponti, and Rughette, you'll find yourself mesmerized by the most stunning sights. Feast your eyes on the breathtaking palaces and get a glimpse of eternity. Witness the grandeur and magnificence of St Mark's Square, which superbly demonstrates the prominence of Venice's past. Marvel at the impressive Venetian-Byzantine domes of the remarkable St Mark's Basilica. Once you've had your fill of the splendor, move on to the Gothic infrastructure of the Doge's Palace - a place that was once the government seat, Palace of Justice, prison, as well as home to the Doge. Finally, finish your journey with a mesmerizing trip across the haunting Bridge of Sighs. For a fulfilling experience of your taste buds and spirit, we plan on stopping at both traditional "Cicchetti" and local stores to sample the area's delicacies. Come experience the ultimate finale to this tour and the city of Venice at the legendary Ponte di Rialto over the stunning Grand Canale. Here, you'll discover the secrets behind the engineering of this beautiful structure that was once believed to be doomed for destruction (but has still stood tall for over 400 years!). Afterward, indulge in an unforgettable local experience with a Venetian Cicchetti and Italian Aperitivo meal. This is an opportunity that you can't afford to miss! For a truly complete Venetian experience, we recommend enhancing it with a half hour Gondola Ride. This will give you unexpected, special and romantic city views from the original source of its creation, the water. Don't miss out! A unique city like no other, Venice is comprised of art, tradition, history and flavours – the ingredients that make up its distinct culture and soul. Tour like no other, informative and fun, discover them all at once with a unique approach.
Info Galore
Added Facts: can't hurt, right? Want to learn more? No problem. Check out our supplementary information section below for additional details on this topic. Don't hesitate - the data may be fascinating. Find it below.
- Attention that is tailored to you - Individualized focus - A unique level of attention - Customized care - Personalized consideration - A specialized approach to your needs - Tailored treatment - Personal attention
Guide licensed
Tastings of local products accompanied by an Italian Aperitivo and appetizers
Local official guide
Walking tour of Venice
Tastings of typical Venetian products
Italian breakfast with espresso
Cancellation Policy
If Florence-Tickets.com receives notice of renunciation of the booked services eight days prior to its commencement, then it is subject to 100% refund of the entire amount.
Florence-Tickets.com will not issue a refund if the booked services are renounced within 7 days prior to the starting date.
Travellers who interrupt their travel or service that is already underway will not receive a refund.
Meeting Point
P.za San Marco, 1, Venezia (VE)
St. Mark's Square: under the column with the lion on the top, in front of the Doge's Palace.
Clients are required to be at the meeting point 15 minutes prior to the scheduled departure time.
To remember
We cannot wait to welcome you to the land of authentic products and unforgettable experiences.
Please note that this tour is not suitable for people with impaired mobility.
Please inform us of any food intolerance or allergy in advance.