Chagall. Love and Life in Rome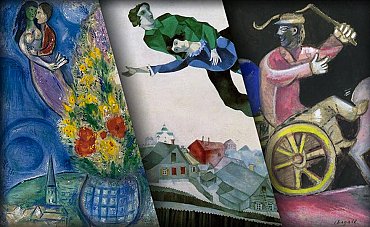 Love is everywhere in the new exhibition at the Cloister of Bramante in Rome until July 26. It could not be otherwise since the protagonist is Marc Chagall, the Russian painter of Jewish origin.
More than 150 works - including paintings, drawings and prints - from the Israel Museum in Jerusalem are exposed in Rome to narrate the passionate relationship between the painter and his wife Bella Rosenfeld, his main and constant source of inspiration.
"Chagall. Love and Life" is all around the artist's personal experiences and the themes of his poetry: love and life. From the images of his childhood and youth in Vitebsk, to the illustrations of the autobiography "My Life", the Bible and Bella's books "Lights On" and "First Meeting", the exhibition cross the entire life of Chagall up to his more mature works.
"Only love interests me", wrote Chagall. "I'm in contact only with things that have to do with love." The central message of the artist is just this: love for life. A love made up of many different types of love: for his village, for nature, for Judaism and for his wife.
Among the key themes of Chagall's poetry we find the Jewish culture - whose symbols are always present in his paintings - the influences of the French avant-garde - that he developed in an original way - and the representation of lovers.
From the exhibition it also emerges something new, an unpublished Chagall, which deviates from the known and powerful use of color, through a selection of works mainly in black and white that express the message of love.
On display there are drawings, oils, gouaches, lithographs, etchings and watercolors depicting dreamlike and fantastic wanderings of an eclectic and brave artist. No need to be an art expert to grasp the suggestions found in Chagall's works: color and joy, the tenderness of the characters and the sweetness of surreal landscapes.