Rome rediscovers the antiquity in an exhibition at the Curia of the Roman Forum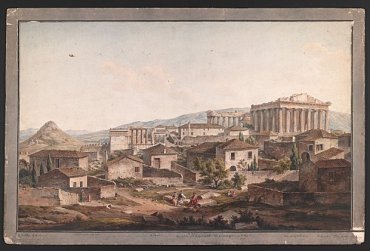 Up to 23rd February 2014, the Curia of the Roman Forum is hosting an exhibition dedicated to the rediscovery of antiquity, with a selection of 800 watercolors, drawings and paintings by the British archaeologist and self-taught artist Edward Dodwell and Simon Pomardi.
The exhibition entitled The rediscovery of antiquity.Watercolors by Edward Dodwell and Simone Pomardi, gathers works by the two artists during their explorations in Greece in the early nineteenth century. Works that, through the ingenuity of watercolor, express the ecstasy of the imagination in front of the neo-classical grandeur of Greek and Roman ruins.
After being hosted by the British Museum in London last spring, now the rediscovery of the antiquity comes in Rome to illustrate all the romance of the Grand Tour travels, those long trips (they could last for years), of which, in the seventeenth century were protagonists the rich young European aristocrats.The Grand Tour was intended to improve their education and complete their upbringing.The final destinations were often Italy or Greece.
In the works on display - mostly watercolors - there are monuments, sculptures and magnificent landscapes of ruins made by the two painters during their travels in Greece in 1805-1806, in full neoclassical climate.
There are 38 views selected and presented for the first time in Italy, all unreleased works until last February, when they were exhibited in London. The landscape paintings represent the Acropolis of Athens, the monuments of Mycenae, the port of Corfu and other archaeological sites as they appeared at the time of the Ottoman domination of Greece, but filtered through the eyes of the archaeologist Edward Dodwell and Italian artist Simone Pomardi.
Painted at the beginning of the XIX century, these paintings also helped to promote the Hellenic current of that period which, among others, was also supported Lord Byron.The English poet declared in fact the need to rediscover the ancient splendor of classical civilization and wished to return to the freedom of Greece.
The exhibition is set up in the impressive hall of the Curia in the Roman Forum, once seat of the Roman Senate. Here you can still admire the marble floor in opus sectile of the Diocletian age and the remains of Byzantine paintings; a truly impressive setting that suggests an intense and interesting dialogue between objects of different eras.