From 18 August, the Duomo of Siena discovers its extraordinary marble floor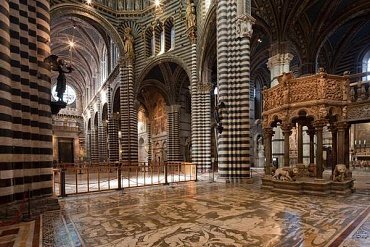 After the success of last year, the magnificent Duomo of Siena discovers again its extraordinary marble floor for over two months, from August 18 to October 27.
It is a really rare occasion because this precious marble carpet is usually covered to protect it from visitors and faithfuls who come to the church every day to pray. The public can now admire it with professional guided tours in several languages, which will lead visitors to discover this masterpiece.
Describe the complexity of the floor is not easy, this is in fact the result of work carried out for centuries, 5 in total, starting from '300 to '800. The technique used is that of the graffiti and mosaic realized with marbles of different colors combined together. The designs of the 56 inlays were provided by major artists, for the most part from Siena, as Domenico di Bartolo and Matteo di Giovanni. But also artists from other regions gave their contribute, such as Pinturicchio, a native of Umbria.
Below the three naves of the cathedral, the route winds through different themes: the she-wolf suckling Romulus and Remus, the founder of human wisdom Hermes Trismegistus, the ten Sibyls and the philosophers Socrates, Aristotle and Seneca. Moving on in the transept and the choir, we meet the history of the Jewish people and the events of salvation accomplished by Christ that we find depicted on the altar.
Visitors will also see the part designed by Domenico Beccafumi that, using different shades of marble, was able to obtain a fascinating play of light and shadows similar to the technique of chiaroscuro in the drawing. In the hexagon under the dome you can see the stories of Elijah and Ahab and in the boxes next to the altar those of Moses, which is overflowing water from the rock, on the Sinai and the sacrifice of Isaac.
For this special occasion, it will be possible to admire the frescoes of the apse painted by Beccafumi. Visitors will have access to the choir and the apse which houses the wooden inlays by Fra Giovanni da Verona, made with wood of different colors and depicting landscapes, still lifes and cityscapes.
Along with the "unveiling" of the floor continues also the extraordinary opening of the "Gate of Heaven", the attics of the Cathedral, where no one was able to enter for centuries. Through the secret spiral staircase it's possible to access to the towers that lead to the 'sky' of the Cathedral and admire the starry vaults of the right aisle. From there, in small groups, visitors can proceed and enjoy charming views both outside and inside the cathedral.
Opening - August 18 to October 27
Weekdays: 10:30am to 7:30pm
Holidays: 9:30am to 6:00pm