Matisse and East suggestions on display in Rome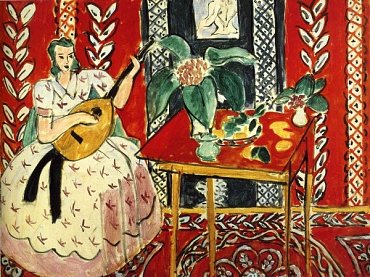 The influences exercised by the East on the painting of Henri Matisse are on display until June 21 at the Quirinal Stables in Rome with "Matisse Arabesque", an exhibition that brings together over a hundred works by the French artist from the major museums in the world.
The exhibition tells the fascination of the East through the western eyes of the artist, a revolutionary painter in the history of the twentieth century. For Matisse the discovery of the East was gradual and occurred through exhibitions and meetings, but mostly through travel. Starting from Algeria, eastern influences and experiences mingled with the attendance and study of his contemporaries - such as Picasso and the avant-garde - becoming visual inspirations and precious designs in bright colors. The Arabesque is the leitmotif of the exhibition, used by Matisse in a new way, creating spaces that overlap and refer to magical and distant places, just like those of the East.
The exhibition includes drawings, ceramics, textiles, costumes and stage costumes designed for the ballet, where the suggestions of the East are narrated as an "elsewhere". Visitors can admire works such as Portrait of Yvonne Landsberg, with the influence of primitivism in dark colors and geometric signs and Plum blossoms, green background with peak colors. In Moroccan in green we discover the relationship with the Islamic art, and in Moroccan Garden we can admire beautiful landscapes dominated by green and pink. The exhibitions culminates with The goldfish of 1912, expressing the maximum contamination of genres and styles.
Masterpieces as Girl with Persian Cap, Zorah on the terrace and Moorish Screen testify the extraordinary ability of Matisse to evoke worlds of ancient and fabulous beauty through painting inspired by the traditional North African and Middle East. Other works such as Fruit Plate and Flowering Ivy in a Pot With a Rose show how the artist's gaze has led to the observation of cultures even more remote and mysterious, like those of Central Africa or the Far East.
Moreover, the fascination of Matisse for the world of textile decoration can be discovered through his collaboration the Ballets Russes.The artist worked in fact to the costumes for the ballet Le chant du rossignol staged in 1920 by the company of Diaghilev with music by Stravinsky and choreography by Massine.