The Palio of Siena between past and present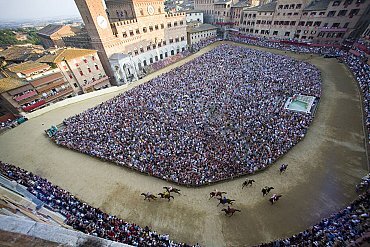 During summer Tuscany is filled with various events and feasts, but one above all emerges for its competitive spirit and fervor. If you're planning a holiday in Tuscany, therefore, make sure you go to Siena to attend his incomparable Palio.
The Palio of Siena is in fact much more than a traditional festival, organized for tourism, it is - and those who took part in it knows - the life of the people of Siena. The event has really remote origins, so much that some regulations still valid today, date back to 1644, when it was held the first prize with horses, first of a long, uninterrupted series. But the origins of the Palio can be found further back in time, in the Middle Ages, when in the main square of Siena were held sports competitions. From the XIV century the districts of Siena organize races, first with jockeys on buffalo, then with donkeys. Originally the race was only one, that of July 2, but then was added the race of August, the day after the celebration of the Assumption of Mary, on the 16th of August.
The city of Siena is divided into 17 contrade with the boundaries established in 1729 by the Notice of Violante of Bavaria, Governor of the City. The jockeys, clothing colors of the district, run a 90 seconds race. Of course Piazza del Campo, as square and not race-course, is fairly insidious if traveled by horses at full speed, and so it often happens that the jockeys fall from the horse before completing three laps.
Among the 17 districts rivalry is skyrocketing. Each district is represented by a symbol (animal or natural element) that dates back to the XIII century, and which hangs from the buildings in each district. The antagonisms between the various districts of Siena have ancient origins. Some of them are officially enemies. The snail and the tortoise have hated each other for centuries, while hostilities between owl and unicorn date back to the 50s of the last century.
Today the Palio is the only official competition between the districts remained in force and all the energy of citizens focuses these two days. Everything starts with a historical procession, before both events each district prepares a big party feeding thousands of guests with culinary delights, wine flowing and stories and anecdotes.
The race lasts only 90 seconds but in Siena people live all year for this event. So if you want to discover the true, and deeper spirit of Siena, you cannot miss the Palio. Book accommodation in the historic center of Siena, a hotel or a B&B, or take the opportunity to enjoy, with good weather, the suggestive countryside on a farm. It will be an unforgettable experience.