有效期:1天
电子票
优先访问
没有闪光的照片
音频指南可用
适用于残疾人士
期待什么
参观美第奇坟墓, 还有米开朗基罗的雕塑
欣赏美第奇教堂
不需排队,不用浪费您旅游的时间
在博物馆多久都可以
美第奇墓
博物馆
在圣洛伦佐教堂,梅第奇教堂博物馆由美第奇家族墓穴,众首领和米切朗基罗的新教堂的圣器。随着雕塑和建筑装饰,博物馆展示的圣洛伦佐大教堂宝藏:圣骨匣和礼拜的对象,文艺复兴和巴洛克艺术的伟大金匠的例子。
历史
巨大的地穴,在美第奇家族成员被埋葬,导致王子的教堂,这房子的奇托斯卡纳大公爵的宏伟的墓葬群遗址。这是一个八角形的大厅,全部覆盖半宝石和罕见的大理石镶嵌,顶宽的壁画穹顶。工程开始于在1604年由建筑师Matteo Nigetti一直持续了两个多世纪。丰富的镶嵌装饰的大公爵作坊,联合在一起形成的继续展出宝石(半宝石车间)。
在美第奇教皇的祝福,利奥十世和克雷芒七世,米切朗基罗曾装饰新圣器室1520年和1534年之间,在连续的阶段。建筑与雕塑装饰,包括美第奇家族的成员的墓葬群遗址,被设计和由米切朗基罗开始他在去罗马之前。新的更衣室进行了排列成了我们今天看到的乔尔乔·瓦萨里和巴托洛米奥·阿曼纳蒂。
杰作
王子的教堂:
六大公爵美第奇家族的石棺位于在大八角墙壁;以上的大公费迪南多我和科西莫二世,一个内龛,我们发现了两个巨大的镀金青铜雕像,铸造由彼得洛和费迪南多薯1626年和1642年之间。下面,十六层的托斯卡纳城镇的手臂,用半宝石,珍珠母,青金石和珊瑚。
新的更衣室:
米切朗基罗的象征性人物,洛伦佐乌尔比诺公爵和朱利亚诺内穆尔公爵墓(白天和黑夜,黎明和黄昏)
米切朗基罗,圣母娜和儿童,在宏伟的洛伦佐和他的弟弟朱利亚诺墓。
可用选项
除了在本网站的指导预订中的门票以外,还可以购买以下选项。
Audioguide:意大利语,英语,法语,德语,西班牙语,俄语和日语
指南手册:意大利语,英语,法语,德语,西班牙语和日语
降价
优惠票:
18岁至25岁的欧洲共同体的公民(入口时提供有效身份证)
免费机票(仍然需要支付预售以跳过线):
欧盟而不是18岁以下的欧盟公民(入场时需要有效的身份证件)
Temporary and permanent teachers of Italian public and private schools equipped with the appropriate documentation issued by MIUR
任何残疾人陪同残疾证明和护送
要记住
The ticket is valid all day until closing time of the Chapels starting from entrance time.
The entrance time written on the tickets may be subject to small changes depending on the actual availability of the Chapels.
For a satisfying experience it is recommended to reserve at least 1 hour to visit the Chapels.
The tickets will be sent via email within 24-48 hours after purchase (on weekdays) with instructions on how to get there and what to do to enter.
We inform you that, once booked, the date and time selected are binding. Please pick up your ticket at least 15 minutes before the reserved entrance. Who does not respect the time booked will not enter. To pick up the audio guide, you need a valid ID.
The Chapels have a maximum capacity of people, in some periods of the year or special days you may experience short delays or waits not dependent on the Chapels or Italy Tickets.
---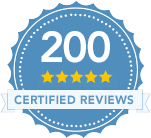 What means?
36 Reviews

Italy
3 years ago
Roberto
"Sempre emozionanti, peccato il traliccio. Michelangelo fantastico"

United Kingdom
3 years ago
Iwona
"Breathing "

United States
3 years ago
Cheryl
"The relics in the chapel are so weird and wonderful. The ornate vessels with gold and gems to display the jaw bones, fingers, skulls were amazing. The Michelangelo's statues for the tombs were awe inspiring. There was no line."

United States
3 years ago
Denise
"I ordered the reserved-time tickets from home before the trip. All I had to do was print the voucher and show it to the ticket office. As a result, we got right in. This is such an important place in Florence history. Try to not miss it. Not always open, so check in advance. "

Spain
3 years ago
Oscar
"Nice place to visit if you have some free time in Florence, but if you are there for just a couple of days, you can skip it and visit the biggest art galleries in the city. I would take you around an hour to visit it. The most important part is the chapel itself, where you can see the great sculptures of Michelangelo and the tombs of the Medici family. "

Argentina
3 years ago
Evangelina
"muy bello...excelente!!!!"

United States
3 years ago
Anne
"I'm so glad we visited the Medici Chapel! Michaelangelo's sculptures were wonderful. The two Medici carvings are above two reclining figures of dawn and dusk, and night and day. Too cool! The Cappella Principi was beautiful!. The inlaid marble designs all over the surfaces were amazing. Also fascinating was the craftsmanship of the 16 coats of arms from the Tuscan cities under the Medici rule."

Belgium
3 years ago
Frederique
"The magnificience of the Medicis ! A great place to visit."

Italy
3 years ago
Marc
"magico !"

Canada
3 years ago
Debra
"Entering the Medici Chapel was so effortless. We were early but we're allowed to enter before our scheduled time. Wondrous site!"

United Kingdom
3 years ago
Kate
"Loved it here - really interesting -wish there was more!"

Italy
3 years ago
Andrea
"Luogo meraviglioso, sculture straordinarie, personale gentile. Tutto perfetto. Grazie mille."

Brazil
3 years ago
Maria
"good organized. no Line ! I strongly recomend"

Italy
3 years ago
Celestina
"Perfetto "

United Kingdom
3 years ago
Bryony
"Chapel of the princes was such a surprise! I did not expect it to be as amazing as it was. A definite must see with the amount of michalangelo aspects inside "

United States
3 years ago
Karen
"This was a wonderful experience. Mostly due to the unexpected free "tour guides" available to walk you through the museum - and provide you with very helpful information. They were so kind and polite and knowledgeable. Thank u !! "

United Kingdom
3 years ago
M A
"Fascinating trip through history"

Russian Federation
3 years ago
Vera
"Very good organization, very nice museum"

Colombia
3 years ago
Gustavo
"Bonita construcción en mármol. Digna de su período."

Slovakia
3 years ago
Ivan
"Super"