TERRANTICA. Faces, myths and images of the Earth in the ancient world on display in Rome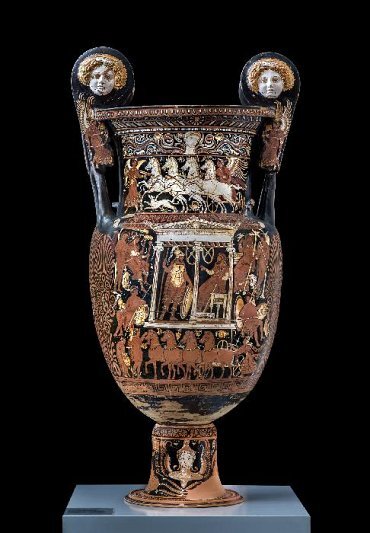 Until October 11, the Coliseum in Rome hosts a major exhibition dedicated to the worship of the Earth, from prehistory to the imperial age. Terrantica.Faces, myths and images of the Earth in the ancient world, forms part of the issues addressed by Expo 2015, as a reflection on the power of Mother Earth, between human and divine, as the mother of all living things, in its particular generative and nourishing value.
The exhibition consists of 75 works, including ancient artifacts (statues, vases, reliefs), and contemporary photographs that illustrate the sacredness and magic of the Earth. The exhibition shows various aspects of the Mother Earth, aspects that recur in all ancient civilizations, from the Paleolithic to Roman times, in all places of the Mediterranean and the East, up to the contemporary.
Exploring the Earth of the ancient means to start from the enigmatic statuettes of prehistory that open the exhibition: figures in terracotta, white marble, limestone, serpentine as the so-called Venus of Trasimeno and Marmot, dating back to the Upper Palaeolithic and the ancient Neolithic and the female statuettes of the Goulandris collection, all dating between 3200 and 2300.C.
Then we find images of Greek gods: the Attic vase with red figures painted by Hermonax, which depicts Athena receiving Erechtheion from Gaia, a masterpiece dated to 470.C. Then, we can follow the wanderings of Demeter, goddess of the harvest, of which it is exposed a limestone statue of Gallic-Roman era depicting the mother goddess with her lap full of fruits.
From the fruits of the earth we arrive to its bowels with the marble relief coming from the Capitoline Museums with the image of Hades, the lekythos characterized by a delicate pattern on a white background with the image of Hermes, and we retrace the mysterious journey into the underground world reserved for souls devoted to Orpheus.
Then we go back to the surface with a large section that recalls how the the city of Rome has been created by men, with the plow, plate on plate.This is represented by the marble relief which depicts the act of tracing the groove of the foundation of the city.
The exhibition also includes a series of large photographic images in black and white and color images of important contemporary Italian authors.The images of natural landscapes devoid of human presence and are placed next to the archaeological finds, so that they can narrate the antiquity and the sacredness of the earth and the magical importance of the materials of which it is composed.