Amedeo Modigliani et ses amis in Pisa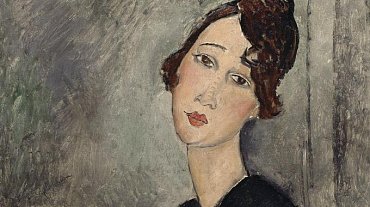 On display at the Palazzo Blu in Pisa an exhibition dedicated to Amedeo Modigliani, bohemian artist who has reinvented the art of his time and embodied the tormented artist of the twentieth century. His career was very short and crowned with little success in life, but today he is undoubtedly one of the greatest figures of modern art, his works are preserved in the most important museums of the world and estimated at very high prices.
Few men have embodied as Modigliani the romantic myth of the brilliant and transgressive artist. Damned painter with a dissolute life, dandy with great and tumultuous love affairs, misunderstood genius who took refuge in wine and in absinthe, his history, dramatic and brief, remains memorable. During his life Modigliani lived intense amorous passions, was a famous seducer but also a man with a difficult character, angry and sometimes violent, with a strong dependence on alcohol that gradually destroyed him.
In particular, the current exhibition in Pisa presents, until February 15, the artistic production of Amedeo Modigliani in the context of the so-called School of Paris, a term coined by the art critic André Warnod, with which he referred to a group of artists, mostly of Jewish origin, discriminated in their home countries, gathered in Paris, home of Impressionism and Symbolism. Far from the abstract art of historical avant-garde as Cubism, Futurism and Surrealism, the exponents of the School of Paris experienced their pictorial modernity staying within figurative boundaries.
The exhibition starts with a corpus of about 70 works from the Centre Pompidou and forty more works borrowed from other French and Italian museums and private collections. These masterpieces recreate at the Palazzo Blu in Pisa the cultural atmosphere in which Modigliani developed his painting and artistic experience, from the time of his education in Livorno to Paris.
And it is precisely in the avant-garde of Paris, with his friends Marc Chagall, Max Jacob, George Braque and Jean Cocteau, that Modigliani developed his artistic poetry, heavily influenced by artists such as Picasso, Toulouse-Lautrec and Cezanne.
Alongside works by Modigliani, we can also admire in show great masterpieces of contemporary artists and fellow adventures as Pablo Picasso, Marc Chagall, Fernand Léger, Maurice Utrillo, André Derain, Raoul Dufy and Gino Severini. The exhibition is completed with sculptures by Modigliani and great sculptors of the time as Constantin Brancusi, and a series of photographs.