有效期:1天
电子票
优先访问
没有闪光的照片
音频指南可用
适用于残疾人士
期待什么
欣赏著名的杰作,比如:米开朗基罗的家庭,维纳斯的诞生,波提切利的春。
不要浪费你的时间在排队
无论在博物馆参观多久都可以
Uffizi Gallery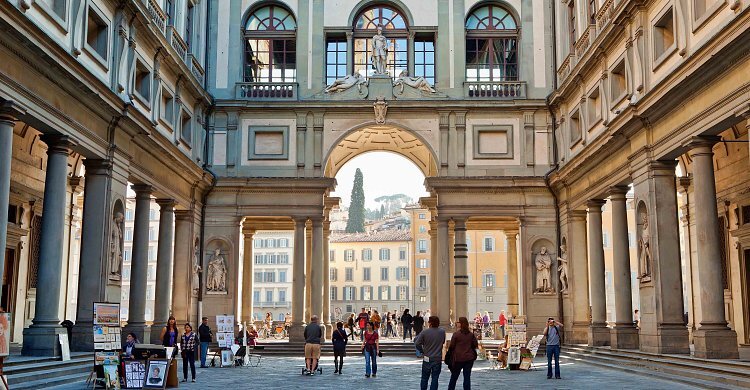 Piazzale degli Uffizi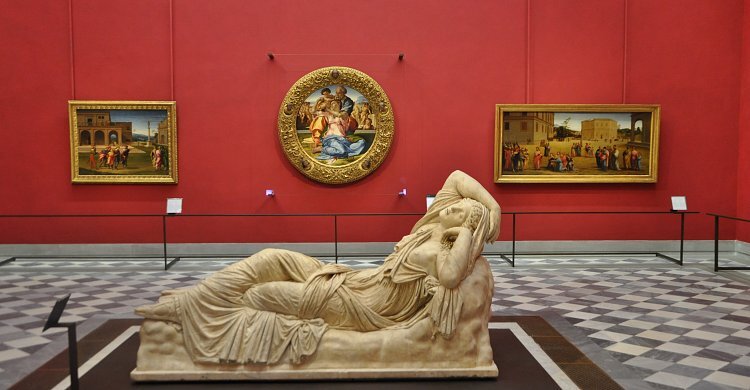 Michelangelo's Hall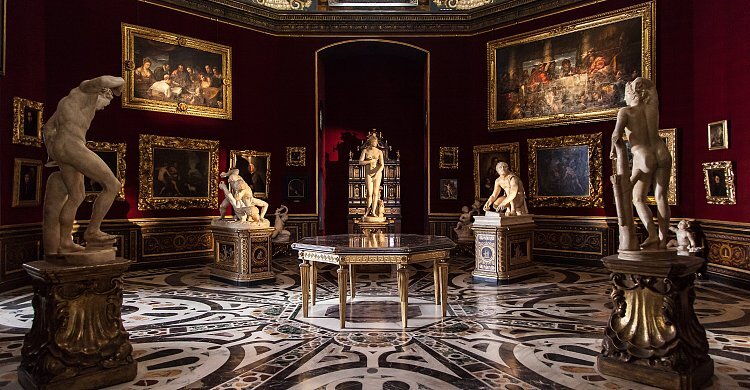 Tribuna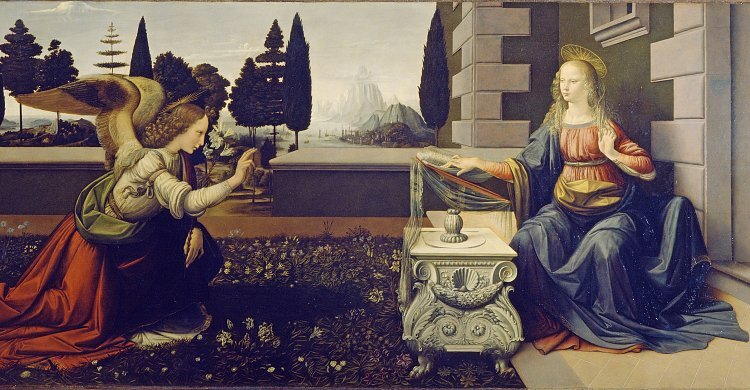 Leonardo's Annunciation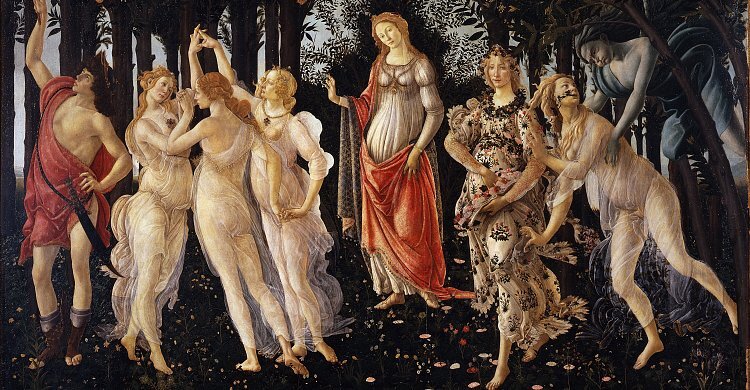 Botticelli's Spring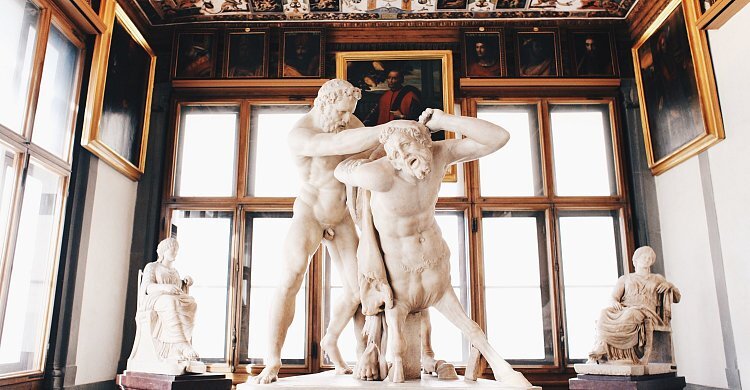 Hercules and Nessus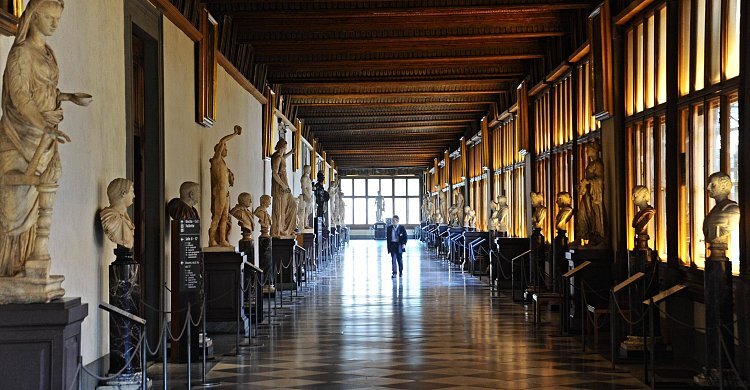 Uffizi Corridor





---
一个难忘的旅程
博物馆
意大利最重要的美术馆和现代欧洲最早的博物馆,它显示每个年龄最大的画。这房子最重要的古典雕塑从奇集合和一个大的选择意大利和欧洲绘画从第十三到第十八世纪,主要是中世纪晚期和文艺复兴时期的托斯卡纳的作品。
历史
乌菲齐美术馆是由乔尔乔·瓦萨里在公爵柯西莫一世的愿望为美第奇政府办公地点。该馆的历史可以追溯到梅迪奇时代的起源,但博物馆定期向公众开放的洛林王朝统治。
收集
画廊的第一部分是由弗朗西斯科本人的洛伦佐·德·美第奇在建筑物的一楼在1581年创建的,用于房屋管理(行政、司法机关)的佛罗伦萨状态。它包括第十五和第十六世纪.美第奇家族收集的作品,最初位于"论坛"和相邻的房间。规则的洛林家族的作品更合理的安排下,增加新的收藏品,旧的被感动了其他重要的佛罗伦萨博物馆的核心(武器,科学仪器,考古碎片,古代和文艺复兴时期的青铜)。在第十八和第十九世纪教堂和修道院的抑制后,许多重要的宗教著作被转移到了乌菲齐美术馆。在早期的第二十世纪。一些重要的画获得为了填补空白的博物馆,所以成了"意大利乌菲齐画廊"。
杰作
佛罗伦萨画家:契马布埃,乔托,马萨乔,保罗乌切罗,里皮,桑德罗,波提且利,列奥纳多,达文西,米切朗基罗,彭托莫,罗索佛罗伦萨。
意大利画家:杜乔·迪·波宁赛纳,西蒙娜马蒂尼,詹蒂莱大法布里阿诺,皮耶罗和弗朗西丝卡,佩鲁吉诺,拉斐尔,提香,丁托列托,维罗纳,卡拉瓦乔,卡纳莱托。
欧洲画家:乌戈·范德去,汉斯默林,卢卡斯·克拉纳赫,杜勒,格列柯,鲁本斯,伦勃朗。
最伟大的作品:
波提且利,维纳斯的诞生,约1484年。
波提且利,弹簧,约1482年。
列奥纳多达文西,报喜,约1475年。
米切朗基罗,通多多尼,约1506年。
拉斐尔,利奥十肖像,大约1518年。
提香,金星乌尔比诺,1538年。
卡拉瓦乔,酒神,约1597年。
可用选项
除了在本网站的指导预订中的门票以外,还可以购买以下选项。
Audioguide:提供意大利语,英语,法语,德语,西班牙语和日语
指南:提供意大利语,英语,法语,德语,西班牙语和日语
降价
优惠票:
18岁至25岁的欧洲共同体的公民(入口时提供有效身份证)
免费机票(仍然需要支付预售以跳过线):
欧盟而不是18岁以下的欧盟公民(入场时需要有效的身份证件)
Temporary and permanent teachers of Italian public and private schools equipped with the appropriate documentation issued by MIUR
任何残疾人陪同残疾证明和护送
要记住
The ticket is valid all day until closing time of the Gallery starting from entrance time.

The entrance time written on the tickets may be subject to small changes depending on the actual availability of the Gallery.

For a satisfying experience it is recommended to reserve at least 2 hours to visit the Gallery.

The tickets will be sent via email within 24-48 hours after purchase (on weekdays) with instructions on how to get there and what to do to enter.

We inform you that, once booked, the date and time selected are binding. Please pick up your ticket at the door n. 3 of the Gallery at least 15 minutes before the reserved entrance. Who does not respect the time booked will not enter. To pick up the audio guide, you need a valid ID.

The Gallery has a maximum capacity of people, in some periods of the year or special days you may experience short delays or waits not dependent on the Gallery or Italy Tickets.
---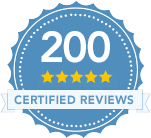 What means?
1269 Reviews

Czech Republic
2 months ago
Jana
"Thank you!"

United Kingdom
7 months ago
Jeanette
"Excellent.. well worth a visit Glad we were in for just after 9 as it was busy enough Easy flow to see the exhibitions"

Mexico
7 months ago
Celso
"Fast!"

Poland
1 year ago
lavanya
"That's too many Amazing paintings to absorb in one day! Beautiful paintings."

Spain
3 years ago
Mercedes
"IMPRESIONANTE!!!"

Switzerland
5 years ago
Judith
"Semplicemente stupendo, Katharina"

United States
6 years ago
Jennifer
"Easy peasy lemon squeasy"

United States
6 years ago
Tessie
"Tickets worked great. No line. The gallery was fantastic"

United States
6 years ago
Diana
"The gallery was terrific! works of art were amazing My favorite was the Birth of Venus The cafeteria was a great place for a break to rest talk about the art and sip a cappuccino with a great view the service was good Loved it not to be missed by anyone who travels to Florence"

Canada
6 years ago
Jennifer
"The museum is so big that I did alot of homework before I arrived and I saw everything I wanted to see. Terrific. The long hall with pics up high was awful as the height is very hard on the neck."

United States
6 years ago
Monique
"Excellent experience!"

United Kingdom
6 years ago
Daniel
"Excellent museum - all part of the Florence experience."

Russian Federation
6 years ago
Aleksandr
"Все хорошо, но оькщали билет в два музея, но на эл. сертификат дали доступ только в один. "

Spain
6 years ago
Laura
"An amazing organisation that makes you feel inside a great journey around the edges in Florence. The audio guide system was the perfect instrument for this journey. "

United States
6 years ago
William
"Great exhibits Definitely a must if in Florence "

Brazil
6 years ago
Maria Cecilia
"Belíssimo. "

Czech Republic
6 years ago
Jaroslav
"Amazing experience."

United Kingdom
6 years ago
Iwona
"It is a wonderful gallery but I suggest to book the tickets in advance to avoid waiting in the queue as well as try to visit the galery in the morning as it gets extremely crowded towards afternoon "

Spain
6 years ago
Ana
"Buen servicio. Fiable."

United States
6 years ago
Timothy
"The process of picking up my ticket was smooth and easy. The personnel at the office were pleasant. Thanks!"