Valabilitate: 1 zi
Bilet electronic
Accesul prioritar
Fotografii fără bliț
Audio Ghid disponibil
Accesibil pentru persoanele cu handicap
La ce să te aștepți
Admirati faimoasele capodopere,cum ar fi Familia Sacra de Michelangelo,Nasterea de Venere si Primavara de Botticelli
Evitati coada,nu pierdeti timp
Ramaneti in muzeu cat doriti
Uffizi Gallery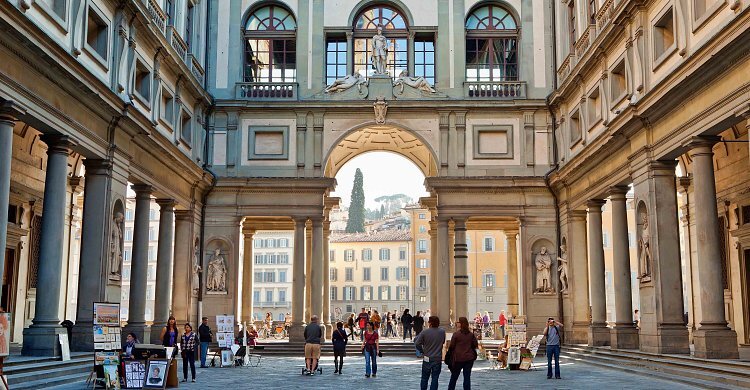 Piazzale degli Uffizi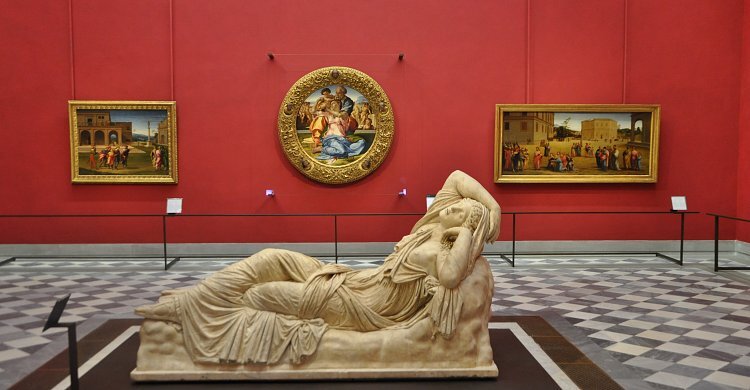 Michelangelo's Hall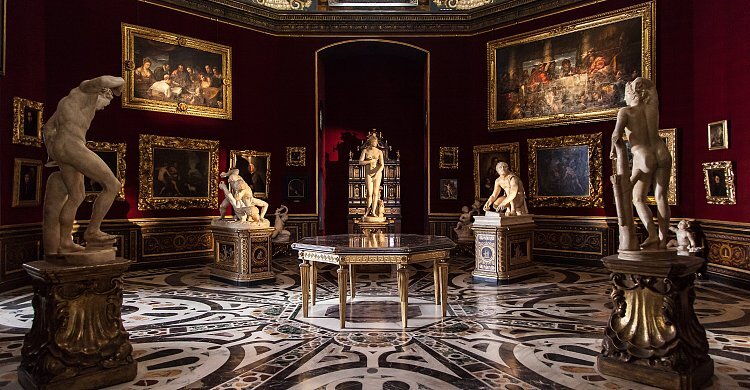 Tribuna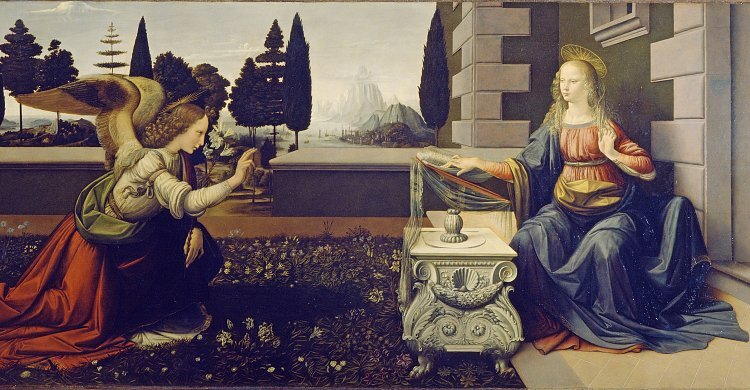 Leonardo's Annunciation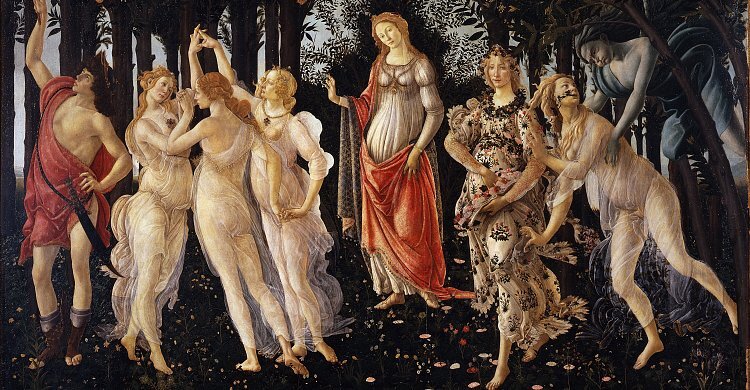 Botticelli's Spring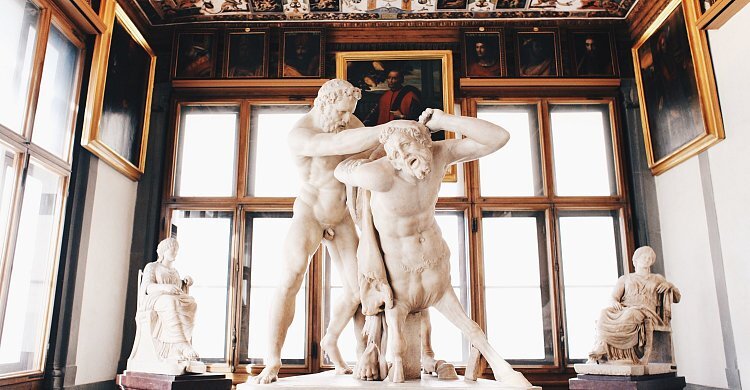 Hercules and Nessus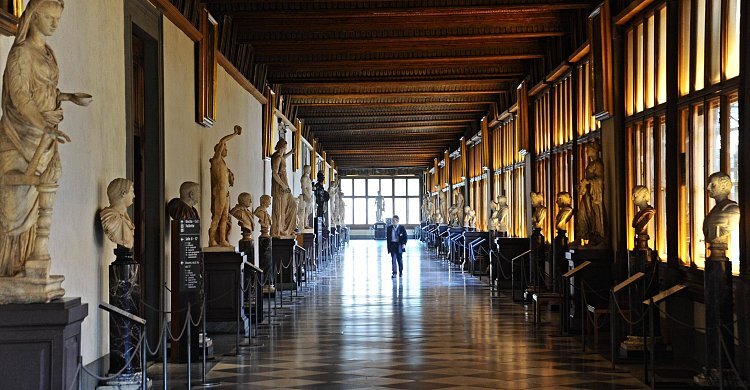 Uffizi Corridor





---
O excursie de neuitat
Muzeul
Este cea mai importanta Galerie de Arta din Italia si cel mai vechi muzeu din Europa Moderna,ce expune capodopere din toate epocile.Detine cele mai semnificative sclupturi clasice ale colectiei medicee si antologie a picturii italiene si europene din sec XIII-XVIII,cu o atentie particulara la scoala toscana din indepartatul MediuEv si din Renastere.
ISTORIC
Palatul Uffizi a fost construit de Giorgio Vasari pentru ducele Cosimo I dei Medici ca sediu al birourilor guvernului mediceo.Originea Galeriei este din epoca Medicea,dar muzeul a fost deschis pentru public sub dinastia Lorenese.
COLECTII
Primul nucleu al Galeriei a fost creat de Francesco I de'Medici,in 1581 la ultimul etaj al cladirii,construit pentru Magistratura Statlui Fiorentine.Este compusa din colectii Medicee stranse intre anii '400 si '500,asezate initial in sala Tribuna si in salile adiacente.In timpul guvernului Lorenese,colectiile au fost sortate mai rational,cu suplimente,dar si cu transferuri de colectii(arme,instrumente stintifice,obiecte arheologice,bronzuri antice si din Renastere),ce au trecut la constituirea nucleelor fundamentale a altor muzee fiorentine.Suprimarea bisericiilor si conventurilor ce au avut loc intre '700 si '800 au adus la Uffizi numeroase si importante opere de provenienta eclaziastica.La inceputul lui '900 au fost aduse cateva tablouri importante cu intentia de a acoperi lacunele din muzeu,in asa fel incat Ufizzi a devenit Galeria Nationala Italiana.
CAPODOPERE
Printre operele scolii fiorentine se afla si tablouri de Cimabue, Giotto, Masaccio, Paolo Uccello, Filippo Lippi, Botticelli, Leonardo da Vinci, Michelangelo, Pontormo, Rosso Fiorentino.
Printre operele din pictura italiana se disting tablouri de Duccio di Boninsegna, Simone Martini, Gentile da Fabriano, Piero della Francesca, Perugino,Raffaello, Tiziano,T ontoretto, Veronese, Caravaggio, Canaletto.
Printre operele europene se afla tablouri de Hugo Van der Goes, Hans Memling, Lucas Cranach, Albrecht Durer, El Greco, Rubens, Rembrandt.
Printre capodoperele absolute:
Botticelli, Nasterea di Venere, cca. 1484
Botticelli, Primavara, cca. 1482
Leonardo da Vinci,Annunciazione, cca. 1475
Michelangelo, Tondo Doni, cca.1506
Raffaello, Ritratto di Leone X , cca. 1518
Tiziano, La Venere di Urbino, 1538
Caravaggio, Bacco, cca. 1597
Ce este inclus
Intrarea cu acces prioritar
Full-time și să rămână în interior, atâta timp cât doriți
Taxele de rezervare
Accesul la expoziții temporare
Optiuni Disponibile
Următoarele opțiuni pot fi achiziționate în plus față de bilete în rezervare ghidate de pe acest site.
Ghid audio: disponibil în Italiană, Engleză, Franceză, Germană, Spaniolă și Japoneză
Ghid de carte: disponibil în Italiană, Engleză, Franceză, Germană, Spaniolă și Japoneză
Reduceri de preț
Bilete reduse:
Cetatenii din UE cu varsta cuprinsa intre 18-25 de ani (prezentati un document de identitate la intrare)
Bilete gratuite (este încă obligată să plătească presale pentru a sări peste linia) :
vechi cetățeni UE și nu UE sub 18 ani (prezentati un document de identitate la intrare)
Temporary and permanent teachers of Italian public and private schools equipped with the appropriate documentation issued by MIUR
Purtatorii de handicap ce detin certificat de dizabil si un insotitor
A ține minte
The ticket is valid all day until closing time of the Gallery starting from entrance time.

The entrance time written on the tickets may be subject to small changes depending on the actual availability of the Gallery.

For a satisfying experience it is recommended to reserve at least 2 hours to visit the Gallery.

The tickets will be sent via email within 24-48 hours after purchase (on weekdays) with instructions on how to get there and what to do to enter.

We inform you that, once booked, the date and time selected are binding. Please pick up your ticket at the door n. 3 of the Gallery at least 15 minutes before the reserved entrance. Who does not respect the time booked will not enter. To pick up the audio guide, you need a valid ID.

The Gallery has a maximum capacity of people, in some periods of the year or special days you may experience short delays or waits not dependent on the Gallery or Italy Tickets.
---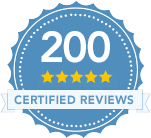 What means?
1269 Reviews

Czech Republic
2 months ago
Jana
"Thank you!"

United Kingdom
7 months ago
Jeanette
"Excellent.. well worth a visit Glad we were in for just after 9 as it was busy enough Easy flow to see the exhibitions"

Mexico
7 months ago
Celso
"Fast!"

Poland
1 year ago
lavanya
"That's too many Amazing paintings to absorb in one day! Beautiful paintings."

Spain
3 years ago
Mercedes
"IMPRESIONANTE!!!"

Switzerland
5 years ago
Judith
"Semplicemente stupendo, Katharina"

United States
6 years ago
Jennifer
"Easy peasy lemon squeasy"

United States
6 years ago
Tessie
"Tickets worked great. No line. The gallery was fantastic"

United States
6 years ago
Diana
"The gallery was terrific! works of art were amazing My favorite was the Birth of Venus The cafeteria was a great place for a break to rest talk about the art and sip a cappuccino with a great view the service was good Loved it not to be missed by anyone who travels to Florence"

Canada
6 years ago
Jennifer
"The museum is so big that I did alot of homework before I arrived and I saw everything I wanted to see. Terrific. The long hall with pics up high was awful as the height is very hard on the neck."

United States
6 years ago
Monique
"Excellent experience!"

United Kingdom
6 years ago
Daniel
"Excellent museum - all part of the Florence experience."

Russian Federation
6 years ago
Aleksandr
"Все хорошо, но оькщали билет в два музея, но на эл. сертификат дали доступ только в один. "

Spain
6 years ago
Laura
"An amazing organisation that makes you feel inside a great journey around the edges in Florence. The audio guide system was the perfect instrument for this journey. "

United States
6 years ago
William
"Great exhibits Definitely a must if in Florence "

Brazil
6 years ago
Maria Cecilia
"Belíssimo. "

Czech Republic
6 years ago
Jaroslav
"Amazing experience."

United Kingdom
6 years ago
Iwona
"It is a wonderful gallery but I suggest to book the tickets in advance to avoid waiting in the queue as well as try to visit the galery in the morning as it gets extremely crowded towards afternoon "

Spain
6 years ago
Ana
"Buen servicio. Fiable."

United States
6 years ago
Timothy
"The process of picking up my ticket was smooth and easy. The personnel at the office were pleasant. Thanks!"