Geldigheid: 1 dag
Elektronisch ticket
Prioritaire toegang
Foto's zonder flits
Audiogids beschikbaar
Toegankelijk
Wat te verwachten
Bezichtig de beroemde meesterwerken zoals Michelangelo's Heilige Familie, Botticelli's Geboorte van Venus en de Primavera
Sla de wachtrij over en verspil geen tijd
Blijf zolang in het museum als u wilt
Uffizi Gallery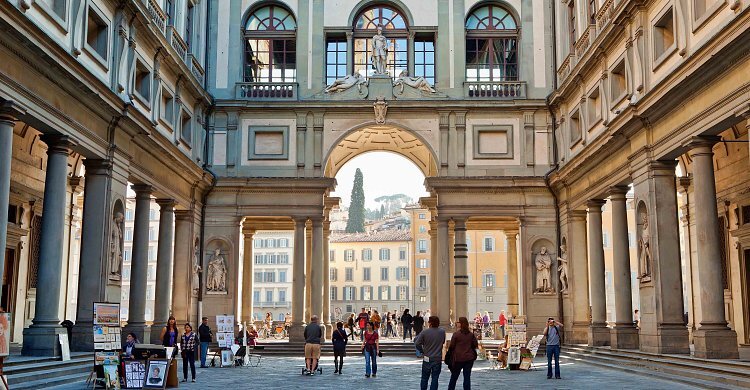 Piazzale degli Uffizi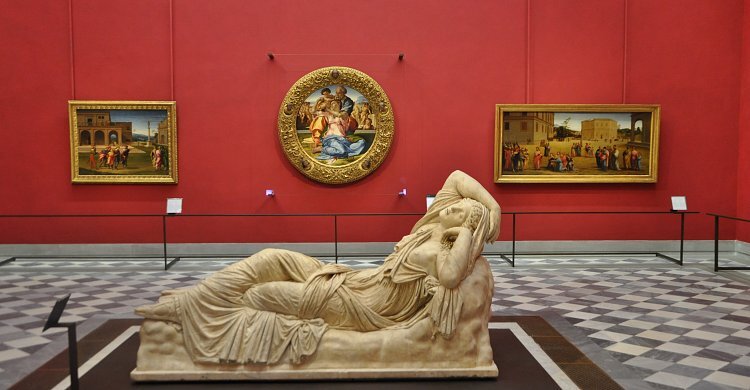 Michelangelo's Hall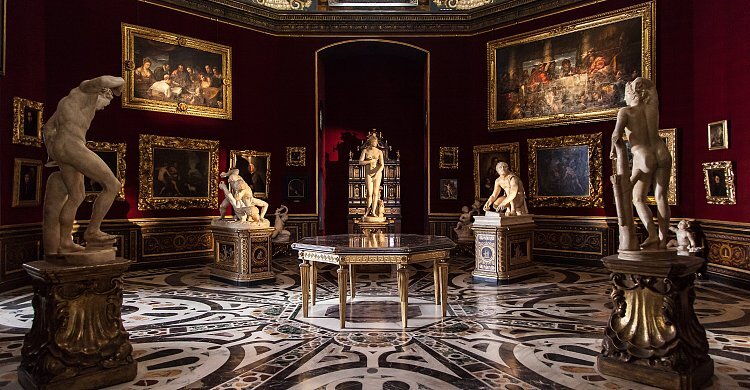 Tribuna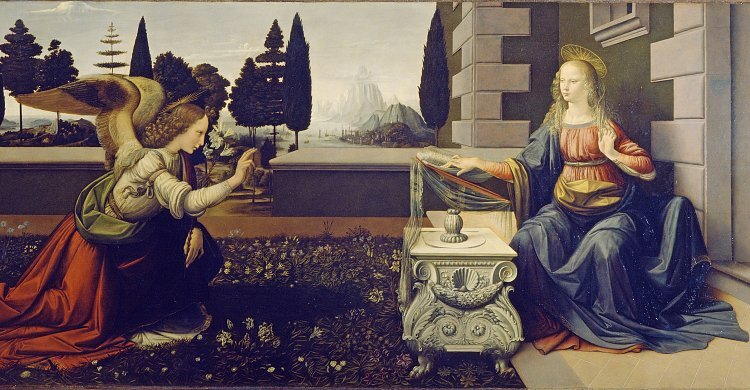 Leonardo's Annunciation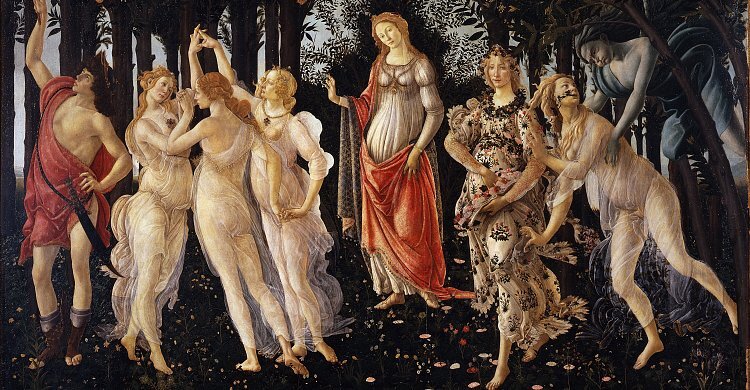 Botticelli's Spring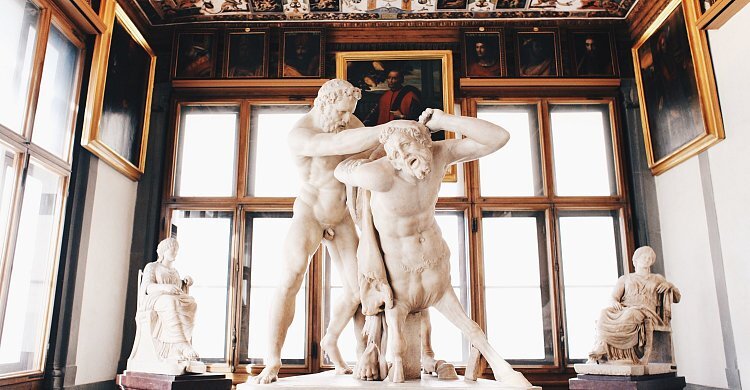 Hercules and Nessus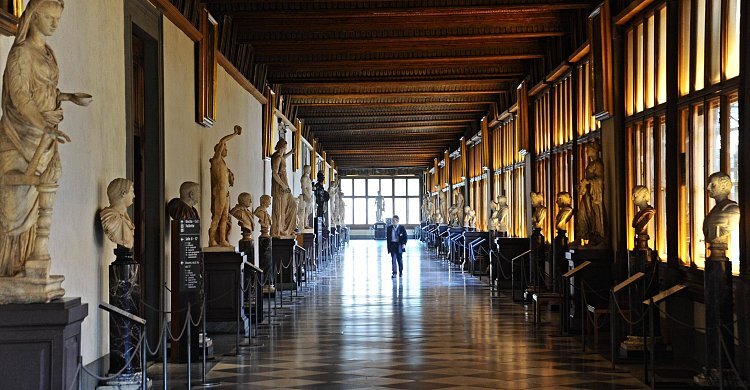 Uffizi Corridor





---
Een onvergetelijke reis
Museum
Het meest belangrijke kunstmuseum in Italië. Het stelt de meest grootse schilderijen aller tijden ten toon. Hier bevinden zich de meest veelbetekenende klassieke beeldhouwwerken van de Medici collecties en een grote selectie van Italiaanse en Europese schilderijen van de 13e tot de 18e eeuw, voornamelijk laat middeleeuws en Toscaans werk uit de renaissance.
Geschiedenis
Het Uffizi Paleis werd gebouwd door Giorgio Vasari in opdracht van de hertog Cosimo I de' Medici als plaats voor de kantoren van de Medici regering. De oorsprong van het museum dateert uit het Medici tijdperk, maar het museum werd echt voor publiek geopend tijdens de regering van de Lotharingen dynastie.
Collecties
Het eerste deel van het museum was vormgegeven in 1581 door Francesco I de' Medici op de bovenste verdieping van het gebouw, bestemt om de Magistrature (de administratieve en juridische kantoren) van de Florentijnse Staat te huisvesten. Het bevatte de werken die door de Medici verzameld waren in de 15e en 16e eeuw, oorspronkelijk gesitueerd in de"Tribuna" en naastgelegen vertrekken. Tijdens de regering van de Lotharingen familie werden de werken meer rationeel gerangschikt, nieuwe collecties werden toegevoegd, oudere werden verhuisd en werden de basis van andere belangrijke Florentijnse musea (wapens, wetenschappelijke instrumenten, archeologische voorwerpen, bronzen beelden uit de oudheid en uit de renaissance). Na het sluiten van veel kerken en kloosters in de 18e en 19e eeuw werden veel belangrijke religieuze werken verhuisd naar het Uffizi.Aan het begin van de 20e eeuw werden sommige belangrijke schilderijen aangeschaft om de gaten van het museum te vullen, zodat het Uffizi een "Nationaal Italiaans Museum " werd.
Meesterwerken
Florentijnse schilders: Cimabue, Giotto, Masaccio, Paolo Uccello, Filippo Lippi, Sandro Botticelli, Leonardo da Vinci, Michelangelo, Pontormo, Rosso Fiorentino.
Italiaanse schilders: Duccio di Buoninsegna, Simone Martini, Gentile da Fabriano, Piero della Francesca, Perugino, Raffaello, Tiziano, Tintoretto, Veronese, Caravaggio, Canaletto.
Europese schilders: Hugo Van der Goes, Hans Memling, Lucas Cranach, Albrecht Dürer, El Greco, Rubens, Rembrandt.
Beste werken:
Botticelli, De Geboorte van Venus, ongeveer 1484
Botticelli, Primavera, ongeveer 1482
Leonardo da Vinci, Aankondiging, ongeveer 1475
Michelangelo, Tondo Doni, ongeveer 1506
Rafaël, Portret van Leo X, ongeveer 1518
Titiaan, Venus van Urbino, 1538
Caravaggio, Bacchus, ongeveer 1597
Inbegrepen
Entree met toegang prioriteit
Full-time en binnen blijven zo lang als je wilt
Boekingskosten
Toegang tot de tijdelijke tentoonstellingen
Beschikbare opties
De volgende opties kunnen worden gekocht in aanvulling op de tickets in de begeleide boeking op deze website.
Audiogids: beschikbaar in het Italiaans, Engels, Frans, Duits, Spaans en Japans
Guide boek: beschikbaar in het Italiaans, Engels, Frans, Duits, Spaans en Japans
Prijsverlagingen
Gereduceerd/ half tarief:
Inwoners van de Europese Gemeenschap tussen de 18 en 25 jaar (geldig identiteitsbewijs nodig bij de ingang)
Gratis Ticket (het is nog steeds nodig is om de voorverkoop te betalen aan de lijn overslaan) :
EU en niet EU-burgers onder de 18 jaar (geldig identiteitsbewijs nodig bij de ingang)
Temporary and permanent teachers of Italian public and private schools equipped with the appropriate documentation issued by MIUR
Ieder persoon met een handicap, in het bezit van een certificaat betreffende de handicap en een begeleider
Om te onthouden
The ticket is valid all day until closing time of the Gallery starting from entrance time.

The entrance time written on the tickets may be subject to small changes depending on the actual availability of the Gallery.

For a satisfying experience it is recommended to reserve at least 2 hours to visit the Gallery.

The tickets will be sent via email within 24-48 hours after purchase (on weekdays) with instructions on how to get there and what to do to enter.

We inform you that, once booked, the date and time selected are binding. Please pick up your ticket at the door n.3 of the Gallery at least 15 minutes before the reserved entrance. Who does not respect the time booked will not enter. To pick up the audio guide, you need a valid ID.

The Gallery has a maximum capacity of people, in some periods of the year or special days you may experience short delays or waits not dependent on the Gallery or Italy Tickets.
---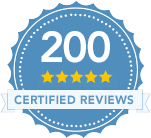 What means?
1268 Reviews

United Kingdom
1 month ago
Jeanette
"Excellent.. well worth a visit Glad we were in for just after 9 as it was busy enough Easy flow to see the exhibitions"

Mexico
1 month ago
Celso
"Fast!"

Poland
9 months ago
lavanya
"That's too many Amazing paintings to absorb in one day! Beautiful paintings."

Spain
3 years ago
Mercedes
"IMPRESIONANTE!!!"

Switzerland
5 years ago
Judith
"Semplicemente stupendo, Katharina"

United States
5 years ago
Jennifer
"Easy peasy lemon squeasy"

United States
5 years ago
Tessie
"Tickets worked great. No line. The gallery was fantastic"

United States
5 years ago
Diana
"The gallery was terrific! works of art were amazing My favorite was the Birth of Venus The cafeteria was a great place for a break to rest talk about the art and sip a cappuccino with a great view the service was good Loved it not to be missed by anyone who travels to Florence"

Canada
5 years ago
Jennifer
"The museum is so big that I did alot of homework before I arrived and I saw everything I wanted to see. Terrific. The long hall with pics up high was awful as the height is very hard on the neck."

United States
5 years ago
Monique
"Excellent experience!"

United Kingdom
5 years ago
Daniel
"Excellent museum - all part of the Florence experience."

Russian Federation
5 years ago
Aleksandr
"Все хорошо, но оькщали билет в два музея, но на эл. сертификат дали доступ только в один. "

Spain
5 years ago
Laura
"An amazing organisation that makes you feel inside a great journey around the edges in Florence. The audio guide system was the perfect instrument for this journey. "

United States
5 years ago
William
"Great exhibits Definitely a must if in Florence "

Brazil
5 years ago
Maria Cecilia
"Belíssimo. "

Czech Republic
5 years ago
Jaroslav
"Amazing experience."

United Kingdom
5 years ago
Iwona
"It is a wonderful gallery but I suggest to book the tickets in advance to avoid waiting in the queue as well as try to visit the galery in the morning as it gets extremely crowded towards afternoon "

Spain
5 years ago
Ana
"Buen servicio. Fiable."

United States
5 years ago
Timothy
"The process of picking up my ticket was smooth and easy. The personnel at the office were pleasant. Thanks!"

Argentina
5 years ago
Carlos
"Awesome collection in an awesome building. Don't forget to check the ceiling on every room, each one is unique."