Bargello's tower and bell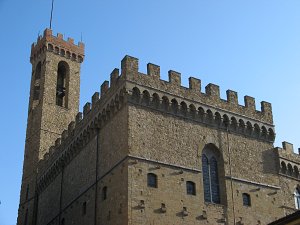 In the past, when there were no street maps nor navigators, when you had to get to an important palace or a church you only had to look up and locate the tower or bell tower. Hence alongside the Palazzo del Bargello, between the Canto del Bargello and the corner of Via Ghibellina, we find a tower 57 meters high which indicates the position of the Palazzo del Bargello.This is the Volognana tower.
At the time the Bargello Palace was used as a prison and, under the tower, there was one of the worst cells of the whole prison. The name "Volognana tower" comes from Geri from Volognano, ghibellino and first prisoner who was imprisoned there.
On top of the tower there is a bell, plundered in the fourteenth century from Montale Castle (from which it takes its name) in the province of Pistoia, as a trophy of a battle that wan by the city of Florence.The bell, called "the montanina", rang always in fatal occasions: to bring young people into the army, to announce executions, or in case of scuffles with wounded and dead people to announce the curfew. It also rung in August 1944 to call the population to rise up against the Germans and in 1966 to announce the Florentines the flood. From this use, in the most dramatic situations, the tolling of the bell gave rise to a saying used for a person who spoke ill of all: "He has a big mouth as the bell of the Bargello; when he plays, always sounds to insult". In short, to indicate the propensity of a person to talk bad.
The tower underwent a major renovation in the aftermath of the flood of 1966. There were applied iron chains, consolidated the vestments and replaced the roof covering.
Today the tower is part of the Bargello Museum complex, which houses the most important collection of Renaissance statues worldwide.