From Palace of the Captain of the People to Bargello Museum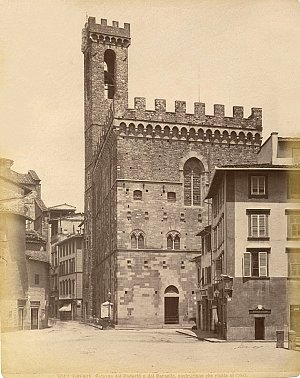 Throughout its long history, the Palace of the Bargello has had different functions and purposes, still remaining at the center of Florence's city life.
At the beginning, when it was built, between 1255 and 1265, in Florence it was a period of relative peace between the Guelphs and Ghibellines that had clashed in the past 50 years, and alternated in government of the city. The palace was used as the seat of the Captain of the People which, for the first time, represented the citizens' claims against the Republic. The Captain of the People, a figure that has been created with the establishment of Florence as a free municipality, was the representative of the popular forces.
After the victory by the Ghibellines at Montaperti in 1260, the palace became the seat of the Podestà, who represented the Emperor Manfredi. His functions concerned with the control of the city and governance and the respect of the imperial laws. At that time, the building became the Palace of the Podestà. In subsequent years it was expanded to become what we know now thanks to the work of Neri Fioravante. Then, a part of the Palace, the Tower Volognana, was used as a prison and place of torture.
This until 1502 when the building was transformed, this time in the Palace of Justice, when the Gonfaloniere Pier Soderini replaced the figure of the Podestà with that of the Council of Justice in order to make judicial proceedings more humane.
Finally, with the Medici Grand Duchy, the palace took its definitive name of Palace of the Bargello. Cosimo I turned it in fact, in 1574, in a place of temporary detention in which settled the Bargello, or the head of the Guards of the Grand Duke. At that point the entire palace was transformed into a prison, and in its halls were realized cells for the detention of the prisoners. The loggia and terrace were walled, frescoes were eliminated and the sculptures removed to transform the building in a prison, but also barracks, armory, court, police headquarters and the interrogation point.
The Palace returned to its original condition, and also its current aspect, in 1859 when the prison was moved to the former convent of the Murate, frescoes were restored and the loggia was reopened. Some time later, in 1865, the year of Florence Capital, the palace was intended finally to its current role, that of a museum which now hosts the world's sculptural masterpieces of the Florentine Renaissance.