Giovanni dal Ponte (1385-1437) - The protagonist of Late Gothic Humanism on display at the Accademia Gallery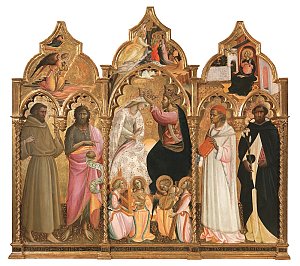 Up to 12 March 2017, the Accademia Gallery hosts the first monographic exhibition dedicated to the Florentine painter Giovanni di Marco (1385-1437), better known with the nickname Giovanni dal Ponte, since his shop was located in Piazza Santo Stefano al Ponte in Florence.
The major artists of that time based in Florence contributed to his education, famous names like Lorenzo Ghiberti, Lorenzo Monaco, Gherardo Stamina, Masolino, Beato Angelico, Paolo Uccello and Masaccio. All artists of the highest level who are featured in the exhibition to illustrate the artistic environment in which Giovanni dal Ponte was educated.
His production is also documented through various loans coming from abroad: from the National Gallery in London, the Prado Museum in Madrid, the Museum of Art in Philadelphia, the Fogg Art Museum in Cambridge (USA) and the Jacquemart André Museum in Paris, just to name a few. T
he 50 works on display tell and rediscover the wonders of the Late Gothic art in Florence with the aim to promote a more adequate critical classification of this interesting artistic personality of the early XV century, an important protagonist of the crucial transitional period between the Late Gothic and the Renaissance culture.
For the occasion the large triptych with the Coronation of the Virgin and four saints housed at the Accademia Gallery, by Giovanni da Ponte, has undergone a recent renovation that has specifically reported the work to its original splendor. In addition, with the occasion of the show, definitely enters in the museum collection another work by Giovanni dal Ponte, the Madonna and Child enthroned, recovered thanks to another excellent restoration.
The last phase of the painter is documented by a series of works that bear witness to the achievement of a very personal language, characterized by large and solemn forms, which seem to combine the great large XIV Florentine tradition with new forms and modules typical of the Renaissance. Among these works there is the luminous triptyc od the Badia di Rosano (Florence) with the Annunciation and four saints, commissioned by the Abbess Catherine of Castiglionchio in 1434 and the magnificent altarpiece of the church of San Salvatore al Monte in Florence (after 1434) depicting the Madonna and child , six saints and a donor.
The exhibition, designed by architect Piero Guicciardini, is characterized by the skillful scenic evocation of Florence by the time of Giovanni dal Ponte and by a particular care in the use of lights on gold backgrounds, thus creating very suggestive effects.