Holidays and special events in a Medici villa: feel like a Florentine aristocrat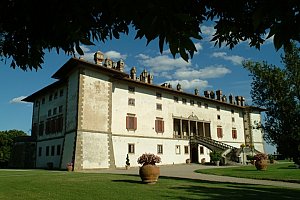 The history of Tuscany is also the history of the Medici Family: bankers, politicians, royals, popes, patrons of the arts, and champions of the birth of the Italian Renaissance. The Florentine family Medici commissioned the construction of 24 villas in Tuscany. These villas were rural building complexes near Florence, owned by members of the family between the 15th century and the 17th century.
Originally farmhouses, as a countryside alternative to the city life, these buildings became centers of political power for the Medici Grand Dukes but, thanks to the Medici patronage, also meeting places for literati, philosophers and artists. They all are masterpieces of Renaissance architecture, filled with art collections and surrounded by amazing gardens. These buildings' structure hosts in fact many areas destined for entertainment purposes, including courtyards, loggias and gardens.
Near Comeana, surrounded by the Tuscan hills, 'La Ferdinanda' is one of these villas, also known as Villa Artimino. La Ferdinanda was commissioned by Ferdinando I de' Medici and built by the famed architect Buontalenti towards the end of the XVI century. Today this historic villa is used as a multipurpose event center for corporate conferences, wedding ceremonies, gala, theme dinners and exhibitions.
Artimino is located just 24km far from Florence and offers a spectacular location, surrounded by Tuscan hills, in an old Etruscan village, in a relaxing environment full of history and art.
This is really the ideal location for an absolutely relaxing holiday and also for all your special events. Here you can choose among different accommodations: the 4 stars Hotel Paggeria Medicea with 37 rooms, the buildings in the Borgo di Artimino, (300 meters away) with 59 apartments, or "Le Faginaie", 6 exclusive luxury apartments. All the rooms and apartments have been completely renovated and furnished with a mix of traditional Tuscan style and the highest modern standards. They, for example, boast stone fireplaces, terra-cotta floors and beamed ceilings, but also Internet connection, Wi-Fi and Sat. TV. Here you can play tennis or ride a mountain bike, indulge in the swimming pools or enjoy tasting tours at the farm. At the restaurant you will find world class Tuscan cuisine, and at "Il Bacco Goloso" you'll surely find some special local food to bring home.
The main character of the entire structure is the perfect combination of rustic style and comfort. The villa La Ferdinanda is, for example, a magnificent stage on which to celebrate a fairy tale wedding. Furthermore this is one of a few venues in this area which allows the celebration of a civil ceremony. The villa features also an internal wedding planner who helps Italian and foreign couples to make their dreams come true.
But it doesn't end here. The Medici Villa also hosts spectacular Renaissance events, with selected traditional dishes and staff dressed in medieval costumes. Anyway, the restaurant can propose different kind of personalized menus combined with world renowned wines produced at the farm. The Farm of Artimino spreads over 732 hectares. 70 hectares of vineyards are planted with a variety of local vines: Sangiovese, Cabernet Sauvignon, Canaiolo, Trebbiano, San Colombano, Mammola. On other 150 hectares are planted 23,000 olive trees, producing extra virgin olive oil.
In other words, these villa, like all the others, will surely offer an unforgettable holiday, surrounded by the nature, good food, art and an aristocratic touch.