How a genius works: the creative spirit of Michelangelo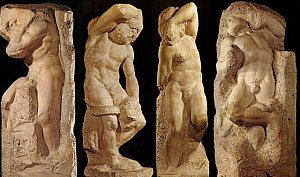 Michelangelo Buonarroti, in his long career, produced some of the most extraordinary works of art of the Renaissance. Many of these works have been left unfinished or non-finite for reasons of historical or private affairs of the author, in relations with patrons and overlapping commitments.
The non-finished statues at the Accademia Gallery in Florence, reveal valuable information about how Michelangelo considered the sculpture and the possible metaphorical meanings conveyed by his works. Michelangelo was convinced that the sculptor was an instrument of God, his job was to release figures already contained in the stone, freeing the subject from the matter that imprisoned it.
From the biographical chronicles by Vasari and Condivi we know that when the creative spirit took possession of him, Michelangelo was able to work uninterrupted for several consecutive days. He could not even sleep for days, or wear the same clothes and the same shoes, never changing them.
In practice his method of work consisted first in preparing a model in wax or other material and then soak it in a bucket filled with water. When the model rose back from the water the most prominent parts were those from which he had to start, the first to be roughhewed, then proceeding progressively towards the rest of the figure.

The Prisons exposed at the Accademia Gallery are an example of the practice of "unfinished" used by Michelangelo. The four sculptures are in fact deliberately left in an incomplete stage to communicate the human imperfection. In these sculptures, with hewn surfaces from which emerge the marks left by chisel, whose marble seems like corroded by the artist's impetus, it is possible to understand the complicated and long process required to obtain such an imposing sculpture.What transpires is a sense of tension and movement. It is as if the figure is attempting to escape from the marble, as if the spirit of the character is trying to break free longing for God.
The tools used by Michelangelo for his creations are typical of most of the sculptures: chisels with temperate tip, flat chisels, ravine, rasps, files or pumice stone for finishing and polishing. But what distinguishes his art from that of other sculptors is undoubtely the all-encompassing passion that drives him. Only in this way, in effect an artist becomes a genius appreciated for centuries.