In the shadow of power - Theatrical performance at the Bargello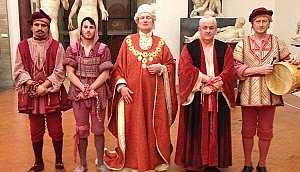 For the cycle Le Seggiole al Museo, the Compagnia delle Seggiole proposes in this early days of 2017 12 theatrical journey in three of the most important museums in Florence. Among them there's the Bargello Museum where it will be presented the show "In the shadow of power - from Palace of the Captain of the People to Prison and then Museum: stories, anecdotes and secrets of a symbol of Florence".
It is, as usual for the company, a traveling, interactive journey inside the famous museum in Florence, a theatrical journey that will drag the participants in the XV and XVI centuries. In fact, the actors, dressed in ancient clothing, will bring back to life the characters that spent their time at the Bargello, having somehow to do with justice.
The journey will start from the grand staircase where the attention of the visitors will be recalled by a drum and some wind instruments presenting the character of Geri da Volognano, who will tell his story in the Hall of the XIV century. Then the music will move toward the terrace, where the audience will meet Giovan Battista da Montesecco, who conspired witht the Pazzi to kill Lorenzo the Magnificent and his brother Giuliano. Here he was beheaded, and here he still continues to be in search of his head.
In the extraordinary Hall of Donatello then, among many sculptural masterpieces, the show will continue with the prisoner Nicolò Machiavelli. Finally, in the Hall of Michelangelo and the Renaissance the audience will find the Grand Duke Peter Leopold of Lorraine, who in the XVIII century abolished the death penalty.
Shows at 7.30pm, 8.30pm, 9.30pm
Friday, February 10
Saturday, February 11
Friday, March 17