Maggio Musicale Fiorentino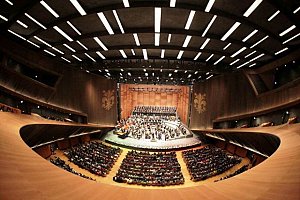 Lovers of classical music, opera and ballet can only choose the summer months to visit Florence. They are in fact characterized by fine and sunny weather but it's also the time in which it takes place the Maggio Musicale Fiorentino, the extraordinary festival that every year gather enthusiasts from around the world with a great quality program of music and art.
Music has always been at home here. Italy is in fact known throughout the world as the country of the opera, and the greatest composers and musicians were born here, like Gioacchino Rossini, Vincenzo Bellini, Gaetano Donizetti and Giuseppe Verdi, just to name a few.
In particular, the Maggio Musicale Fiorentino is an annual festival for operas, concerts, ballets and dramas founded in 1933 on the initiative of the patron Luigi Ridolfi Vay da Verrazzano and the director Vittorio Gui. From 1986 the orchestra leader of the Maggio Musicale Fiorentino is Zubin Mehta, who in 2006 became its honorary director for life. The dance company of the Teatro del Maggio Musicale Fiorentino is called MaggioDanza and is one of the most active company in Italy.
Today, the Maggio Musicale Fiorentino is held mainly at the Teatro Comunale, where, over the years, passed the most distinguished conductors and the greatest artists, incuded the "divine" Maria Callas. Furthermore composers the likes of Strauss, Bartòk and Stravinsky have chosen the Teatro Comunale in Florence as a setting for their music. This year, the music program offers extraordinary operas such as Tristan und Isolde by Richard Wagner, Roberto Devereux by Gaetano Donizetti, L'Amour des Trois Oranges by Sergei Sergeyevich Prokofiev, Orpheus and Euridice by Christoph Willibald Gluck.
Among the concerts stand out those of Uto Ughi and the St. Petersburg Philharmonic Orchestra, and among the ballet the Carmen with choreography by David Bombana. Many shows are also held in the new Teatro dell'Opera, designed by architect Paolo Desideri and considered the most modern in Europe.
For the summer season then some shows are also provided in the "auditorium", the terrace above the theater, including concerts of Jonathan Wilson, Elbow and Le Luci della Centrale Elettrica. This is certainly an opportunity not to be missed and a good excuse to visit Florence, city of art and music.