Michelangelo and XVI century sculpture at the Bargello Museum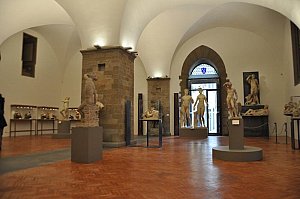 Among the various rooms at the National Museum of the Bargello in Florence the most visited is undoubtedly that of Michelangelo and the XVI century sculpture.
The hall is also one of the most ancient of the whole building, restored by Mazzei in 1865 and redecorated by Gaetano Bianchi, with arches composed with a mixture of fleur-de-lis (symbol of Florence), and inspired by the work of Giotto in Assisi. After the restoration, the hall was, at that time, used for the exhibition of a collection of weapons, trophies and flags.
The Bargello Museum was then severely damaged by the 1966 flood in Florence. The hall was then restored again, whitewashed and designed to accommodate the most prestigious examples of sculpture of the XVI century, arrived at the Bargello in 1874 from the Uffizi Gallery. These include important works by Michelangelo: the Bacchus, one of his first Roman sculptures of 1496-97, the unfinished Tondo Pitti (1504), the David Apollo (1530-32) and the Brutus of 1539, the only bust sculpted by the artist.
In addition to Michelangelo's works, the room also houses works by Benvenuto Cellini, including Narcissus, Ganymede and the bronze bust of Cosimo I. Since 2000 the museum also acquired the marble base of the Perseus that was under the statue in Piazza Signoria (now there's a copy), now on display in the hall along with the original bronzes, the bas-relief of the Liberation of Ardromeda, some models in wax and the bronze of Perseus.
The hall also welcomes works by Giambologna, the Winged Mercury, his most famous work in bronze, and an early statue of Bacchus.
The third Bacchus exposed in the room, in addition to those by Michelangelo and Giambologna, is a marble one by Jacopo Sansovino.
To complete the panorama of the XVI century sculpture there are other interesting works by Baccio Bandinelli, Tribolo, Rustici, Vincenzo Danti and other contemporary Florentine sculptors.
In the windows are visible some important crockery, including a sketch of the Apennines by Giambologna, located in the Villa of Pratolino.