Musical instruments at the Accademia Gallery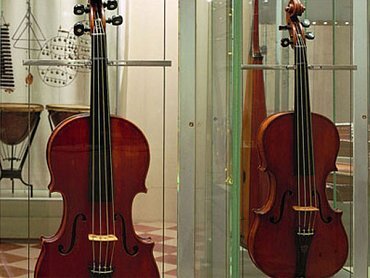 The Accademia Gallery in Florence hosts a whole section dedicated to antique musical instruments, including instruments created by the the lutist Antonio Stradivari and Bartolomeo Cristofori, the inventor of the piano. A real gem to explore for opera, theater and classical music lovers.
The Musical Instruments Museum was opened in 2001 and exhibits about fifty instruments from the private collections of the Grand Dukes of Tuscany, Medici and Lorraine, collected between the second half of the XVII century and the first half of the XIX century and later passed to the Cherubini Conservatory in Florence.
The collection shows how music has played a leading role at the Medici court. The piano was, for example, an invention created precisely for the Medici by Bartolomeo Cristofori, who was called to the court by the Grand Prince Ferdinando as a manufacturer of musical instruments in 1688. He devoted himself to experimenting new materials and creating innovative sounds and invented a new keyboard instrument in which the strings, instead of being plucked as with the harpsichord, were beaten by hammers to produce a softer sound: the piano.
Among ancient harpsichord, wind instruments and percussion we find a unique piece by the master Antonio Stradivari, a viola, perfectly preserved in its original state. It was made of spruce pine wood for the Medici quintet consisting of two violins, two violas and a cello. The viola is perfect in its extreme elegance and sophistication with fine mother of pearl inlay, ivory and ebony and details of the Medici coat of arms. But this is not the only Stradivari piece on display, there's also a violin from 1716 and a cello from 1690. Furthermore there are a violin and a cello of 1650 by Niccolò Amati, an important luitist who teached to Stradivari.
In addition to musical instruments, the museum displays a number of paintings that relate to the musical culture of the time, like two great examples by Anton Domenico Gabbiani depicting the Grand Prince Ferdinando de 'Medici surrounded by musicians of the court showing violas, cellos and a lyre. While, in the hall dedicated to Bartolomeo Cristofori there are paintings of still lifes that combine soumptuous dinner tables with musical instruments of that time.
In the multimedia section you can hear the sounds of many of the instruments on display and retrace, through a video, the birth and development of the theater in Florence.