Oltrarno in Florence: the most genuine and original side of the city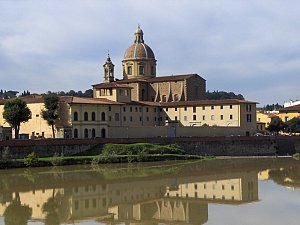 If you need to book accommodation for your next visit to Florence, there is a neighborhood that perhaps more than any other is able to project visitors in the most authentic atmosphere of this enchanting city. Book a Bed & Breakfast accommodation or a hotel in the area called the Oltrarno, where today are still alive the oldest traditions and habits of a simpler and more popular lifestyle.
The Oltrarno is undoubtedly one of the most picturesque and characteristic district of the city. Here you can find workshops and artists working in small, delicious laboratories. The district still maintains its original Florentine atmosphere of times gone. It is also an area to be discovered, always the same yet always different, that every day surprises with something new.
Here you will find artisans and artists who still follow the ancient techniques, mostly into disuse, to make crafts that require great patience and meticulous skill, and make the Florentine craftsmanship so unique. Among Borgo San Frediano, Santo Spirito and San Niccolò you can find goldsmiths where you can create amazing custom jewelry, handmade silver, antique book shops and handmade clothes and natural perfumes, and delightful antique shops especially near Via Maggio.
Walking through these streets is almost like walking the halls of a museum, but without paying the ticket! Not to mention the restaurants where you can taste the most typical Florentine dishes: ribollita, lamprey, steak accompanied by good red wine.
At night, the neighborhood is full of clubs, bars and restaurants where you can stop for a drink, a platter of cold cuts and cheeses, or to attend concerts and theater performances.
Eclectic and intriguing, projected into the present but with an eye to the past and tradition, the Oltrarno is the right neighborhood for a holiday in close contact with the most authentic Florentine roots. Choose an apartment to live as a true Florentine or a hotel to enjoy all the amenities, it will be definitely a dip in the most authentic part of this amazing city.