Summer at the Bargello 2016: two months of shows at the National Museum of the Bargello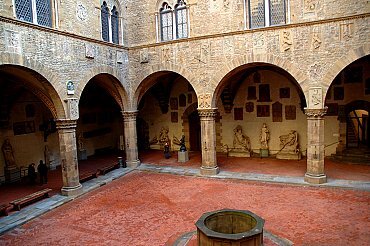 As every year, the courtyard of the National Museum of the Bargello is back again to host the Summer festival at the Bargello, held every summer in the centuries-old courtyard of the museum among theater, dance and music. A summer full of events and performances in short, surrounded by the walls of the beautiful medieval palace.
On the stage of the courtyard between June and July, theater performances alternate with concerts of the Orchestra da Camera Fiorentina directed by Giuseppe Lanzetta. The concert program starts on July 12 and 13 with the third, fourth and fifth "Brandenburg Concerto" by Johann Sebastian Bach, while on Tuesday 19 and Wednesday 20 of July Marco Lorenzini pays tribute to Antonio Vivaldi. Monday 25 and Tuesday 26 of July the agenda proposes "Homage to Astor Piazzolla" with Mario Stefano Pietrodarchi's accordion and bandoneon.The concerts will close on Thursday, 28 and Friday 29 with an evening dedicated to the most famous soundtracks: from "Life is Beautiful" to "Cinema Paradiso", "Once Upon a Time in America" and "The Leopard" with soloists Alessandro Silvestro at trumpet and Alessio Cioni at the piano.
As for the dancing, the Museum will host in July internationally renowned dancers and companies for the Florence Dance Festival.The performances are inspired to talents and characters of history and arts as "Romeo and Juliet" by Tchaikovsky (July 5) and "Caruso" by Lucio Dalla conceived by Mvula Sungani (July 11).On schedule there's also the New York's Joffrey Ballet Concert Group with "American Dance Now" (July 15) and a show inspired to the "Traviata" by the Company Artemis/Monica Casadei (July 16). On July 18 is the turn of "Portraits in the dance" a triptych composed of "In-Faust", "Madama Butterfly" and "Anne Frank". The Balletto Teatro di Torino performs on July 21 "CHOPinLOVE", while Saturday, July 23 is the turn of "New Generation". The Florence Dance Festival closes with Kinesis Dance on stage with the show "Carmen 3.0" with the dance etoile Letizia Giuliani (Sunday, July 24) and the show "Urban Contamination" by the companies Mystes and Antitesi (July 27).