The Hall of Donatello and the XV century sculpture at the Bargello Museum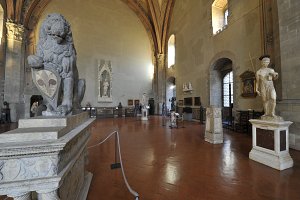 The Museum of the Bargello in Florence houses extraordinary masterpieces of the most important Renaissance artists. These include works by Donatello, considered one of the fathers of the Renaissance, as well as one of the most celebrated the sculptors of all time. To him and to the sculpture of his time the museum devotes an entire room, the Hall of Donatello and the XV century sculpture.
The hall was built between 1340 and 1345 by Neri Fioravante to be used as a hall of the General Council. Between 1857 and 1865 it was restored and decorated with fake frescoes. In 1887 it was finally arranged symmetrically, according to the XIX century museological precepts, on the occasion of the fifth centenary of the birth of Donatello, hosting his most important sculptures along with those of other artists.
Among the masterpieces kept in the hall, stand out the most important works by Donatello. The St. George, for example, from a niche of Orsanmichele, considered one of the masterpieces of Italian statuary Renaissance. The statue was commissioned by the Arte dei Corazzai and Spadai of which Saint George is the patron. There are also the two David by Donatello, of whom we have already spoken: the youth one carved in marble between 1408 and 1409 and the most beautiful and famous one, the bronze statue.The bust of Niccolò da Uzzano, a particularly realistic portrait made of terracotta. The Marrocco, a lion made of stone resting a paw on the symbol of Florence, famous as a symbol of the city in Piazza della Signoria, where now there's a copy. Finally there are the works of his maturity, like the broze Attys Amore and the Crucifixion.
In the hall you can also admire the works of other important artists of the XV century. Names like Lorenzo Ghiberti and Filippo Brunelleschi, with their their famous panels of the Sacrifice of Isaac produced in 1401 in order to participate the public competition to create the northern gate of the Baptistery of San Giovanni and known to be the first works ever that see an excess of the Gothic style in favor of the traditional classicism of the Renaissance.
There are also works by Agostino di Duccio, Michelozzo, Luca della Robbia (like the stories of St. Peter and the Madonna della Mela) and Desiderio da Settignano, a pupil of Donatello, here represented by a wooden San Giovanninno, and the Madonna Panciatichi, a marble bas-relief.