Tribute to the Maestro Piero Tosi - The art of stage costumes at the Costume Gallery of Palazzo Pitti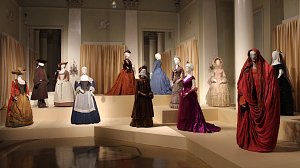 The Costume Gallery in the Pitti Palace dedicates, until next January 11, an exhibition to one of the great masters of Italian creativity in the service of cinema, the costume designer Piero Tosi, awarded in 2013 with an honorary Academy Award for lifetime achievement to be "( ...), a visionary whose incomparable costumes exceed the time making art alive in the movies."
The Maestro has worked as a theatre costume designer, but he especially succeeded in the cinema alongside great directors, including Luchino Visconti, Vittorio De Sica, Mauro Bolognini, Liliana Cavani, Franco Zeffirelli and Pier Paolo Pasolini.
For the realization of his costumes Tosi has collaborated with theatrical costumier firms like that of Umberto Tirelli, with whom collaboration is still ongoing. The clothes on display are about a dozen and are a major donation of historical theatre and film clothing and costumes made by Umberto Tirelli in 1986, including the costumes of Medea (from the film Medea directed by Pier Paolo Pasolini, with Maria Callas), those of Elizabeth (from the film Ludwig, directed by Luchino Visconti, starring Romy Schneider), and Giuliana Hermil (from the movie The innocent directed by Luchino Visconti with Laura Antonelli). There are also dresses that have enhanced films such as The Lady of the Camellias by Mauro Bolognini, Beyond Good and Evil by Liliana Cavani, La Traviata by Franco Zeffirelli, The Imaginary Invalid by Tonino Cervi and La Locandiera by Giorgio De Lullo.
The exhibition shows fifteen outfits worn by great actors and actresses in movies that are considered masterpieces of cinematography; costumes that are more than just clothes. Those worn by the beautiful Romy Schneider in Ludwig for example, show a militaristic elegance typical of the Austro-Hungarian period. Here, indeed, to get the ancient effect sought by Visconti, the fabrics used for clothing were subjected to various treatments that made them polished to perfection in order to reflect light. Equally evocative are the clothes used by Laura Antonelli in The Innocent, based on the novel by D'Annunzio and linked to an exaggerated decadence, inspired by Proust and the Parisian beau monde. The costumes of Medea by Pasolini, worn by the unforgettable Maria Callas, have instead all the flavor of the ancient and tribal civilization with glittering medals and filigree pendants. In The Imaginary Invalid and in La Locandiera it prevails a subtle course mood of the eighteenth-century in Venice, while The Lady of the Camellias by Mauro Bolognini is reread in its entirety nineteenth century libertine mood.
So, until January 11, there is one more reason to visit the Costume Gallery in Florence, a selection of clothes that, as the Superintendent of the State Museums of Florence Cristina Acidini said, "not only represents the famous creativity of Tosi in a variety of ages and types, but that takes us also through the best films of the great Italian directors of the twentieth century."