Van Gogh's masterpieces in a multimedia exhibition in Florence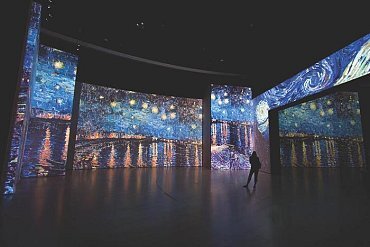 Van Gogh's paintings are indoubtely fascinating. But, in the multimedia exhibition held in Florence until April 12,it becomes a truely multi-sensory experience. Van Gogh Alive - The Experience is an exhibition created in the deconsecrated church of Santo Stefano al Ponte, and integrated in a spectacular way in the particular architecture of the church.
The Church of Santo Stefano in Ponte is located in the city center, a short walk from the Ponte Vecchio. Inside, thanks to the use of SESNSO -RY4 system, which incorporates 40 high-definition projectors, multi-channel graphics and surround sound such as cinemas, the exhibition presents more than 3,000 high-definition images.
This impossible museum offers a complete journey through the visionary universe of Van Gogh dominated by a tumultuous life, which translates, among other things, in an intense use of colors. Huge, sharp and clear images become real and light screens and surfaces in the evocative environment of the church. The high definition images really allows for the first time to approach and discover even the smallest details, the extraordinary technique of the artist and his use of color.
Since his beginnings in the Netherlands to Paris and the Impressionists, till his life in Arles, Saint Rémy and Auvers-sur-Oise, where Van Gogh produced unforgettable masterpieces, there is everything: the Potato Eaters, the Starry Nights, the famous Sunflowers upto last poignant picture painted by the artist, the Wheat Field with Crows.
The exhibition is also enriched with projection of drawings, which allow visitors to trace the creative genesis of the various paintings, and excerpts from letters that also offer a glimpse of the artist's life, of his experiences and inner torments. As the letters to his brother or friends where, among other things, he tells about his work as an artist and speaks of his sources of inspiration.
The multimedia exhibition arrives in Florence after a worldwide success and millions of visitors to deliver an original visual experience that put in contact the world of the Dutch artist and his works with a different audience, perhaps less accustomed to attend exhibitions and museums, through a symphony of lights, colors and sounds.
One of the most exciting multi-screen environments in the world, with the enormous works of Van Gogh, projected inside a church are accompanied by the music of Handel, Schubert, Godard, Liszr, Tiersen and many others. A real treat for all the senses.