It's Carnival time in Viareggio!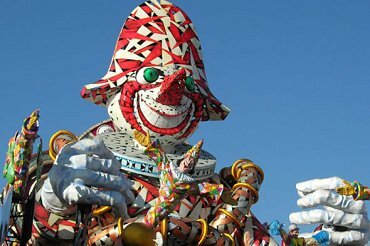 It has officially begun the period of Carnival and throughout Tuscany is colored with masks confetti and streamers. Many towns in the region, mainly at weekend, celebrate Carnival with parade floats, but the most famous Carnival (and beautiful), the most irreverent and popular is undoubtedly the Carnival of Viareggio.
The town of Viareggio is located on the Tuscan coast, in Versilia, famous for its golden beaches and night life in summer. But it is in this period that Viareggio brings out its best, its soul made of paper mache and its satirical nature, to create what is definitely one of the most famous carnival events in Italy and in the world. You can book a hotel on the promenade of Viareggio and enjoy the show from the terrace, a pension near the pine forest, or decide to stay in Florence - which is only an hour's drive - or in the lovely city of Pisa (about 20 minutes from Viareggio).
The triple cannon has already unequivocally kicked off the party last weekend but do not worry, the Carnival of Viareggio will last throughout the month of February, with masked floats every Sunday and feast in the wards every Saturday. Here Carnival is in fact the party par excellence, under the watchful and light-hearted eye of Burlamacco, that tease everyone, absolutely everyone, from Merkel to the pope.
Among the protagonists of the sharp satire of Viareggio there are known faces of national and international politics. Among the subjects addressed by the floats that parade on the seafront, policy is accompanied by big global issues like the economic crisis, the bureaucracy that plagues the Italian system, and issues such as peace and solidarity, water pollution, the environmental disasters and so on.
The huge floats of Viareggio Carnival parade on Sunday afternoon accompanied by music and dancers that do not fail to engage the public as they pass. We can distinguish floats of first and second category, masked group and masked individual. The winners of each category will be announced and awarded during the last day of Carnival.
But it does not end here because, throughout the period of the Carnival, initiatives and festivals are multiplying, almost every day in the various districts of the city, in theaters and especially at the Cittadella del Carnevale, the "home" of Carnival and floats, where they are designed and stored and where you can visit the museum, enjoying exhibition routes and spaces that give you the possibility to touch the raw material of Burlamacco: papier mache. Then there are also workshops for children and adults.
So in Viareggio there a lot to do ... and have fun! You just have to book an accommodation in Versilia to enjoy the most of the event!