Mario Sironi at the Vittoriano in Rome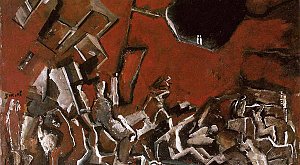 One of the greatest masters of the Italian XX century, Mario Sironi, is presented until 8th February 2015 with a major retrospective "Mario Sironi. 1885-1961" at the Vittoriano in Rome.
The exhibition is a survey of the entire artistic career of Sironi, painter, illustrator, sculptor, graphic artist, architect and decorator. Through his most significant works is reconstructed his entire production, retracing the steps of his painting, from the symbolist beginnings to the Second World War.
On display there are 90 works, including sketches, magazines, drawings, preparatory sketches and an important correspondence with the Italian cultural world of the XX century, that emphasize the varied complexity of his artistic corpus in a route from the Symbolist season, and then continuing through the futurist and metaphysical eras, the 20s, the "expressionist crisis" between the 20s and 30s, the adventure of the mural painting in the 30s, the neo-metaphysic season and the return to the painting of the 40s, until the deconstructive works after the Second World War, with the spiritual testament of the artist represented by the final Apocalypse. The works cover therefore the entire journey of the artist's life and reveal a decidedly anti-academic conception of art, open to influences of theater, architecture, sculpture, illustration and advertising.
Sironi has undoubtedly been one of the most original Italian painters and the most representative of his time, so much that Picasso, talking about him, said "his art is greatness", "you have a great artist, perhaps the greatest of the moment and you do not realize it." The Spanish painter was right, since it took over 50 years to rehabilitate Sironi, because of the political events of the country marked by social transformations, the tragedy of war and the fascist regime which Sironi joined. Only a careful critical review led to understand how he has been and continues to be a great master of European stature.
The works in the exhibition come from the most important public museums and from the most prestigious Italian private collections. Beating heart of the exhibition are the monumental works of Sironi as The Worker (1936) and The Empire (1936), Cityscape with taxi, The Architect and also The Apocalypse of 1961, one of his latest series of paintings and also a kind of spiritual testament.
One room of the exhibition is also dedicated to the collaboration between Fiat and Sironi, which began in 1930 and ended in 1955 with the latest advertisement for Fiat 600.
An extremely modern figure, Sironi intended the artistic creation as a form of communication and all-encompassing aesthetic experience in which there was a world populated by men who suffer and work, which acquire dignity in performing their duties, humble figures, but at the same time, great and mighty personalities .