The 5 best boutique hotel in Rome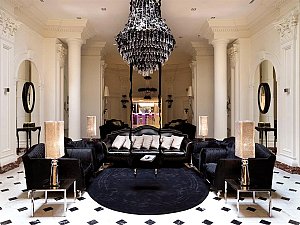 Hospitality today is undoubtedly changing direction. Instead of large, sometimes huge, luxury hotels, we tend to prefer more intimate and familiar situations, without however renouncing to the luxury, but giving more value to the attention to detail and the uniqueness of the environment.
Hence more and more often, the choice is oriented toward boutique hotels, small structures, with an intimate and cozy atmosphere, maybe family-run. What distinguishes a boutique hotel is the completely personalized service with respect to each individual customer, who is here satisfied in his every need.
The boutique hotel also differs in the attention to detail and originality. It can be found inside a building or in a secular country estate, in a castle or in a modern building. In Rome boutique hotel there truly original and unique. Let's look at 5 of the best, therefore, each with its own characteristics and a special charm that distinguishes them.
A few boutique hotels exude exclusivity as Villa Laetitia. We are on the Tiber, where the river washes the district Della Vittoria, right in front of the Villa Borghese. Here there are a whole range of villas whose architecture is a mixture of Renaissance and Baroque elements. Among these Villa Laetitia stands out for its understated elegance. Designed in 1911 by Armando Roman Brasini, was transformed in 2006 by the fashion designer Anna Fendi Venturini. The hotel has now become a hub of artists, designers and collectors from around the world.
In a nineteenth century building, a former disco, is now the Leon's Place, a wonderful boutique design hotel located in the center of Rome.The furnishing follows all a monochromatic theme that combines black and white, fading to gray in the rooms. An indisputable model of contemporary hotel with elegant and fascinating but at the same time innovative design.
Margutta is a little "bohemian" road, right here is Margutta 54. Its history dates back to 1850 when the great-grandfather of the current owner opened here a colony for artists. From then on in these rooms have lived increasingly important artists such as Picasso, Stravinsky and Fellini. The neighborhood in which it is located is still full of art galleries.
Another gem of the capital is the Lord Byron, situated in a privileged location, near the Borghese Gardens, in upscale Parioli. It is said that the Hotel Lord Byron is not just a place to stay, but its true an unforgettable experience. Furnished according to an intriguing, dreamy Art Deco style that reflects the splendor of the 30's, the hotel combines excellent quality services, haute cuisine and breathtaking views of Rome. This aristocratic villa evokes the ancient heart of the city while providing all the most modern facilities.
In the heart of the historic center of Rome, near Piazza Navona, we finally find Gigli D'Oro Suite, a boutique hotel in a quaint medieval building from 1400, which still exudes the flavor of an ancient Roman residence.The entire building is devoted to only 6 original suite of extreme luxury, with attention to every detail that combines beautiful design furniture to accurately preserved medieval elements, such as beams, ancient portals, stairs and antique floors.