Everyone masked for the Carnival of Venice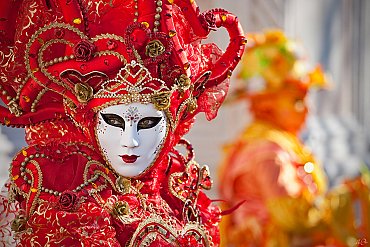 The Carnival of Venice is undoubtedly one of the most famous and beloved Carnivals both in Italy and abroad. Every year the streets of the fascinating lagoon city are filled with unique, colorful and elaborate masks, and also with tourists from all over the world.
The Carnival of Venice had its origins in the XII century, when the masks were used to hide the faces of the people in order to eliminate, at least for a few weeks a year, the difference between nobles and common people. Today it is a feast for all ages, with masked balls, pageants and various parades that bring the magical atmosphere of Venice in the XVIII century.
In order to participate at this exceptional event you must first equip yourself with a traditional Venetian mask. For this aim there are several traditional shops of "mascareri" and artisans who, fortunately, still keep alive this long and valuable tradition.
Then you have to find the right place to stay. Now, Venice, being a tourist town, already offers a great deal of alternatives, some really luxurious and characteristic in old buildings that overlook the picturesque canals crossed by gondolas. If, however, already throughout the course of the year, Venice is a notoriously expensive city, the prices of accommodations rise even more during the highly popular period of the Carnival. So, let's see how to juggle the various possibilities.
First of all, being a Venice a cosy city where everything is at a walking distance there's no problem of area, in short, it's impossible to make mistakes. Even more suburban neighborhoods are never too far away from the areas of cultural interest that are always accessible, in fact, simply walking.
You can then choose among different types of structures:
hotels: if you are looking for comfort and complete freedom, quality standards here are always quite high;
bed and breakfast: perfect for those who like a warm and informal treatment;
hostels: mainly frequented by young people;
convents and religious institutions: that open their doors to tourists at good prices but require the respect of a little restrictive rules (such as a return time);
farmhouses: here the direct relationship with the owners is always accompanied by the pleasure of good food;
luxury villas: that can be rented in whole or in part.
If you want to save money don't forget that rates are always slightly higher over the weekend but, on the other hand, keeping an eye on the last minute deals can help you to save a little bit. Alternatively, Mestre is alway a valid solution. Here prices come down significantly and the connections to Venice are always fast and efficient.
Finally, if you want to enjoy at most and join the revelry of Carnival with the relaxation of the spa, do not forget that places like the Abano and Montegrotto Terme, in the heart of the Euganean Hills, are just half an hour by train from Venice...