A visit to Pienza, the city of pecorino cheese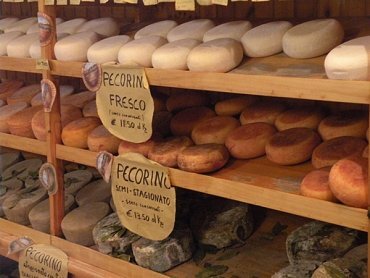 Tuscany is known around the world for its culinary delights, most notably cheese and especially pecorino cheese. One of the best in Tuscany, as well as the best known, is undoubtedly the pecorino di Pienza. If you are fond of cheese, why not think of a holiday in Pienza, near Siena, where nature blends with history and the amazing Tuscan tastes? A holiday in a farmhouse in Pienza will surely give you the opportunity to discover extraordinary landscapes and delicious flavors of the region, among all, the pecorino cheese.
The origins of pecorino cheese have their roots in ancient history. The first traces of this type of cheese in fact seem to date back to the Neolithic period. Then it was Pliny the Elder to tell us how the Etruscans prepared great and tasty pecorino cheeses.
The pecorino di Pienza is characterized by a particular taste, this is because the milk come from sheep that graze on the famous "Crete", clay soils typical of the Val d'Orcia. Here grows a mix of fragrant herbs like savory, mint, thyme, wild thyme and radichetto, which infuse the milk their typical fragrance giving it its unmistakable flavor.
There are different types of cheese: the fresh one (30 days aging) with a mild and sweet taste, the medium aged (2 months aging) sweet and slightly aromatic; the aged (from 2 to 4 months aging) characterized by a consistent paste and a more flavorful taste.
The pecorino cheese can be enjoyed alone, or better, accompanied by a selection of jams and honey, with good Tuscan bread and delicious cold cuts of the territory.
But in Pienza attractions are not only just culinary. It is indeed a beautiful Renaissance town that dominates the Val d'Orcia, located 20 kilometers from Montalcino and a few kilometers from Montepulciano in the beautiful region of Val d'Orcia, among soft hills and stunning views.
This charming village is best known as a creation of the great humanist Enea Silvio Piccolomini, who became Pope Pius II. He had the economic means and influence to turn his humble home village, Corsignano, in the utopian city, which was supposed to embody the principles and philosophy of the classical age and the great Italian Renaissance.
The project was entrusted to the architect Bernardo, known as Rossellino, under the guidance of the great humanist Leon Battista Alberti. The result was a series of beautiful and harmonious buildings such as the Cathedral, the Papal residence (Palazzo Piccolomini), the municipality building and the central square.
Pienza is also an excellent base from which to visit the Val d'Orcia staying in a farmhouse or a holiday home. It is only a few kilometers far from Montalcino, San Quirico d'Orcia, Montepulciano and Bagno Vignoni, famous for its thermal springs.