Gültigkeit: 1 Tag
Mobiler Voucher
Vorrangiger Zugriff
Fotos ohne Blitz
Audioguide vorhanden
Für Rollstuhlfahrer geeignet
War Sie erwartet
Besichtigen Sie die wunderschönen Medici Gräber mit den Skulpturen Michelangelos.
Bewundern Sie die Kapelle der Prinzen
Vergeuden Sie nicht Ihre und umgehen Sie die Schlange
Bleiben Sie im Museum so lange Sie möchten
Die Medici Gräber
Museum
Hinter der Kirche von San Lorenzo befindet sich das Museum der Medici Kapelle, das die Medici Krypta, die Fürstenkapelle und Michelangelos Neue Sakristei beherbergt.
Neben den architektonischen und bildhauerischen Dekorationen, zeigt das Museum den Schatz der Basilica San Lorenzo: Reliquien und andere liturgische Objekte, beeindruckende Beispiele der Goldschmiedekunst der Renaissance und des Barock.
Geschichte
Die weitläufige Krypta, in der die Mitglieder der Medici Familie begraben wurden, führt zu der Fürstenkapelle, in der die beeindruckenden Grabkammern der Großherzoge der Toskana stehen. Die Kapelle ist eine achteckige Halle, die komplett mit Halbedelsteinen und seltenen Marmor verkleidet und von einer Kuppel mit einem Fresko bedeckt wird. Die Arbeiten wurden 1604 von dem Architekten Matteo Nigetti begonnen und dauerten über zwei Jahrzehnte. Die prachtvolle Dekoration wurde von den großherzöglichen Werkstätten für diese Gelegenheit in dem Opificio delle Pietre dure (Werkstatt der Halbedelsteine) zusammengestellt.
Nach den Wünschen der Medici Päpste, Leo X und Clemens VII, arbeitete Michelangelo in mehrfachen Phasen an der Dekoration der Neuen Sakristei zwischen 1520 und 1534. Die Architektur des Raumes und die Ausschmückung mit Skulpturen, die die Grabdenkmäler einiger Mitglieder der Familie Medici einschliessen, wurden von Michelangelo vor seiner Abreise nach Rom entworfen und angefangen. Die Ausführung des Werkes und die jetzige Ausstattung des Raumes sind Giorgio Vasari und Bartolomeo Ammanati zu verdanken.
Besondere Werke
Fürstenkapelle:
An den Wänden des großen Oktaeders befinden sich sechs der sieben Sarkophage von Großherzogen aus der Familie Medici. Auf denen von Großherzog Ferdinando I und dem von Cosimo II stehen zwei kolossale vergoldete Bronzestatuen, von Pietro und Ferdinando Tacca zwischen 1626 und 1642 erschaffen. Darunter sind sechzehn Wappen von toskanischen Städten mit Intarsien aus Halbedelsteinen, Perlmuttern, Lasursteinen und Korallen zu sehen.
Neue Sakristei:
Michelangelo, Gräber von Lorenzo Herzog von Urbino und Giuliano Herzog von Nemours mit den symbolischen Figuren (Tag und Nacht, Morgengrauen und Abenddämmerung)
Michelangelo, Madonna und Kind, auf dem Grab von Lorenzo der Prächtige und seinem bruder Giuliano.
Was ist enthalten
Eingang mit vorrangigem Zugang
Full-time und bleibe so lange wie du willst
Reservierungsgebühren
Zugang zu temporären Ausstellungen
Verfügbare Optionen
Folgende Optionen können zusätzlich zu den Tickets in der geführten Buchung auf dieser Website erworben werden.
Audioguide: verfügbar in Italienisch, Englisch, Französisch, Deutsch, Spanisch, Russisch und Japanisch
Leitfaden: verfügbar in Italienisch, Englisch, Französisch, Deutsch, Spanisch und Japanisch
Preisreduktionen
Ermäßigte Eintrittskarten:
EU Bürger zwischen dem 18. und 25. Lebensjahr (gültiger Ausweis wird am Eingang benötigt)
Freikarten (es ist immer noch erforderlich, um den Vorverkauf zu bezahlen, um die Linie zu überspringen) :
EU und nicht EU-Bürger unter 18 Jahren (gültiger Ausweis wird am Eingang benötigt)
Temporary and permanent teachers of Italian public and private schools equipped with the appropriate documentation issued by MIUR
Jede behinderte Person, begleitet von der Bescheinigung über die Behinderung und die Begleitung
Erinnern
The ticket is valid all day until closing time of the Chapels starting from entrance time.

The entrance time written on the tickets may be subject to small changes depending on the actual availability of the Chapels.

For a satisfying experience it is recommended to reserve at least 1 hour to visit the Chapels.

The tickets will be sent via email within 24-48 hours after purchase (on weekdays) with instructions on how to get there and what to do to enter.

We inform you that, once booked, the date and time selected are binding. Please pick up your ticket at least 15 minutes before the reserved entrance. Who does not respect the time booked will not enter. To pick up the audio guide, you need a valid ID.

The Chapels have a maximum capacity of people, in some periods of the year or special days you may experience short delays or waits not dependent on the Chapels or Italy Tickets.
---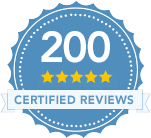 What means?
36 Reviews

Italy
4 years ago
Roberto
"Sempre emozionanti, peccato il traliccio. Michelangelo fantastico"

United Kingdom
4 years ago
Iwona
"Breathing "

United States
4 years ago
Cheryl
"The relics in the chapel are so weird and wonderful. The ornate vessels with gold and gems to display the jaw bones, fingers, skulls were amazing. The Michelangelo's statues for the tombs were awe inspiring. There was no line."

United States
4 years ago
Denise
"I ordered the reserved-time tickets from home before the trip. All I had to do was print the voucher and show it to the ticket office. As a result, we got right in. This is such an important place in Florence history. Try to not miss it. Not always open, so check in advance. "

Spain
5 years ago
Oscar
"Nice place to visit if you have some free time in Florence, but if you are there for just a couple of days, you can skip it and visit the biggest art galleries in the city. I would take you around an hour to visit it. The most important part is the chapel itself, where you can see the great sculptures of Michelangelo and the tombs of the Medici family. "

Argentina
5 years ago
Evangelina
"muy bello...excelente!!!!"

United States
5 years ago
Anne
"I'm so glad we visited the Medici Chapel! Michaelangelo's sculptures were wonderful. The two Medici carvings are above two reclining figures of dawn and dusk, and night and day. Too cool! The Cappella Principi was beautiful!. The inlaid marble designs all over the surfaces were amazing. Also fascinating was the craftsmanship of the 16 coats of arms from the Tuscan cities under the Medici rule."

Belgium
5 years ago
Frederique
"The magnificience of the Medicis ! A great place to visit."

Italy
5 years ago
Marc
"magico !"

Canada
5 years ago
Debra
"Entering the Medici Chapel was so effortless. We were early but we're allowed to enter before our scheduled time. Wondrous site!"

United Kingdom
5 years ago
Kate
"Loved it here - really interesting -wish there was more!"

Italy
5 years ago
Andrea
"Luogo meraviglioso, sculture straordinarie, personale gentile. Tutto perfetto. Grazie mille."

Brazil
5 years ago
Maria
"good organized. no Line ! I strongly recomend"

Italy
5 years ago
Celestina
"Perfetto "

United Kingdom
5 years ago
Bryony
"Chapel of the princes was such a surprise! I did not expect it to be as amazing as it was. A definite must see with the amount of michalangelo aspects inside "

United States
5 years ago
Karen
"This was a wonderful experience. Mostly due to the unexpected free "tour guides" available to walk you through the museum - and provide you with very helpful information. They were so kind and polite and knowledgeable. Thank u !! "

United Kingdom
5 years ago
M A
"Fascinating trip through history"

Russian Federation
5 years ago
Vera
"Very good organization, very nice museum"

Colombia
5 years ago
Gustavo
"Bonita construcción en mármol. Digna de su período."

Slovakia
5 years ago
Ivan
"Super"