Duration: around 3 h
Photos allowed
Local food tasting
Local official guide
A romantic gondola ride
What to expect
Walking tour of Venice
30 minute gondola ride
Local food tasting
Small group with an expert guide
Italian breakfast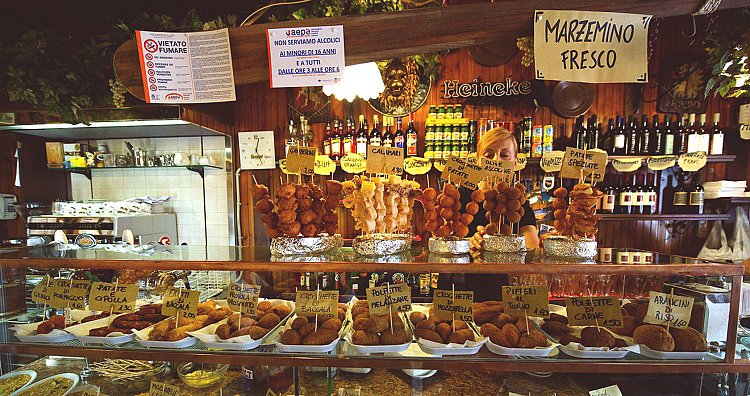 Venice and gondola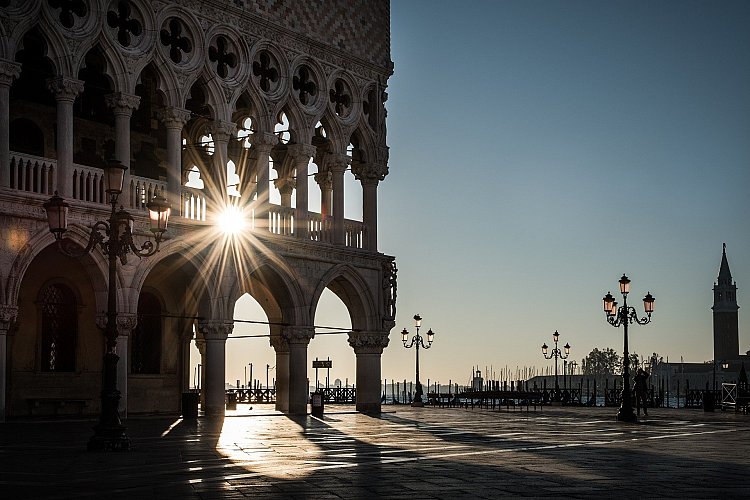 Venice and gondola

Vip Semi Private Venice Walking Tour With Gondola Ride And Traditional Spritz

Vip Semi Private Venice Walking Tour With Gondola Ride And Traditional Spritz

Vip Semi Private Venice Walking Tour With Gondola Ride And Traditional Spritz
---
Floating on Venice's waters
It is not just a walking tour but a perfect combination of history, art, flavors and emotions! Come and try our Walking tour of Venice with a Gondola ride and, with the support of our expert local guide, you will fully enjoy the beauties of one of the most romantic cities in the world.
After meeting your dedicated guide, start the day in a historic café of the city with the first taste of an Italian breakfast: the typical combination of espresso (or cappuccino) and a sweet croissant. Then you will have the chance to stroll through the charming and romantic streets (here traditionally called Calli) and admire the beauty of the elegant palaces and bridges reflected in the waters of the canals.
Thanks to the guide's explanation, you will learn how the history of Venice has influenced its architecture, ranging from the Byzantine style of the wonderful and imposing St Mark's Basilica overlooking the famous St Mark's Square, to the lightness of the Gothic lines of the Doge's Palace (Palazzo Ducale).
With this tour you can combine the pleasure of admiring the highlights of the city, along with some very pleasant stops for your palate! In fact, you will be able to taste the typical snacks of local products (called cicchetti) that the Venetians love to accompany with a glass of wine.
You will take wonderful pictures of the Grand Canal and the famous Ponte di Rialto (Rialto Bridge) and then end this entertaining tour by savoring another Venetian specialty in the Rialto Fish Market (on market closing days we will stop in another local shop).
You will then end this tour with one the most unforgettable experiences of your trip, a 30-minute ride in a typical Venetian gondola! It will be a magical experience to admire the city from the water, pass under its beautiful bridges and take unique photos to show your loved ones once you return home.
Description
Art, history, tradition, and flavors truly capture the authentic soul of Venice. Every street corner has a unique story to tell about this historic city, and the food adds another layer of depth to the experience. Venice's heart beats through art, whether it be the wonderful architecture or the bustling art galleries, which are captivating to all visitors. The diverse history of this city adds pops of character that make Venice what it is today. Finally, the flavors are unique to the region and a must-try for anyone who visits.
Duration
Hours-wise, we're looking at 3.
About
Through an exclusive tour, led by an expert guide in art and history, you can immerse yourself in the cultural, historical and artistic treasures of the "floating city". Let our pleasant and comprehensive walking tour provide a glimpse into unusual spots alongside traditional landmarks. Through the twisting and enigmatic passages of calli, ponti, and rughette, we'll begin our journey accompanied by an experienced guide. Together, we'll traverse the cobblestone streets and bridges, admiring the opulent mansions and timeless sights as we discover the grandeur of St. Mark's. The grand St. Mark's Basilica, an architectural masterpiece adorned with Venetian-Byzantine domes, is a striking symbol of Venice's history. Gothic design flourishes in the Doge Palace, which served as the government seat, Palace of Justice, and prison, while also being the residence of the Doge. The Bridge of Sighs adds a haunting touch. Visitors can fully experience the noble and timelessness of Venice on a semi-private tour. Of course, it will be time for a well-deserved aperitivo and what better way to enjoy it than with a Venetian Spritz? Amid knowledge of local traditions and a customary pre-dinner drink, a trip to Venice must culminate in a voyage on a gondola. Our particular gondola ride stands unrivaled in the metropolis, as we feature a unique route that ventures off the usual path and passes by both renowned and obscure locales. Prepare to shoot some truly innovative images! The city's founding element, water, is where you'll capture the most breathtaking perspectives of this romanic and intimate tour of Venice that concludes with a semi-private experience. History, art, tradition: all of these encompass the soul of Venice, a city unmatched in its uniqueness. other.
With an exceptional and enjoyable expedition, you can unearth them all simultaneously. There is no other tour as informative and novel as this one.
Extra particulars
Remove and reposition sentences as follows: It is a good idea to gather more information about this topic if one wishes to be fully informed. There is always something to learn. Additionally, there are many resources available, such as books or online articles, that can provide helpful insights.
Walking guided tour
Until March of 2023, guests can enjoy a complimentary Italian breakfast.
Spritz Venetian Standard
- Guide who is fluent in English and holds a valid license
Gondola ride for 30 minutes
Local official guide
Walking tour of Venice
Tastings of typical Venetian products
Italian breakfast with espresso
30 minute ride on a traditional gondola
Cancellation Policy
At least 48 hours prior to the scheduled activity, clients may cancel and receive a complete refund or credit. The full price shall be charged if there is a no-show for your reserved slot.
Meeting Point
P.za San Marco, 1, Venezia (VE)
St. Mark's Square: under the column with the lion on the top, in front of the Doge's Palace.
Clients are required to be at the meeting point 15 minutes prior to the scheduled departure time.
To remember
We cannot wait to welcome you to the land of authentic products and unforgettable experiences.
Clients are kindly encouraged to arrive at the meeting point 15 minutes ahead of the scheduled departure time.
We kindly request that you factor this into your travel plans. Regrettably, we are unable to accommodate any delays, no matter how brief, and we regret to inform you that failing to attend the experience will not qualify for a refund, including partial refunds.
Children and teenagers under 18 years of age should always be accompanied by at least one adult. In the event that this requirement is not met, we retain the right to exclude the underage participant, and unfortunately, no refund will be provided.
Please note that pets are not allowed on this tour.
Please let us know in advance any special need or impaired mobility of the clients and we will do our best to accomodate them.
Shorts, big bags and liquid bottles will not be allowed inside the museums.
Even with the skip-the-line entrance, there is still a compulsory security check which may cause some delays in entering the museum.
*Vegetarians and/or those suffering from intolerance and/or allergies are more than welcome: vegetarian and other alternative recipes are available and included (advance notice is appreciated).
The described itineraries may undergo slight modifications due to unforeseen operational requirements.