A tour in Florence on the trail of David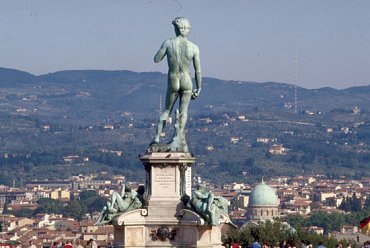 With its 5.17 meters of pure beauty made from a single block of Carrara marble, Michelangelo's David is the male perfection, a masterpiece universally acknowledged, that radiates strength and energy. Not for nothing it is one of the most popular statues in the world. And we have it here, in Florence: the original and two copies.
Thinking about the city of Florence you cannot help thinking of the entrance of the Palazzo Vecchio, the heart and symbol of the city, with David proudly displayed at the entrance. Of course that statue, so exposed to bad weather and possible damage, is a copy. Just like the copy which from the Piazzale Michelangelo, dominates the entire city. The original is kept at the Accademia Gallery.
A tour around the city on the tracks of David can therefore only only start from Piazza della Signoria. It is precisely here that the staue was originally placed in May 1504 and unveiled at the Florentines later, on September 8, for the feast of the Virgin Mary. It was still here when, in 1843 Aristodemo Costoli, in charge of the restoration of the statue, intervened on the the Davoid with a hydrochloric acid-based solvent thus bringing considerable damage to the marble surface. Since then, the statue was placed under a wooden shed, in order to protect it from further damage resulting from the elements.
With the approach of the celebrations for the 400th anniversary of Michelangelo's birth, in August 1873, David was moved to its current home, the Accademia Gallery. The transfer, which occurred on rails, was a real event for the city and lasted one week. The statue was then finally placed in the special forum set up in the museum by Emilio De Fabris. Here,it can still be admired in all its majesty and splendor.
What we find now in Piazza della Signoria is a copy in marble by Luigi Arrighetti, placed on the outside of the Palazzo Vecchio in 1910.
The second copy at the Piazzale Michelangelo has instead been cast in bronze in 1874 by Clemente Papi. Here ends the brief tour among the Florentine Davids, a perfect location to enjoy the charm of the city from above.