Duration: around 3,5 h
Photos allowed
Local food tasting
Private official guide
A romantic gondola ride
What to expect
Walking tour of Venice
30 minute gondola ride
Local food tasting
Private tour with an official guide
Italian breakfast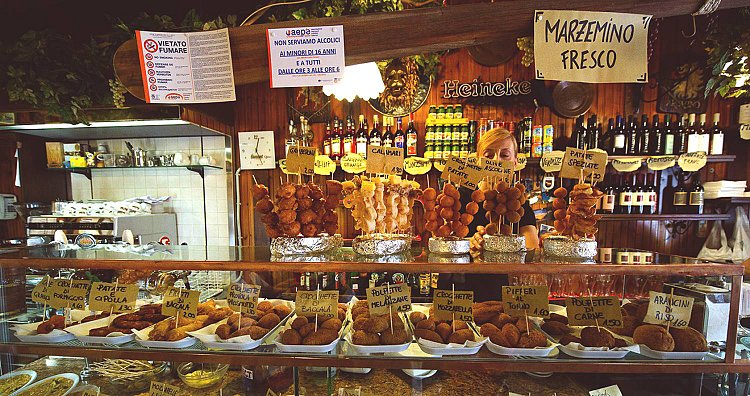 Venice with gondola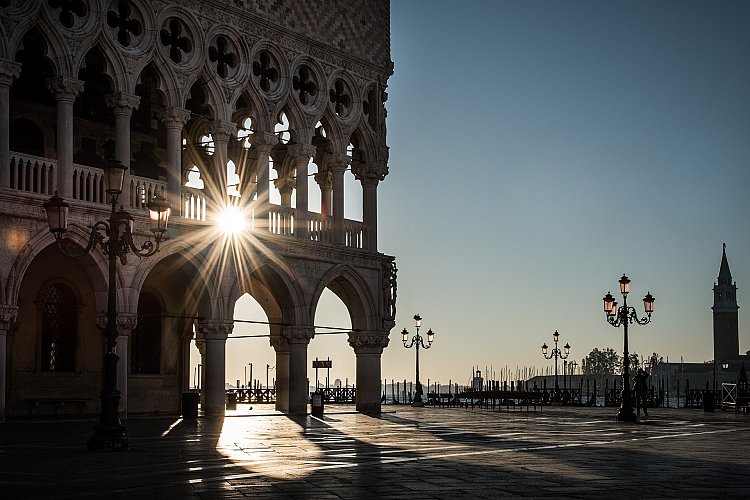 Venice with gondola

Private Venice Walking and Gondola Tour

Private Venice Walking And Gondola Tour
---
The thrill of a ride on a Venetian gondola
A city almost entirely pedestrian, surrounded by water, where instead of busses, boats are the means of public transport... it seems like we are describing a place of fantasy, but this city exists and it's in Italy: Venice!
We have designed this private tour especially for you to fully experience what the city has to offer: art and history, traditional food and the thrill of a ride on a real Venetian gondola.
Meet your local private guide directly in the city center and start your journey: you will be immediately awestruck by the majesty of the Basilica di San Marco, in the square also dedicated to the saint, in the frame of the Procuratie buildings. Admire the Doge's Palace, where the Venetian government once had its seat, and learn about its architecture, its features and its secrets. Soon thereafter you will be immersed in a maze of streets, alleys and bridges, under the friendly and expert guidance of your private tour guide.
You will admire sumptuous buildings, arcades and colonnades, passing over the bridges that connect the small islands that make up like a mosaic the land of the lagoon on which the city is built. You will see the infamous Bridge of Sighs, and you will learn why it is called that way... then stop for a moment of refreshment in one of the typical charming Venetian cafes, where you will taste small snacks made with fresh local products, the so-called Venetian cicchetti. Then again through alleys and calli (this is how they're called in the local dialect), continuing your journey and arriving to the famous Ponte di Rialto where a very interesting visit to the fish market awaits you, before embarking on a traditional gondola for an unforgettable tour of the canals. The city seen from the lagoon will enchant you, and you can capture these truly unique scenarios in the world in beautiful photos.
You couldn't wish for a better ending to your day discovering Venice!
Description
Flavors and colors of La Serenissima await you on an enchanting Gondola Tour through Venice.
Duration
Hours: 2.5
About
"Venice," Truman Capote mused, "is akin to the consumption of a box full of chocolate liqueurs all at once. With a private Venice Gondola Tour and an expert guide, you and your group can fully immerse yourselves in this enchanting wonderland and indulge in its exceptional flavors. Amidst the labyrinth of canals that intertwine to form the Venetian islands, our signature tour will take you on a journey through alleys and over bridges, past majestic marble palaces and intricate arcades that adorn the lagoon. With no traffic allowed on the roads, the water serves as the main thoroughfare and boats are the means of transportation; it's almost surreal. For a taste of delicious local specialties and a sip of local wines, join the locals in their favorite cafés and markets during the day. You will also get an insider's view of Venetian lifestyle, which is a rare opportunity. Set off with your personal guide to explore one of the most extraordinary and romantic cities in the world. Experience the unique essence of Venice as you revel in its treasures and inhale its exotic atmosphere. The Walking and Venice Gondola Tour not only offers stunning, unexpected views, but also delves into the city's captivating and dramatic history thanks to your magnetizing guide. Gaze upon the luxurious St Mark's Square that is ensconced by the arcaded Procuratie building and Correr Museum, and crowned by the eye-catching polychrome domes of the grand St Mark's Basilica. The Doge's Palace, Palazzo Ducale, that once sheltered Venetian governance, and the Palace of Justice with its creepy dungeons, including the Doge's private quarters, are also worth a visit. Gaze at the world-renowned Bridge of Sighs while your guide takes you there and tells you the unfortunate history that led to its name. Step into the charming little joints and cafés to taste the traditional fare while taking a few breaks along the way. Don't miss out on the famous Venetian cicchetti, which are similar to "tapas-like" snacks made with fresh local products! Board your private Gondola and embark on an unforgettable Venice Gondola Tour after indulging in a delectable Venetian tasting at Ponte di Rialto- the quintessential bridge of Venice. Stroll through the Rialto Fish Market with your guide for a fascinating experience. Enchanting Venice - a day that will never be forgotten - culminates with a picture-perfect end on a postcard.
Info, More Unique
Throughout the following rearrange text to convey the exact same information but embrace a more unique style. Don't be too logical all the time with wording and incorporate some uncommon words that don't sound out of place.
Walking tour guided privately
March 31st, 2023 is the end of the Italian breakfast promotion.
Tasting of regional delicacies (valid until March 31st, 2023)
English-speaking guide just for you
30-minute ride in your own private Gondola
1st April 2023: New Additions
Tour by foot that involves
Wandering through various areas
Taking in the sights and sounds
Of a particular location
Strolling at a relaxed pace
Observing the architecture and culture
Without the use of any transportation
A leisurely exploration on foot
To experience the ambiance firsthand
Known as a walking tour Guide who has a permit to speak English fluently. Spritz, a typical Venetian beverage, has become increasingly popular among those seeking a refreshing and flavorful drink. Its recipe typically includes a blend of Aperol, Prosecco, and soda water. The bright orange color of the Aperol adds visual appeal to the drink, while its bitter orange flavor blends perfectly with the sweetness of the Prosecco. Aperitivo hour in Venice is never complete without a glass of this beloved, citrusy drink. A ride on the gondola that lasts for 30 minutes.
Private official guide
Walking tour of Venice
Tastings of typical Venetian products
Italian breakfast with espresso
30 minute ride on a traditional gondola
Meeting Point
P.za San Marco, 1, Venezia (VE)
St. Mark's Square: under the column with the lion on the top, in front of the Doge's Palace.
Clients are required to be at the meeting point 15 minutes prior to the scheduled departure time.
Cancellation Policy
If you decide to cancel your booking with Florence-Tickets.com up to 8 days before the scheduled start of your services, you are entitled to a full refund of the total amount you have paid.
Starting from seven days prior to the booked services, no refunds will be provided if the renunciation is communicated to Florence-Tickets.com.
Travellers who halt their service midway or pre-empt their itinerary will not be entitled to a refund.
To remember
We cannot wait to welcome you to the land of authentic products and unforgettable experiences.
Wear comfortable walking shoes.
Inclusions from 1st April 2023
Walking tour
Licensed English speaking guide
Typical Venetian Spritz
30 minutes gondola ride
We regret to inform that this tour is not suitable for guests with wheelchairs or with impaired mobility.
Please specify if there are any food restriction we should be aware of.
Please note that Italy's law doesn't permit selling alcoholic beverage to teens under 18 y.o. so clients under this age will be served non-alcoholic beverages.