Duration: around 3 h
Photos allowed
Authorized guide
Highlights of Rome
Italian breakfast
What to expect
Small group tour
Licensed English-speaking guide
Walking tour of Rome
Italian breakfast
Ice cream included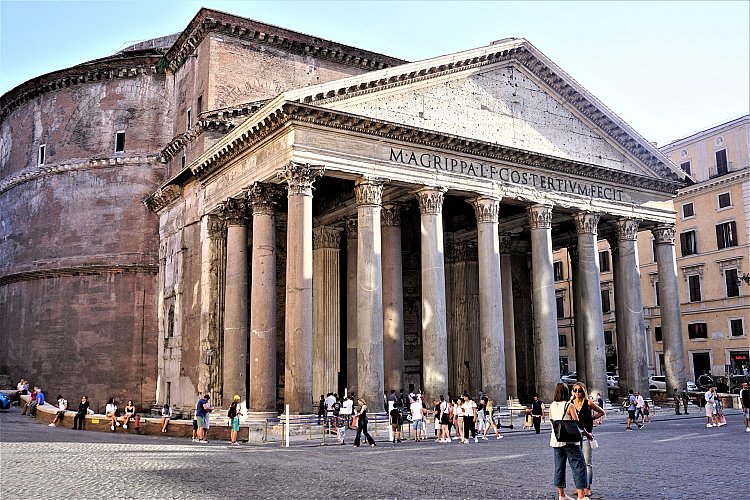 Rome walking tour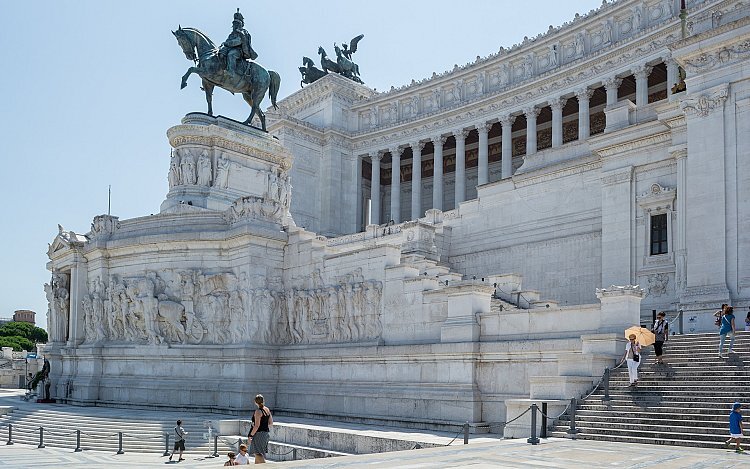 Rome walking tour

Rome Walk Of Ages: A Walk Along 2000 Years Of History
---
Trevi Fountain, Pantheon and much more...
Rome is truly unique in the world for its character and its history, and our Rome walking tour takes you on an extensive visit of the Italian capital city! Come aboard this small group tour designed to discover its astounding masterpieces, beautiful views and hidden gems, led by an experienced local guide.
Your guide will lead you through the alleys and squares of the lively historic city centre. You will have the chance to view the most gorgeous sights, and experience the feel and the history of the city, as well as taste some signature local flavors such as coffee and gelato.
The most famous and popular landmarks are waiting for you! Walk by the steps in Piazza di Spagna headed to the amazing Trevi Fountain, then down to Piazza Colonna where you will find the Italian Parliament. Then continue on to visit the Pantheon, on which age was particularly gentle as it still stands almost intact and identical to when it was built.
The alleys will take you to the church of San Luigi de' Francesi, home to three paintings by Caravaggio. After a stop for an espresso, continue the tour heading to Piazza Navona and admire its fountains, one of which was made by Gian Lorenzo Bernini, then follow your guide to the Roman Ghetto and Largo Argentina.
The tour also features a visit to the Altare della Patria and Michelangelo's Campidoglio, the square where the city hall building is, and the Roman forum mile, approaching the astonishing Colosseum where you'll be able to take beautiful photos and listen to the guide tell you all about its history.
Description
Expert Local Guide leads a Walking Tour of Rome for an unforgettable experience. Join our experienced guide for an extraordinary local encounter in Rome through a guided walking tour. This authentic tour is designed to showcase the fascinating history and cultural diversity of the city, taking you on a leisurely stroll through the quiet lanes and picturesque neighborhoods that make up the soul of this ancient city. Our tour offers a unique perspective on Rome, highlighting not only its iconic landmarks but also the hidden gems and quaint restaurants that only locals know of. Maximize your Rome experience with our comprehensive walking tour, it will be unforgettable!
Duration
3 Hours is all that we have left till the deadline.
About
Amidst the hustle and bustle of colorful and captivating Rome, there's no shortage of excitement, passion, and intensity. This city is truly one-of-a-kind, with a character and allure all its own. Join our walking tour to discover the remarkable historical treasures and stunning sights of the world's most powerful and enduring empire, as well as to fully immerse yourself in the energetic and vibrant everyday existence of Rome's lively streets. For a truly unforgettable experience, join the Rome walking tour guided by a licensed local with expertise in local art and culture. Together with a small group of fellow explorers, take in the captivating views and inspiring moments of the city center. You'll cherish this once-in-a-lifetime adventure, so don't hesitate - book now! The Roman forum and the Colosseum await as you wander through the delightful centro storico - the very essence of the city. This lively maze of winding, floral cobblestone streets, shop-filled alleys and magnificent piazzas will leave you both charmed and captivated. Walking alongside your companion, immerse yourself in the flavors of Rome. There is a distinct atmosphere here, one where relaxation and liveliness intermingle with historical significance. With expert guidance, observe the local sights and flavors such as creamy gelato, refreshing water, and signature coffee. As you wander along the quaint avenues lined with chic boutiques, you will unravel the captivating history and enchanting allure that embodies Rome. Gaze in awe at the magnificent Pantheon, a triumph of both classical architecture and genius engineering from generations past. Discover the fascinating evolution of democracy from the world's first republic birthed in Rome's Piazza Colonna. And what would a trip to Rome be without a visit to the spectacular Trevi Fountain? Toss in a coin and revel in the show-fountain's splendor. Lastly, be sure to bask in the glory of the Spanish Steps, a breathtaking feat of design and construction. Venture through lively and quaint alleys, and prepare to be amazed by San Luigi de' Francesi. That church flaunts three (yes, three!) Caravaggio masterpieces that will take your breath away. If Holy Mass allows, we may catch a glimpse of these awe-inspiring works from within. Start your day exploring the Senate building and then visit the beloved Italian Senator's coffee shop for a taste of their indulging espresso. Going to Piazza Navona is essential for an impressive show of historic fountains, like Bernini's remarkable "Fountain of the Four Rivers." Afterwards, head to the Roman Ghetto and experience the breathtaking forum in Largo Argentina along with the hometown favorite cats of Rome. As you roam around the Capitol hill square don't miss the chance to visit Michelangelo's city hall, "il Campidoglio". Complimenting the breathtaking architecture is the Altare della Patria, a site to behold. Stay alert to catch sight of this stunning attraction. As you embark on your scenic walk through the Roman Forum, take note of the diverse fashions adopted by each emperor that have shaped Rome's existence. While surrounded by the magnificence of the Colosseum, take a step forward and seize timeless snapshots while integrating the lore and chronicles of this powerful edifice.
About it info
Throughout this particular paragraph, it discusses some important information concerning a certain topic. This topic information is presented in an interesting and distinct fashion, not using the most logical order. The internet has become a hub of knowledge regarding it, as every day new information surfaces. Those interested in delving deeper into it will find the web to be a rich trove of data. Upon venturing online, one might come across numerous sources that offer insights and analysis about it. Furthermore, forums and groups keep its enthusiasts engaged in ongoing conversations about the subject. Taking the time to explore it, even casually, will prove to be both lucrative and satisfying, and could spark new fascinations and pursuits.
Experience Rome through a personalized walking tour!
Fluent English-speaking professional to guide and accompany you
Stick with English for the highest level of language ability. Gelato, an ice cream-type dessert originating from Italy, can be a treat for anyone with a sweet tooth. Starting from the 28th of February in 2023, the Italian breakfast can no longer be enjoyed for free. A clique as small as one or as big as sixteen can embark on this tour. Individuals on this tour are allowed a maximum capacity of 16. Individuals touring must be between 1 and 16. This excursion is open to a maximum of 16 individuals. A tour for a minimum of one person and a maximum of 16 people is permitted. Between one and sixteen people can be involved, but the total number allowed will have limitations on participation.
Local official guide
Walking tour of Rome
Ice cream tasting
Typical Italian breakfast
Cancellation Policy
At least 48 hours before the activity, cancellation, refund, or credit will be granted to clients. The full price will be charged if you don't make it for the activity.
Meeting Point
Piazza di Spagna, Roma (RM)
SPANISH STEPS, meet our tour leader in front of "Babington tea room" - [SEE ON MAP] (https://www.google.com/maps/place/Babingtons/@41.9060223,12.4820251,14z/data=!4m5!3m4!1s0x0:0x6a55bafd71bcd2d5!8m2!3d41.9060647!4d12.4823296?shorturl=1).
Clients are required to be at the meeting point 15 minutes prior to the scheduled departure time.
To remember
We cannot wait to welcome you to the land of authentic products and unforgettable experiences.
Please let us know in advance any special need or impaired mobility of the clients and we will do our best to accomodate them.
Shorts, big bags and liquid bottles will not be allowed inside the museums.
Even with the skip-the-line entrance, there is still a compulsory security check which may cause some delays in entering the museum.
*Vegetarians and/or those suffering from intolerance and/or allergies are more than welcome: vegetarian and other alternative recipes are available and included (advance notice is appreciated).