Pietro Bellotti - Another Canaletto on display in Venice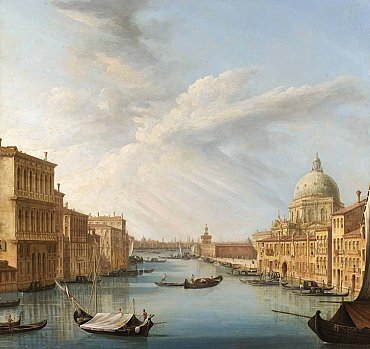 Ca 'Rezzonico, a museum and a symbol of the eighteenth century in Venice, hosts the initiative "Archives of landscape painting", dedicated to one of the most famous and beloved painting genre of the eighteenth century, its protagonists and its various specific aspects.
For the first of these events, the protagonist, until April 28, is Pietro Bellotti, nephew of Canaletto and younger brother of Bernardo Bellotti.
For a long time Pietro Bellotti was considered a marginal landscape artist, but recent studies have given him an unexpected and important role in Venetian art of the eighteenth century. Indeed, he elaborates Canaletto's inventions through an independent and personal style, and expands the traditional Venetian repertoire with landscapes of the major European cities and some architectural capriccios.
Ca 'Rezzonico is home for the first time, in the spectacular rooms on the first floor, of 45 works by Pietro Bellotti that reconstruct his artistic path, carefully documenting his wide figurative repertoire through paintings coming almost entirely from private collections in Europe and the U.S. and some paintings preserved in museums such as the Yale Center of British Art and the Mauritshuis in Hague. The exhibition includes also a group of 17 paintings with views of major European cities, some of which have been signed on the back by the artist and can be considered as "pilot paintings" which gave life, from 1952, to the rediscovery of the artist.
Born in Venice in 1725, when we was 16 years was registered as an apprentice in the workshop of his brother. Then he moved to Genoa and to France, in particular in Toulouse, that he chose as his residence. In France Bellotti took advantage of his belonging to the Canaletto family, making himself calling "Pietro Bellotti of Caneletty". It was here that he began to develop his style, independently from the well-known relative.
However the physical distance from Venice, didn't remove Pietro - from an artistic point of view - from the Venetian school. He retained a capacity to frame a place with great skill even though, unlike his uncle, he did not paint in person but from prints. Some examples are paintings that depict the most classic views of Venice, as well as those that reproduce a more humble landscapes of the city and of the hinterland.
The European pictorial experiences became later evident in the paintings that represent the Netherlands, Vienna and other European cities. The capriccios, on the other hand, in orthodox Venetian style, are full of artistic monuments that emerge from places normally characterized by water.
The exhibition is of course also an opportunity to discover or rediscover one of the most famous buildings in Venice, the symbol of the eighteenth century, which in addition to the current exhibition, houses important paintings by Canaletto, Francesco Guardi, Pietro Longhi, Tintoretto and Tiepolo.