Valabilitate: 1 zi
Bilet electronic
Accesul prioritar
Fotografii fără bliț
Audio Ghid disponibil
Accesibil pentru persoanele cu handicap
La ce să te aștepți
Vizitati frumoasele Morminte Medicee cu sclupturile lui Michelangelo
Admirati Capela Printilor
Evitati coada nu pierdeti timp
Ramaneti in muzeu cat doriti
Mormintele Medici
Muzeul
Vizita la Muzeul care este adiacent complexului din San Lorenzo cuprinde Cripta, Capela Printilor si Sagrestia Noua de Michelangelo. In afara de decoratiile scluptate si arhitectonice a variilor incaperi, muzeul detine Comoara Bisericii din San Lorenzo compusa din relicve si mobilier liturgic, capodopere si bijuterii Rinascimentale si Barocco.
Istoric
De la marea Cripta, unde sunt inmormantati membrii familiei Medici, se trece la Capela Printilor ce ospiteaza grandioasele monumente funerare a Marilor Duci medicei. Este vorba de un ambient octogonal, intreg acoperit cu insertii complexe de pietre semipretioase si marmura rara,acoperit de o mare cupola cu fresce. Lucrarile au inceput in 1604 de arhitectul Matteo Nigetti si au continuat pentru doua secole. Bogata decoratie de intarsii au fost realizate in atelierele mariilor duci.
La Sagrestia Noua, comandata de Papa mediceo Leone X si Clemente VII, ca si Capela mediceea, a lucrat in mai multe etape Michelangelo, intre anii 1520-1534.
Arhitectura cladirii si decoratiile scluptate, cuprind monumente funerare ale membriilor familioei Medici, fiind proiectate si incepute de Michelangelo inainte ca el sa plece spre Roma. Completarea operei si pregatirea actuala a ambientului se datoreaza lui Giorgio Vasari si Bartolomeo Ammanati.
Capodopere
Capela Printilor
In peretii marelui octagon sunt cavourile a sase din sapte mari duci medicei; deasupra cavourilor lui Ferdinando I si Cosimo II se gasesc colosalele statui din bronz aurit facute de Pietro si Ferdinando Tocca, intre anii 1624-1626. Jos sunt 16 steme ale oraselor toscane inchise cu piatra dura,sidefate, lapislazzului si coral.
Sagrestia Noua
Michelangelo, Mormintele Ducelui Lorenzo di Urbino si Ducelui Giuliano de Memours, cu figuri alegorice de Zi si de Noapte,Aurora si Crepuscolo.
Michelangelo, Fecioara Maria cu fiul, pe sarcofagul lui Lorenzo Magnificul si al fratelui Giuliano
Ce este inclus
Intrarea cu acces prioritar
Full-time și să rămână în interior, atâta timp cât doriți
Taxele de rezervare
Accesul la expoziții temporare
Optiuni Disponibile
Următoarele opțiuni pot fi achiziționate în plus față de bilete în rezervare ghidate de pe acest site.
Ghid audio: disponibil în Italiană, Engleză, Franceză, Germană, Spaniolă, Rusă și Japoneză
Ghid de carte: disponibil în Italiană, Engleză, Franceză, Germană, Spaniolă și Japoneză
Reduceri de preț
Bilete reduse:
Cetatenii din UE cu varsta cuprinsa intre 18-25 de ani (prezentati un document de identitate la intrare)
Bilete gratuite (este încă obligată să plătească presale pentru a sări peste linia) :
vechi cetățeni UE și nu UE sub 18 ani (prezentati un document de identitate la intrare)
Temporary and permanent teachers of Italian public and private schools equipped with the appropriate documentation issued by MIUR
Purtatorii de handicap ce detin certificat de dizabil si un insotitor
A ține minte
The ticket is valid all day until closing time of the Chapels starting from entrance time.
The entrance time written on the tickets may be subject to small changes depending on the actual availability of the Chapels.
For a satisfying experience it is recommended to reserve at least 1 hour to visit the Chapels.
The tickets will be sent via email within 24-48 hours after purchase (on weekdays) with instructions on how to get there and what to do to enter.
We inform you that, once booked, the date and time selected are binding. Please pick up your ticket at least 15 minutes before the reserved entrance. Who does not respect the time booked will not enter. To pick up the audio guide, you need a valid ID.
The Chapels have a maximum capacity of people, in some periods of the year or special days you may experience short delays or waits not dependent on the Chapels or Italy Tickets.
---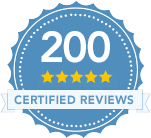 What means?
36 Reviews

Italy
5 years ago
Roberto
"Sempre emozionanti, peccato il traliccio. Michelangelo fantastico"

United Kingdom
5 years ago
Iwona
"Breathing "

United States
5 years ago
Cheryl
"The relics in the chapel are so weird and wonderful. The ornate vessels with gold and gems to display the jaw bones, fingers, skulls were amazing. The Michelangelo's statues for the tombs were awe inspiring. There was no line."

United States
5 years ago
Denise
"I ordered the reserved-time tickets from home before the trip. All I had to do was print the voucher and show it to the ticket office. As a result, we got right in. This is such an important place in Florence history. Try to not miss it. Not always open, so check in advance. "

Spain
6 years ago
Oscar
"Nice place to visit if you have some free time in Florence, but if you are there for just a couple of days, you can skip it and visit the biggest art galleries in the city. I would take you around an hour to visit it. The most important part is the chapel itself, where you can see the great sculptures of Michelangelo and the tombs of the Medici family. "

Argentina
6 years ago
Evangelina
"muy bello...excelente!!!!"

United States
6 years ago
Anne
"I'm so glad we visited the Medici Chapel! Michaelangelo's sculptures were wonderful. The two Medici carvings are above two reclining figures of dawn and dusk, and night and day. Too cool! The Cappella Principi was beautiful!. The inlaid marble designs all over the surfaces were amazing. Also fascinating was the craftsmanship of the 16 coats of arms from the Tuscan cities under the Medici rule."

Belgium
6 years ago
Frederique
"The magnificience of the Medicis ! A great place to visit."

Italy
6 years ago
Marc
"magico !"

Canada
6 years ago
Debra
"Entering the Medici Chapel was so effortless. We were early but we're allowed to enter before our scheduled time. Wondrous site!"

United Kingdom
6 years ago
Kate
"Loved it here - really interesting -wish there was more!"

Italy
6 years ago
Andrea
"Luogo meraviglioso, sculture straordinarie, personale gentile. Tutto perfetto. Grazie mille."

Brazil
6 years ago
Maria
"good organized. no Line ! I strongly recomend"

Italy
6 years ago
Celestina
"Perfetto "

United Kingdom
6 years ago
Bryony
"Chapel of the princes was such a surprise! I did not expect it to be as amazing as it was. A definite must see with the amount of michalangelo aspects inside "

United States
6 years ago
Karen
"This was a wonderful experience. Mostly due to the unexpected free "tour guides" available to walk you through the museum - and provide you with very helpful information. They were so kind and polite and knowledgeable. Thank u !! "

United Kingdom
6 years ago
M A
"Fascinating trip through history"

Russian Federation
6 years ago
Vera
"Very good organization, very nice museum"

Colombia
6 years ago
Gustavo
"Bonita construcción en mármol. Digna de su período."

Slovakia
6 years ago
Ivan
"Super"