Accademia Gallery: The History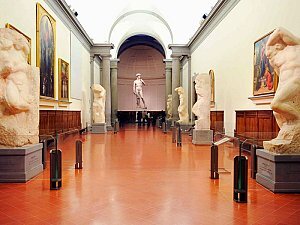 The Accademia Gallery in Florence was founded in 1784 by the Grand Duke of Tuscany Pietro Leopoldo together with the Academy of Fine Arts, a school devoted to teaching art - which still exists - in the old building that once belonged to the Hospital of St. Matthew and adjacent rooms of the former convent of San Niccolò di Cafaggio. The gallery was built as a place of gathering for the works of art that were used for the training of young artists, where they could find works of art (originals and reproduced) on which they could base their knowledge, study and imitation for their artistic training.
In the Gallary were then placed plaster casts, drawings, models and various paintings. Over time the Gallery has been progressively enriched with paintings from convents suppressed by the Grand Duke Pietro Leopoldo in the late XVIII century and then by Napoleon in 1810.
In 1873 here was moved, from Piazza della Signoria, the famous statue of David by Michelangelo Buonarroti, with the intention of preserving it from the weather. The value of the statue was increased by a special skylight by Emilio De Fabris and a gallery that surround it.
The Accademia Gallery became a public museum in 1892 and in 1950s were opened the Hall of the Colossus and the Byzantine Halls. Finally, were annexed also plaster casts of Lorenzo Bartolini and a rich department dedicated to musical instruments to witness the passion of the Medici for theater and music.
The Gallery was designed specifically to house works of art of great value, and its architecture, particularly spectacular, proves it. The consistency of the collections is somewhat changed during the XIX century and the XX century, because of subsequent enhancements, loans and refunds to other Florentine galleries and particularly the Uffizi.
Today the Galleria dell'Accademia in Florence preserves some of the most beautiful works by Michelangelo. First of all the David (1501), symbol of Florence in the world and a masterpiece of the Renaissance. In addition, there are preserved the famous sculptures by Michelangelo called Prisons, the St. Matthew and the Pietà of Palestrina. But the Accademia Gallery is not only Michelangelo, among masterpieces kept here which are well worth a visit there are The Rape of the Sabine Women by Giambologna, the Madonna and Child and Our Lady of the Sea by Botticelli and some other works by Perugino, Filippino Lippi, Pontormo and Bronzino.