Carlo Portelli's works on display at the Galleria dell'Accademia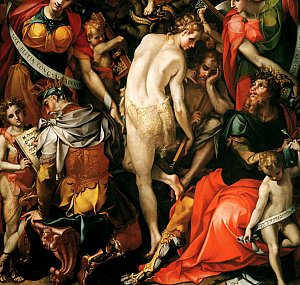 The Galleria dell'Accademia in Florence dedicates to the painter Carto Portelli, an unknown artist to the vast majority of its visitors, the exhibition "Carlo Portelli. An eccentric painter between Rosso Fiorentino and Vasari". A niche choice that pays tribute to the work of an eccentric and brilliant artist, who although has important committees and was active in major Medici's projects, has not enjoyed until now a great critic reputation.
The famous Galleria dell'Accademia includes, among its many masterpieces, a monumental altarpiece of the Immaculate Conception by Carlo Portelli dated 1566, originally intended for the Church of Ognissanti. The board, considered - rightly - Portelli's masterpiece, shocked, at that time, the historian Raffaello Borghini for the shameless exhibition in the foreground of the nudity of Eve. Around this board runs the exhibition that the Accademia dedicates until next April 30 to Carlo Portelli. An opportunity that has made possible, thanks to new studies and researches undertaken, to define the role of the artist in the panorama of Florentine painting during the Vasari age.
The aim of the exhibition, in addition to enhancing the altarpiece, is to acquaint the general public who daily throng the museum to admire the most famous statue by Michelangelo, a little known artist who undeniably deserves to be appreciated for his imagination and originality.
In the exhibition you can admire about fifty works including paintings, drawings and documents. Among these, the altarpiece of the Trinity of Santa Felicita shows the greatness of the artist. Other works document his intense activity as a painter of religious subjects: the Loro Annunciation, the Santa Croce Disputation on the Trinity and the San Salvi Adoration of the Shepherds. And yet, altarpieces like the Loro Lamentation, the Immaculate Conception, the Olmi Restitution of the Cross and the of Christ Preaching with St. John the Baptist, St. John the Evangelist and the Patrons.
In the exhibition there are also graphic works by Portelli, with his threadlike unmistakable sign and numerous documents and works ordered by private patrons. Portelli turned his hand also to portraiture, with paintings now to be found in Chaàlis and with the allegorical and celebratory portrait of Giovanni dalle Bande Nere now in Minneapolis.