Christmas markets and more in Tuscany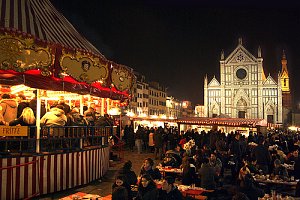 Christmas spirit is in the air and we are starting to breathe it in all of Tuscany where, from here to Christmas and beyond, so many events will create an embarrassing wealth of options for those who have decided to spend their Christmas holidays in Tuscany. Book an hotel in Florence city center or a farmhouse in Chianti, or maybe a Bed & Breakfast in Siena and start taking notes ...
Christmas markets are a perfect opportunity for the last Christmas shopping, but also for discovering characteristic products of local crafts and delicacies of this period. Definitely one of the best, and certainly the most famous Christmas Market in Florence, is that held every year in Piazza Santa Croce. The Weihnachtmarket until 21 December, brings a little of Germany in the heart of the city, you can find hot dogs and pig's knuckle, strudel and flood of beer, but also mulled wine, French biscuits and hot chocolate. And then children's toys, Christmas balls and decorations of all kinds for house and Christmas tree. At the Fortezza da Basso, from 11 to 14 December, there's the Natale in Fortezza with many stands and a section dedicated to children with games and entertainments. And finally, you should not miss a stop at the Winter Park where you can ice skating and sliding on the snow, sample the typical mountain specialties at the Rifugio del Ghiottone and maybe shopping for Christmas gifts at the stands.
Turning to Mugello, in Palazzuolo sul Senio thanks to Magic of Advent, the town fill up with stalls, gift ideas and local products of Mugello. Children have fun with Santa Claus' Hut and the Face Painting Elf. Marradi, in the Tuscan Emilian Appennines, on December 14, plunges into Christmas mood with gospel choirs, typical local crafts, Christmas decorations, sausages, roasted chestnuts and mulled wine. For children: Santa Claus's sleighs and the elves' workshop.
In Prato, Christmas in Piazza San Francesco, from 19 to 23 December, with Santa Claus, games, entertainment for children and small antiques and crafts for adults.
In Montecatini the Santa's House will be open until January 6 at the Castello delle Terme Tamerici. An amazing reconstruction of this magical place where you will meet Santa Claus with all his helpers elves.
In the province of Siena, until January 6, the historic center of Montepulciano will be invaded by wooden Christmas market with crafts, street food and many shows and entertainment for the whole family, such as a visit to the Castle of Santa Claus.
Those with children cannot help but visit Chianciano Terme that, until December 26, becomes the country of Santa Claus, an enchanted world where the train "Polar Express" takes children and adults to the home of Santa Claus to have fun with many activities for the little ones.
In Lucca in Piazza Napoleone until January 6, there is the Christmas Fair with ice skating and a carousel for children, while in Piazza San Michele, until January 9, the Christmas market proposes more than 50 stands with Christmas decorations, traditional products, toys, and so on and so forth.
Not booked your hotel in Tuscany yet? We strongly reccommend to hurry up! Christmas in Tuscany is a magical moment, do not miss it.