Della Robbia at the National Museum of the Bargello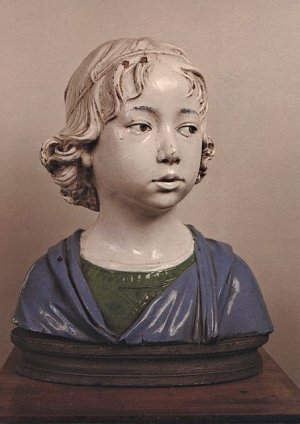 The Della Robbia were one of the most important families in the Florentine scene of the XV and XVI centuries. In particular, they were sculptors and artists specialized in glazed terracotta, so much that the family has become the symbol of the colorful majolica, which, in fact, are called today, "robbiane".
The works of the Della Robbia, in particular those of Andrea and Giovanni, are held in Florence, at the Bargello Museum, in two rooms specially dedicated to them.
Andrea Della Robbia, nephew of Luca Della Robbia, was specialized in the technique of polychrome glazed ceramic invented by his uncle. He led to widespread this type of art inspired, unlike his predecessor, to painting rather than sculpture, and specifically to Verrocchio and his school.
Among his works, often made in white and blue, there are the large plates of the Sanctuary of La Verna and the lunettes with children decorating the Spedale degli Innocenti. The Bargello Museum houses many of his works including the Portrait of the girl, the Bust of a boy, the Madonna of Architects and the Madonna of the pillow, all refined glazed terracottas made in two colors: blue and white.
Giovanni Della Robbia, Andrea's son, continued the artistic tradition of his father distinguishing himself for the use of a wide range of colored glazes, a variety of subjects and the richness of details and decorations.
The Bargello room dedicated to Giovanni della Robbia houses, in addition to his works, those by other artists of pottery from the first half of the XVI century proving an intense artistic activity linked to the technique used by the Della Robbia and invented by Luca in the first half of the XV century.
The collection of the Bargello can be called extraordinary both for the quality and the quantity of the pieces that it welcomes. The hall is set up with works by Giovanni della Robbia and other collaborators and artists. At the center we find a polychrome glazed terracotta tabernacle that reflects Giovanni's style. But we can also admire works by important artists such as Giovanni Francesco Rustici and Jacopo Sansovino.