Donatello's David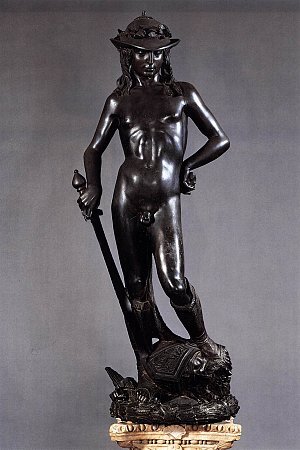 The most famous David of the Florentine Renaissance is undoubtedly that of Michelangelo, but other David exist that have nothing to envy the more famous one. Especially Donatello created not one but two David, one in bronze and one in marble, housed in the National Museum of the Bargello in Florence.
On this occasion we want to talk a bit of the bronze David, also known as the David di Donatello award, a prestigious Italian film award.
The sculpture was made by Donatello in about 1440, probably for the courtyard of Palazzo Medici, measuring 158 cm and a maximum of 51 cm diameter. In 1495, during the second expulsion of the Medici, the statue was stolen by the crowd and brought to Palazzo Vecchio, as a symbol of republican freedom.The David then returned to the Medici hands in 1555 with Cosimo I.
The statue combines in itself the biblical hero David and the god Mercury. In fact he has the head of Goliath at his feet and the sword, but also the winged shoes of Mercury, which beheaded Panoptes Argo, the giant shepherd with a hundred eyes.
David is depicted standing with a pointed hat decorated with a wreath of laurel, long hair and a deep face, bent enigmatically down. Aside from the boots that come to the knee, the body is naked with the soft and vivid features of a child. The posture is proud and confident at the same time. In the hands he holds the sword and the stone with which he has already hit his opponent.
Here the interpretation of the human figure by Donatello is particularly refined, the young body is portrayed in all its perfection and power but primarily affects the psychological surrender, the typical attitude of a defiant teenager with an air of superiority, conscious he has made a "stunt", the hidden face and an expression between satisfaction and melancholy.
On display at the Bargello Museum, next to the original restored statue, we find an identical replica reproduced in whole with the gold-plating that in the original has been lost over the years.