Galleria dell'Accademia: hall of the Colossus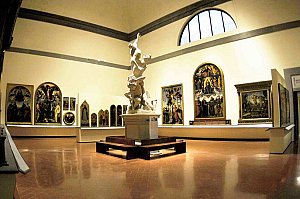 When we talk about the Galleria dell'Accademia in Florence, our thoughts go straight to the David and the powerful sculptures by Michelangelo. Actually, however, the museum also features other masterpieces that are definitely worth admiring.
The Hall of the Colossus, the first that welcomes visitors, for example, is home to a group of paintings of the XV and early XVI centuries. The name of the hall refers to one of the plaster models of Dioscuri Montecavallo exhibited here until the beginning of the XX century. Today the room houses a central plaster model by Giambologna for the Rape of the Sabines. The original statue is now located in Piazza della Signoria under the Loggia dei Lanzi.
The walls of the room are lined with paintings dating back to the XV and XVI centuries, many of which come from Florentine churches and convents and were painted by artists such as Paolo Uccello, Botticelli, Domenico Ghirlandaio and Perugino.
On the right wall we can see the Thebaid by Paolo Uccello, early works by Sandro Botticelli and boards with sacred subjects. In central position it is impossible not to notice the Cassone Adimari (about 1450) attributed to the Scheggia, reproducing a wedding procession that takes place on the streets of Florence.
To its left you can see a small work on size but rich in precious details, this is the Madonna of the Sea attributed to Botticelli and coming from the convent of Santa Felicita. Next to it there is another work by Botticelli, the early work of the Madonna and Child with Saint John and two angels, where you can see clear signs of the influence of his master Filippo Lippi.
The left wall instead welcomes six altarpieces that show the development of Florentine painting in XV century, including the famous Trebbio Altarpiece by Sandro Botticelli probably commissioned by Pierfrancesco Medici.
Since December 2013 you can also admire the partial reconstruction of the great altarpiece painted by Pietro Perugino in 1500 for the high altar of the Benedictine Abbey of Vallombrosa depicting the Assumption of the Virgin with angels and God the Father, with four saints. Next to it you can admire the Resurrection by Raffaellino del Garbo and the Deposition of Christ from the Cross initiated by Filipino Lippinella but then ended by Perugino at his death.