Michelangelo's Prisoners at the Galleria dell'Accademia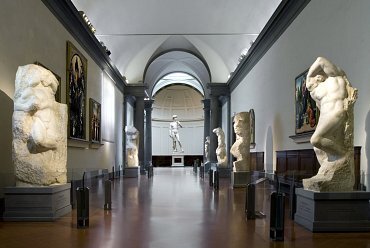 At the Accademia Gallery, in Florence, alongside the corridor leading to the famous David by Michelangelo, stand four imposing statues sculpted by the same Michelangelo, referred to as the "Prisoners" or "Slaves". These are four unfinished male figures sketched out in marble blocks. "The young Slave", the "Awakening Slave", the "bearded Slave" and "Atlas" can be dated to a period approximately between 1519 and 1534. Each one is an example of a particular practice used by Michelangelo called "unfinished" state from which we can experience the long and difficult executive path of a sculpture through the chisel marks on the surface. There is a sense of tension, imprinted with accentuated twisting movement: a sort of internal struggle of the figure who tries to escape from the marble and of the spirit which seeks to free himself from the flesh to yearn for God.
The four male nude figures are presented in various executive stadium and follow the classic setting of the opposite: they rest their weight on one leg, writhing in various poses with the bust and shoulders. Each block shows a solid muscolature of the arms and legs, concrete trace of the deep passion that Michelangelo had for the human anatomy whose knowledge he had been able to hone thanks to the permission to dissect corpses with the Augustinian friars of Florence in the 90s of the XV century .
The four sculptures were begun by Michelangelo for the huge project of the tomb for Pope Julius II della Rovere.The original project involved the construction of the most majestic tomb ever built in the Christian era for a pope, a sculptural group of more than 40 figures, placed on different layers. The four sculpted Prisons should have been placed at the base of the monument, whose location was planned inside St. Peter's Basilica in Rome. Unfortunately the initial enthusiasm was quickly curbed by a countermand of the pope who ordered him to shelve the project in 1506 in favor of other projects.
The Prisons were left in Michelangelo's workshop in Florence, where they were found after his death by his nephew Leonardo Buonarroti. He decided to donate them to the Grand Duke Cosimo I de' Medici. In 1586 Bernardo Buontalenti placed the Prisons at the four corners of the Great Cave of the Boboli Gardens, which well suited the four statues in rough marble. And there they remained until 1908, perfectly stored away in the Cave, until their transfer to the Accademia Gallery in 1909.