Sleeping Green in Florence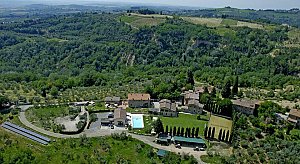 Accommodation facilities can have a significant environmental impact, we know this. But it is also true that there is an increasing interest with respect to the containment of energy waste, along with a growing awareness of the environmental impact of our habits of daily life. This is true for home, auto, life style and also for travel.
Here, then, hotels, farmhouses, camping, B&B and other tourist facilities have started to adopt some measures to minimize the possible environmental impact of their activities. How? With low environmental impact technologies, energy from renewable sources and products at 0 km.
In the Florence area there are already many structures that go in the direction of environmental protection thereby reconciling their activities with sustainable development. Reduce the environmental impacts caused by tourism activities, increase awareness of tourists and also involve companies and authorities in more sustainable choices is what these structures have decided to do, starting with a deep re-construction in order to offer its guests an all green holidays.
Nature and traditional food are two of the key ingredients for an sustainable, environment-friendly eco-tourism. For a low-impact stay it's also possible to intervene on lighting, hot water, heating and air conditioning for hotels as well as camping.
Hotel Kursaal & Ausonia, for example, located in the center of Florence, has been renovated and equipped with energy-saving ecological systems: a central heating / air conditioning recycling waste energy to generate hot water.The lighting is done with energy-saving lamps or LED, the water consumption is optimized through devices that mix air to water. All rooms are equipped with a device that automatically removes the electricity when you leave. The cleaning is done with environmentally friendly biodegradable products at 98% and with a steam engine. In large baskets in the hallways all are invited to separate waste. Finally, guests are invited to decide themselves when they prefer to change the bedding, avoiding waste.The savings are then donated to important causes, for example this year will be donated to the FAI for restoration and recovery of our natural and cultural heritage.
The Bio B&B Villa Medici Lappeggi in Bagno a Ripoli is located within a villa of 1400 belonged to the Medici family. Here all the products used are organic, local and short chain, garbage is collected separately in all the rooms, the water comes from high-quality municipal drinking fountains, it is used mainly recycled paper, breakfast products come from organic farming, fruit is always in season, organic milk, yogurt and bread are homemade, soaps are natural and ecological and bulbs are low energy.
The Farm Farm Pogni finally can actually claim to be one of the few 100% eco-friendly and energy-self-sufficient structure, using only renewable energy for the agritourism and farm. The energy used to heat water and all the rooms during the winter is provided by a system operating in the wood shavings, obtained by retrieving the wood from pruning.The energy used to produce electricity is provided by a system of photovoltaic panels on the ground, made preserving the beauty and naturalness of the place.
These are just a few examples, there are in fact many structures in Tuscany today that have decided to marry a philosophy of life based on a deep respect for nature and environment in order to enhance and maintain intact their beauty and vitality.