The Accademia Gallery is the most appreciated museum in Italy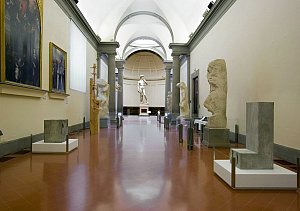 TripAdvisor, the international community for travelers from all over the world, annually releases a list of the Travelers' Choice Awards, defined by an algorithm that is based on the reviews and opinions expressed by users over the 12 months.
In the category of the best museums, to triumph on a global scale is the Metropolitan Museum of Art in New York, followed by the Musée d'Orsay in Paris and the Art Institute of Chicago. In the European top ten, after the Musée d'Orsay, there are the Prado in Madrid and the Louvre in Paris, to meet Italy we must get off at the eleventh position where peeps the Galleria dell'Accademia in Florence (14th in the world).
In the Italian chart Florence is the city that sits better, counting among the most favorite museum also the Uffizi Gallery and the National Museum of the Bargello (third and tenth). Among the other cities a good result is reached also by the Vatican Museums, the Borghese Gallery in Rome and the Film Museum and the Egyptian Museum in Turin.
In short, David beats all in Italy. The Florentine museum that houses the original of the famous statue of Michelangelo is the most popular museum in Italy and win the gold medal.
But the Galleria dell'Accademia is not just David. Its popularity is also due to the presence of other sculptures by Michelangelo as the "Prisoners", the "San Matteo" and important works of art from the Academy of Design, the Academy of Fine Arts and from suppressed convents.
Paintings are mostly of a religious theme dating from the second half of the thirteenth century and the end of the sixteenth century. In particular, the museum hosts also a unique collection of gold-ground paintings.
So, the reasons to visit the Accademia Gallery has never lacked for a museum that, as in art, is one of the most spectacular in the world.